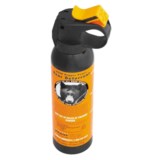 Closeouts. If your adventure leads through bear country, this UDAP 7.9 oz. bear spray may function as a deterrent in the event of a bear attack. Included hip holster allows for quick access.
Average Rating based on
65
reviews
4.476923
0
5
Verified Buyer

Reviewed by PDub from Winston Salem, NC on Wednesday, November 2, 2016

I bought this for a recent trip in the Smoky's. I didn't have to use it so I cannot attest to its effectiveness but it did attach easily to my pack with the included holster, plus gave me comfort knowing I had it if needed. With the long expiration, I'll keep it around for future trips.

Verified Buyer

Reviewed by Owen H from USA on Wednesday, April 20, 2016

Haven't used it but this seems like a quality product. Expiration date on mine was 2021. It comes with a reversible holster for right or left handed people and a nice guide to bear encounters.

Reviewed by Mei from California on Thursday, April 7, 2016

Product came undamaged and as expected, expiration date was at 2021 on my bottle. Bought to use in the backcountry when backpacking/hiking, I will be bringing this along on my trips from now on! It's nice to have peace of mind when your out in the outdoors. Holster seems nice and sturdy also, and is slim and nonbulky if you're worried about weight.

Verified Buyer

Reviewed by Dr Ralph from NY on Monday, January 25, 2016

Convenient size, great price and hope I never have to use it.

Verified Buyer

Reviewed by Mike from KY on Wednesday, January 6, 2016

I purchased this bear spray for my son as he will be walking the appalachian trail in the spring. Time will tell if it is effective, if he needs it.

Verified Buyer

Reviewed by OutsideGuy from New England on Wednesday, December 30, 2015

This spray is a very good deal when compared with prices at major retailers. The convenient holster allows easy access. My best hope is that I never need to use it but having it in bear country is a step in the right direction. Since I have never used it I cannot attest to it`s effectiveness but am assuming it will spray 30+ feet as advertised.

Reviewed by stoneyunit from Flagstaff on Wednesday, December 23, 2015

This purchase was for my pursuit of backcountry creeks holding large trout! With that said this particular model offers up a very slick hip holster which is convenient when in bear country. The expiration date was 2022 so I feel great about this purchase. Let's hope I never have to use it!

Reviewed by nope from New Hampshire on Tuesday, November 10, 2015

With the coupon code I used, I got this for less than HALF of what my local mom 'n pop sporting goods store sells their bear spray for. WIN!

Verified Buyer

Reviewed by Bargain Hunter from NC on Wednesday, November 4, 2015

Works great. Hip holster handy!

Verified Buyer

Reviewed by mtmountainman from Montana on Monday, October 12, 2015

I have't actually had to use this product and hope never to have to, but I take it backpacking a lot. At the price it is the best product going and I have bought several so I can lend it to others in my hiking group.