UDAP No-Fed-Bear Bear-Resistant Container - Nylon Case
About UDAP No-Fed-Bear Bear-Resistant Container - Nylon Case
Closeouts. The UDAP No-Fed-Bear bear-resistant container is the perfect size for your backcountry travels, designed to store four days of food for one person without becoming cumbersome.
Tested by experts to be highly bear-resistant
Constructed of super-strong polymer
Easily stores inside or outside of your pack
Protects your food and the wildlife
Includes 32-page safety booklet and nylon case
Made in China
About the UDAP Brand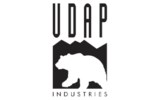 Specs about UDAP No-Fed-Bear Bear-Resistant Container - Nylon Case
Material: Composite, nylon carrying case
Weight: 2 lb. 4 oz.
Dimensions: Height: 10"; Diameter: 8"
Made in China
About the UDAP Brand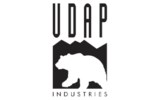 Do you own this product? Write a review and help others with their buying decisions!
Write a review
4.382978
5
Overall Rating: 4.4
Based on

47

reviews
Most Helpful 5-Star Review
Reviewed by KachinaBoy from Arizona on Wednesday, April 10, 2013
I spend a lot of weekends in the Grand Canyon. You don't typically see bears there. And you don't see rodents either. But you hear them. At night. When they invade the plastic grocery bag you forgot to hang up, crinkling around sampling one tiny bite of every Power Bar you brought. Not to ment...
Read More
Your search for "" returned reviews for UDAP-No-Fed-Bear-Bear-Resistant-Container-Nylon-Case
Verified Buyer

Reviewed by Greg D from Vermont on Tuesday, May 31, 2016

Has yet to be bear tested, but compared to other bear canisters I've used, it seems solid. Enough space for 4-5 days of backpacking food.

Verified Buyer

Reviewed by Catvet Carrie from Washougal, WA on Friday, April 29, 2016

Easy to use. Not really lightweight, but there is no such thing when you have to guard against bears. A really determined bruin could get it open eventually, but the idea is just to make it inconvenient enough he looks at someone else's food and leaves yours alone.

Verified Buyer

Reviewed by Happyhiking from Pennsylvania on Thursday, April 28, 2016

Seems great. I originally had a clear blue bear vault and loved that it was transparent but hated the lid. The lid on this one opens easily with a coin/knife. I plan to carry a washer tied to my pack so I don't have to worry about losing it. 4 stars only because it's black. Heavy too, but unless you want to spend $$$ on a carbon fiber one, they all are.

Reviewed by Christina from Missouri on Thursday, July 23, 2015

We purchased this canister for a three day hiking trip for two in Colorado where caching in a tree may not always be easy. We will only be putting food for two days (as we will be eating our first day meals before camp) for two people along with scented items. We are light weight food packers when need so will have no problem making this size work. It didn't seem as heavy as I had feared and can also double as a nice stool when needed. The screw openings were simple and we used the back of our Benchmade knife blade no problem. It would be nice to have a clear canister to see where your food is, but this price will do!

Verified Buyer

Reviewed by Pine Cone from Western Washington on Saturday, July 18, 2015

Given the large number of places I would like to go that now require a bear-resistant container, I decided to spring for this one. While it is a bit on the small size, it does fit nicely in the inside of my pack. Can't beat the quality or price.
Answer

Hi there. I was asked to respond to your question, so here goes. When used as intended the bear keg will prevent bears from successfully getting at any food or scented items you have with you. This prevents bears from learning food aggression and keeps them from associating people with food. A fed bear is a dangerous bear. With the bear keg, that bear can try all he wants to get that delicious smelling treasure inside, but it's not happening. These canisters are specifically designed to be difficult for a bear to pick up and carry, and are literally impossible for them to open. Perhaps most importantly, a bear canister should NEVER be stored in or near your tent. Ideally, it should be 100 yards or so from your tent - sticking it in a bush or against a rock works well. Hope this hopes to clarify :)

Answer

The material is water resistant, but the case is not waterproof.

Answer

The material is water resistant, but the case is not waterproof.

Answer

The material is water resistant, but the case is not waterproof.

Answer

Straps on the nylon case are 36" long.

Answer

The actual volume of this canister is about 545 cu in.

Answer

The actual volume of this canister is 248 fluid ounces to the brim as I measured it. It was just one cup shy of holding two gallons. That is 447ci, which is about the same displacement of an early 70's model Chrysler or Pontiac V8 engine.

Answer

By the way, the specs on the weight and size are slightly incorrect too. It's actually 2.4 lbs, which is 2 lbs, 6 1/2 ozs. And the width is really 8 1/2 to 3/4 inches because of the lip in the middle, but it is 8 inches at the top and bottom and ten inches tall.

Answer

One last thing, in case you're still wondering how big it really is and need a visual. Well, I was able to stuff six High Mountain Jerky three person serving dehydrated pouches in, six Libby's cooked ground beef ( 6oz not-dehydrated) pouches, six packets of oatmeal, and finally six protein bars totally crammed full with just about enough room left over to squeeze in few salt and pepper packets. So that was everything left in it's original packaging, just packed in very tightly. I suppose I could squeeze one or two more pouches in there if I were to repackage and vacuum seal them all, but so far I have not needed to. Or you could always just get a bigger canister too for longer trips, but I prefer the smaller ones myself. So I guess that pretty much sums it up.

Answer

While this is NPS approved Yosemite has it's own regulations that you can find at: http://www.nps.gov/yose/planyourvisit/containers.htm

Answer

No; None of the UDAP canisters are on Yosemite's approved list.

Answer

On 09/23/2012 I checked and this canister IS APPROVED. See http://www.nps.gov/yose/planyourvisit/containers.htm to verify.

Answer

I'm from Central California and a experienced backpacker of over twenty years. Who cares if it Yosemite approved...I've backpacked for weeks with and without a container and never have had my food stolen by a bear. The best thing about the canister is a seat to sit on. The thru hikers on the PCT sleep with their food in a stuff sack. Shame on the National Park Service for even requiring containers. Start at a Trail head in the Forest Service and then enter Yosemite. No worries about the Pine Pigs of the National Park Service indoctrinating you into their communist regime. Whoever required the container should be tried for treason by fellow backpackers.

Answer

So hey you all, I thought mabye I should just really tell you about what happened last weekend. Yes, I'm from southern California, but I really just wanted to tell you all that my best friend got raped by a bear on the PCT. Unfortunately I think it was because he felt that hiding one bag in the tree was somewhat worth more than hiding two in the bush...or getting a bear canister, or something like that. Apparently, the bear he wrestled with over the bag had never heard of it. And the really weird thing about it was...that just about every single last coyote on the mountain came down around to yip and holler about the whole scuffle...as if it was UFC 193 or something. Unfortunately nobody was quite quick enough to catch any of it on video, so you'll just have to use your imagination about what happened...but guess who won?