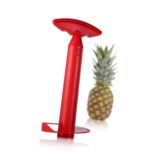 Closeouts. Vacu Vin's J-Hook pineapple slicer makes easy work of the usually time-consuming job of coring, slicing and peeling the tough-skinned pineapple.
Average Rating based on
11
reviews
3.636363
0
5
Verified Buyer

Reviewed by granjan from Coastal NC on Thursday, January 29, 2015

I was skeptical about this product because of mixed reviews, but the price was so low I ordered 3 of them, one for me, two for gifts. It works as described, is very easy to use, cleans up quickly, and all the juice stays in the bottom of the pineapple "bowl" unless you twist too far down and cut through the bottom like I did the first time I used it. I was really pleasantly surprised at what a handy kitchen tool this is. I love pineapple but hated the mess of cutting them and could never get all the brown eyes out. This slicer makes it soooo simple! The slices come out with no core, all the brown stuff gone, and in one continuous spiral that you can cut into whatever size you want. It's great!

Verified Buyer

Reviewed by Mama from Texas on Wednesday, December 10, 2014

Maybe it's just me, but I couldn't get this thing to do anything. I am sending it back.

Verified Buyer

Reviewed by Ben from Texas on Thursday, December 4, 2014

So much easier than cutting it up with a knife. I had seen a lot of these kind of gadgets online but never bought one until now. I don't know about the others, but this works great, great, great!

Verified Buyer

Reviewed by Fractals rule! from Nevada on Saturday, November 15, 2014

The first time out I wasn't sure exactly how, so you might have to sacrifice a piece of fruit to find out. It is geared towards a medium sized fruit--make sure it's ripe. If you're tackling an expensive large Hawaiian pineapple, this will core and slice the inner part of the fruit--you may still have to surgically remove the outter flesh from the rind (if there's enough to make it worth your while). For the normal sized pineapples coming up from Mexico all winter long that you can pick up at the dollar store this is a really cool gadget. Just cut off the top and screw this thing into it--when you've reached the bottom you're done--cored and sliced fresh pineapple in a few minutes with minimal mess. It's going to be a popular gift to my friends and coworkers---maybe 3 extra isn't enough...

Reviewed by ChicagoWoman from Chicago, IL on Monday, November 10, 2014

Well...maybe this was designed to save time , but after I used it on a regular size pineapple without problem as far as cutting, it left so much behind that I had to spend twice as much time scooping the rest of the fruit from inside the skin.
As a result it was twice the mess, twice the time.
And it doesn't cut nice chunks that can be achieved with a knife . After all that inside is removed it still needs to be cut .
The " spiral" is thin and torn - so again you have to find parts that can be used as chunks /i didn't find any/
I purchase two of them with the intention of giving one to a friend - but I don't think she would be happy with it.
I know I'm disappointed.

Verified Buyer

Reviewed by Mountain Woman from Placer County on Saturday, November 1, 2014

Absolutely macerated the pineapple. I would return it but it would not pay me to that the cost was so small.

Verified Buyer

Reviewed by MoonKatz from Texas on Monday, October 6, 2014

This makes quick work of a pineapple. Only cut off the top end, which you can grow in a pot to make your own pineapple plant. The juice will stay in the shell unless you also cut off the bottom end, in which case it dumps all over the counter in a big mess. There is some usable pineapple left in the rind with larger pineapples, but if you buy smaller pineapples you'll have less waste. My husband uses this several times a week and it has made his lunch prep really fast and easy. Washing it isn't hard at all, just rinse well and/or toss in the dishwasher.

There are two little "buttons" that you can depress on the top of the center rod. These pop the unit apart for cleaning. If you press them, they may not pop back into the space very easily to reconnect the handle. You can give it a gentle tap on the counter to pop the clip down, or use a small flathead screwdriver to kind of wiggle it down into place. I am concerned that this may be a weak point in the product, but it hasn't caused any issues yet. So far it is performing the job beautifully, and we'll consider this an excellent value for the convenience it gives.

Verified Buyer

Reviewed by JR from Raleigh on Thursday, September 25, 2014

Useless gadget....

Reviewed by jenjen from Oklahoma City, OK on Saturday, September 20, 2014

I love fresh pineapple, but never buy them to eat at home because they look so intimidating to peel and cut. My Brother-in-Law, however tackles them often. I decided to purchase 2 of these because they were on sale for such a low price I felt I could hardly lose. Happily, they work like a charm! Kep one and gave the other to my Sister and her husband who was tackling them with a plain knife. We all love them-they work quickly and easily. Try one!

Verified Buyer

Reviewed by KT from MT from Montana on Wednesday, August 13, 2014

I have bought several of these and they are so cool! Such an awesome way to get the most out of your pineapple. Unfortunately, one of our got broken when the top got slammed in a cupboard. It was still usable, but more of a challenge. Saw this at an awesome price and order a replacement. Thanks STP!