Van Laack Remco Shirt - Tailored Fit, Long Sleeve (For Men)
Item #5231T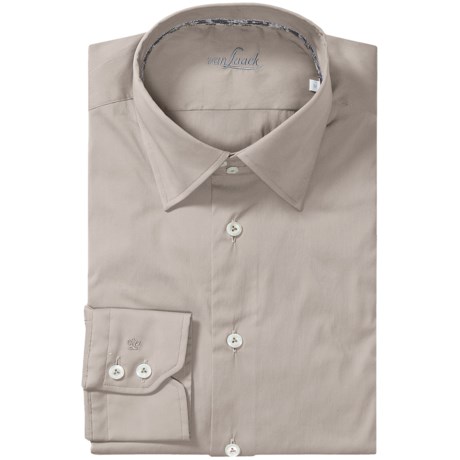 Overview
About Van Laack Remco Shirt - Tailored Fit, Long Sleeve (For Men)
Closeouts. There's a quiet luster about the luxe fabric of this exceptional Van Laack shirt, tailored to impeccable standards with unique two-button neck band, spread collar and mitered cuffs.
A very exclusive European brand, Van Laack believes the shirt to be the highest form of individual expression, and they design them with the utmost passion and meticulous care
Spread collar with stays
Offset two-button neck band
French front
Mitered two-button cuffs
Embroidered logo on cuff
Tailored fit
By Van Laack of Germany
Made in Viet Nam
Specs
Specs about Van Laack Remco Shirt - Tailored Fit, Long Sleeve (For Men)
Cuffs: Two-button
Long sleeves
Fabric: 78% cotton, 20% nylon, 2% spandex
Care: Machine wash, hang dry
Made in Viet Nam
Reviews
About Van Laack
In 1881, Heinrich van Laack established a shirt company with two partners. Van Laack's vision was to manufacture some of the best men's dress shirts in the world. More than a century later, this distinguished German brand is still doing exactly that. Van Laack shirts represent more than a century of dedication to premium-quality textiles and meticulous tailoring. In 2002, Van Laack clothing was acquired by a textile manufacturer named Christian von Daniels, who has continued to evolve and refine the Van Laack shirt company into the globally recognized brand it is today.