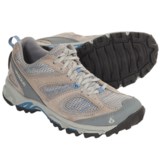 Closeouts. Vasque Opportunist low trail shoes take advantage of every asset to provide the highest level of comfort and support when you venture off the beaten path.
Average Rating based on
122
reviews
4.204918
0
5
Reviewed by Sara from Boston on Friday, June 5, 2015

I bought these shoes after being very happy with my first pair of Vasques. I was expecting a waterproof shoe, however after only haveing them a few months, water now tends to seep in through the mesh part and I end up with wet socks. They're comfortable but I wouldn't call them waterproof.

Verified Buyer

Reviewed by Elaine the walker from Jacksonville, Florida on Tuesday, January 27, 2015

Nice shoe, well made, but lacks cushioning . I wear a size 5 but ordered a size up because I use orthodics. The size 6 was perfect.
Returned because there just wasn't enough cushioning for me.

Verified Buyer

Reviewed by Wherever Heather from Washington on Wednesday, January 14, 2015

I bought these for my wife and they are her new favorite shoes, they run true to size. We got a great coupon and purchased these shoes for under 30 bucks. Can't beat the price for a good pair of shoes.

Verified Buyer

Reviewed by UtahTazzMan from Southwestern Utah on Monday, September 1, 2014

My wife uses these mostly for running trails, doing her ripped class, and some Zumba classes. She says they are light weight, comfortable, great traction & of course match her outfits! I have purchased three pair of Vasque brand shoes for her, now. She loves all of them!

Reviewed by B from Montana on Wednesday, November 6, 2013

a little stiff, but are well made good price

Reviewed by Cindy from North Carolina on Tuesday, October 8, 2013

Great looking shoe with nice neutral colors. The size was fine but the shoes are stiff and not much padding at all. I would not recommend them.

Reviewed by Brenda Gisele from Olympia, WA on Tuesday, August 27, 2013

I was pleasantly surprised with this light hikers. As soon as I got them I put them on..first impressions..they look great & they are extremely comfortable! Normally I walk around a brand new pair of shoes indoors for a couple of days to test them out & decide if they will work or not but this guys I took straight out of the box & into the woods for a 10 mile hike. I felt awesome! They performed as expected. Great on uneven terrain. My feet never felt like I was breaking in a new pair of shoes, instead it felt as if I have always had this shoes.
The next day went hiking to the Northermost point in the continental US -Cape Flattery in WA state with my new shoes & they continue to pass all sorts of terrain test. My feet felt great. The are waterproof so when I stepped on soggy ground or water got splashed on me my feet & socks stayed dry.
I wear a size 8 but the last few years I've noticed my feet seem to need the extra length..must be age related I guess, I'm 43, 145 lbs, 5'4.. I ordered a half size up & they fit comfortably! The price is excellent!! So stop reading this & buy them TODAY before they are gone.

Reviewed by Mns from Idaho on Saturday, August 17, 2013

I bought these in the exact same size and width as my older Vasque hiking shoes. They do not fit AT ALL... In a sole to sole comparison, it's not even in the same WORLD of size by width or length. They are WAY too small. Also, the materials seem a little...chincy? They seem like the perfect shoe for sitting in an office and talking about hiking. Maybe for a walk around a park? Pretty but delicate. And they do not have a Vibram sole, though I am sure the specs would point that out. I got them for $28 before shipping, and that's about what they seem worth. I will be returning these shoes.

Reviewed by pari walker from new york on Sunday, August 4, 2013

It looks nice but its soul is a bit stiff.. wasn't as comfortable as my previous Vasque...I'm going to exchanges it.

Reviewed by fixit lady from Florida on Friday, July 19, 2013

The colors are actually quite neutral leather tones and blend nicely. I have purchased many pairs of this model in various colors over the last few years. The "opportunist" runs a little wider in the toe box while still providing a snug not sloppy fit throughout the rest of the foot. The sensitive parts of my big toes hit the fabric, not the leather... and there is no downward pressure either...Perfect! Note that different models of Vasque shoes have a different fit, so if you like a model, buy ahead when they are on sale.