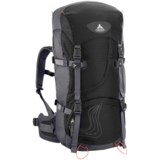 Closeouts. Extended tours in the backcountry call for a durable, efficient and comfortable pack, and Vaude's Astra II backpack certainly fits the bill. The Tergolight adjustable suspension allows explorers to customize their fit for maximum performance, and a host of rugged materials combine to combat the elements and resist wear and tear.
Average Rating based on
17
reviews
3.941176
0
5
Reviewed by yehe from Seattle on Friday, August 26, 2016

A great pack made by a small German company that knows mountains. (Check them out at http://www.vaude.com/en-FI/home/ )

Hiked Mt Adams with it. It was comfortable right out of the box (I'm 6' tall, slim built and it can fit smaller or bigger folks. Mine was set to L/M)
It can carry a lot of gear for a few days hiking in the backcountry. Has quite a few adjusting straps that are easy to get to, white walking too, and they stay put with no need to re adjust frequently.

Can add more space with an add'l 10L to the main compartment. The top pockets can store a lot too.

When extra space is not in use, the pack feels compact.

Will recommend it in a heart beat and the price is great for what you get.

Happy travels

Reviewed by Gordon from Phoenix, AZ on Thursday, October 16, 2014

Pros: +2 stars
Very inexpensive pack for its size. No glaring design problems, would be an ok first pack. Plenty of belts and loops for hanging items. Separate zippered bottom compartment is a nice feature. Pockets are well placed. More compression straps (and strap length) than you'll know what to do with! The fabric is thick and sturdy.

Cons: -3 stars
This pack is not built for a man with a remotely wide neck. I am not a big man (15.5 inch neck), but the shoulder straps dug into the sides of my neck to the point of pain. The straps are simply too close together, and have no ability to spread them wider apart. The torso length sizing device is easy to use and effective, BUT the mechanism is a large lump on the back of the pack. It's slightly padded, but after awhile it begins to dig into your back. The waist belt and shoulder strap material easily collects dirt and sweat, and is very abrasive on bare skin. Plan on wearing a t-shirt (no tank tops). Compared to the name brand packs, the zippers and buckles are cheap and clunky. I wouldn't expect them to last very long. The side pockets will not fit a Nalgene bottle. Little ventilation in the back. Back padding is unnecessarily thick so it traps moisture and heat.

Final thoughts: If you have a small neck and back this pack would make an OK inexpensive first pack.

Verified Buyer

Reviewed by Julie the cruise director from Kalamazoo, MI on Monday, October 13, 2014

Very pleased with this Vaude pack. Not too many pockets that stick out to get caught on things if using it as a carry-on or checked bag for trips, and still has everything you need. More of a chili red than orange. You definitely won't be missed holding this pack. Easy to fit with the STP backpack fitting guide video, and has a couple of pockets on the waist belt which only the nicer packs have, Great quality for the price.

Verified Buyer

Reviewed by NC gal from North Carolina on Tuesday, August 12, 2014

Besides getting a GREAT deal on this bag, I'm going to use it as my carry on for an upcoming trip and will save an additional $50.00 in baggage fees ! I REFUSE to give the airlines money for my bags and although I have a small suitcase, I didn't think I'd be able to lift it over my head and into the overhead bin on the plane.BINGO ! Use a backpack ! It's lighter than a suitcase with just as much room, even more so, and I can handle it much better. This pack has separate compartments which will help with packing. Can't wait to use it !

Verified Buyer

Reviewed by J- Wilderness from Vermont on Thursday, July 24, 2014

The Vaude Astra II is a comfortable pack which has ample capacity. It is not an extra-large bag, but it is sufficient to hold a tent, sleeping pad, sleeping bag, cooking gear, food, hammock and stove for a 3-4 day remote camping trip. I did not need to adjust the belt and shoulder straps, the bag fit me well as-is.

Verified Buyer

Reviewed by SJ from Colorado on Saturday, June 14, 2014

I'm 6'0" and the pack fit perfect right out of the box. Had to send the first one back due to a broken snap but STP had a new one at my door in 2 days. Used the pack on a 3 day backpacking trip at 9000' and had plenty of space, although my synthetic sleeping bag was too big to lash on the bottom straps. They could easily be extended by sewing some extra lengths of webbing. Not the lightest weight pack, but I wanted durability and this pack is rock solid. Built-in rain fly works great. All this for under $80? REI...you're dead to me.

Reviewed by john from california on Tuesday, June 3, 2014

I loved this pack and wanted to keep it, but it's just too big for my torso. Beware: just because the suspension can be adjusted from xtra small to xtra large doesn't mean the frame will actually fit your body. STP lists this pack as fitting a torso size from 20-22" and they're right. Don't think you can wear a pack designed for a size Large torso when you're a size M or S torso just because you can adjust the suspension. You can change where the straps are going to be relative to the pack, but you can't change where the frame is going to be against your back.

Vaude does make a size that fits me, but STP doesn't carry it. They have two sizes: I and II. So an Astra I is S/M, and an Astra II is L.

Reviewed by The Hiking Pawnbroker from FightNGear . Com on Friday, May 16, 2014

I was a little nervous ordering this pack. But it was so cheap I just had to. There are very few reviews or information online about it. I thought it was just too low of a price for it to be high quality. I was wrong. The zippers are great and do not snag and the compartments while not plentiful are well laid out. Except for the two side pockets I'll get to in a minute. The lid has a very high capacity, and in fact seems bigger than the +10 they advertise. It probably is not, but it seems like it.

I stuffed about 30lbs in it for the first hike and spent ten minutes or so setting the size for my torso. I have trouble getting a good fit with some packs because I am short, chubby, long in the torso and short in the leg. This Tergolight system is the bomb. In 10 minutes or so I had the weight right on the hips and completely off the shoulders and neck. It is very intuitive and that is good, because the directions are a little sketchy.

The pack stays compressed and does not shift on the trail and I had no trouble with the straps loosening. There are lots of loops and attachment points, a hydration compartment and waist belt pockets big and strong enough to use. The clips are solid and easy to work, The shoulder straps are very comfortable but not super thick. It is not hot enough here to really judge the pack for ventilation but it seems more than adequate. I will update that if we get some warmer weather.

The color is much more red than the picture looks. It really is the color of salsa although it looks orange in the picture. The rain cover is included free and is orange. This pack would do for any weekender summer or winter and would do a week summer and three or four days winter easily for me. My guess is you could put forty pounds in it pretty easily and carry comfortably if you are a strong hiker. I am an older guy and thirty is my upper limit. If you want to carry much less than thirty, this pack is probably a little big and more than you need. It is clearly designed as a heavy load pack, not for ultra light hikers/campers.

Now the one knock. Although stretch pockets are adequate for a Nalgene, they are tight and when you fill the two long side pockets the water bottle is almost impossible to get in. If you put your tent poles or trekking poles on the sides the two side pockets are almost unusable and can only hold small soft gear you don't need in a hurry. But lots of packs don't have these pockets anyway so I didn't care. I threw a bandanna, some extra socks and underwear in mine. I won't need any of that in a hurry and my rain gear is in that huge lid.

At $200 I would say it would be an OK deal. At $150 it would be a very good deal. At STP deal flyer pricing under a hundred, this thing is a steal. I have been to BPS, Cabellas, REI and lots of independent outdoor gear shops and have never seen a pack like this for under a hundred. STP is the bomb for gear if you don't mind slightly out of date or odd colors and this one is no exception. I don't review much of the stuff I buy on here, but this was a good enough deal I took the time, because I know it is a hard pack to research.

Reviewed by scoutmom from NC on Wednesday, March 26, 2014

My first backpack.I bought it on a recommendation and used it this past weekend. it was great! im still figuring all the bells and whistles, but it is good and sturdy.t

Reviewed by Eagle from CA on Monday, March 17, 2014

Very good quality, roomy and adjustable. Just the side pocket is too tight if you pack a lot of thing in the backpack.