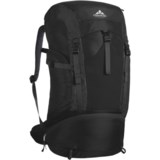 Closeouts. Vaude's Brenta 42 backpack is a technical day pack for serious outings. Ventilation and shoulder strap length can be easily customized, and a separate bottom compartment and side zippers offer extra capacity.
Average Rating based on
7
reviews
4.428571
0
5
Reviewed by T from Wi on Wednesday, November 20, 2013

I have not used my new pack yet, but it seems durable and well built. The inner layer that zips out to make 2 separate compartments out of the main compartment is a very cool feature! I will be retrofitting the bottom compartment to accommodate my camera and lenses on a 2 month backpacking trip in Turkey.

Reviewed by producejoedmoe from Utah on Friday, September 6, 2013

This pack worked great for our trip around Europe. It was just the right size to fit as a carry-on on most of the planes we flew on, including Ryanair and EasyJet. Wizzair has smaller [free] carry-on dimensions, so it wasn't free on those flights. But we stuffed these bags, and they could still fly as a free carry-on.
I really like the compartment at the bottom and the way the access is to it -- it allows you to separate your gear, or make the main area even larger and accessible from the bottom. The side pockets that zip out larger also hold a considerable amount.
The pack is really comfortable.

Two issues
The clips are a little thin, and can break easily. I had two of my clips (the belt clip & one of the clips that connects to the top flap) break on our month-long trip across Europe. It was when other people were handling my bag. I just sent the bag back for replacement, and I'll try to be more careful with my new pack.
The other issue is the internal frame, and how it sits within the pack. The frame is structured so that it keeps your pack/gear away from your back, which is nice if you're hiking in higher temperatures, since it will decrease the back sweat. However, the frame takes up a lot of the internal space. We removed the plastic clip that makes the frame bulge out, and that gave us a lot more internal space, and the pack was still really comfortable.

Overall, I really like the pack. It looks good, and it's really comfortable. The price was amazing. I did have the problem with the clips breaking, but I liked the pack enough to have it replaced instead of getting a refund, and I'll just be more careful with the new one (i.e. not letting other people handle my pack so much -- I'm pretty sure they slammed the clips in doors of cars/airplanes or something)

Reviewed by Steve - Just getting back into camping/hiking from Dayton, Ohio on Sunday, August 11, 2013

I am getting back into camping and hiking after years away, and I only used this backpack once so far, but I was satisfied. It has plenty of room for my needs, but as I have already stated, I am only just returning to camping and hiking, and thus am not qualified to make an in-depth review.

Reviewed by Alex H from Connecticut on Wednesday, August 7, 2013

I'm looking forward to using this product, it seems well built and well thought out. The only thing is it says it comes with a rescue whistle, while I don't know if I'd ever use it, there was no whistle to be found.

Reviewed by Bridgerunner from Bremerton Washingto0n on Monday, June 17, 2013

Like the several outside pockets that can easily be opened to retrieve items without having to get into the main part of the bag. Have only used it on day hikes so far and found it convenient as had to put micro spikes on part way through the hike and they were readily available in an outside pocket. Bag is roomy without being bulky and is quite light weight yet can be expanded to hold many more items on longer hikes.

Reviewed by Hitch from Tennessee on Monday, June 17, 2013

Many more features than expected very good quality

Reviewed by ColoradoLocal from Rocky Mountains on Friday, April 12, 2013

While shopping I found it difficult to tell where the pockets were in the descriptions and photos, so here's the data: .
-The top flap closes with two buckles, it has an exterior zipper to a decent-sized gear pocket built into the flap.
-Inside the flap is another zipper for a smallish-sized mesh pocket in the inside of the top flap.
-The main body of the pack has two drawstrings at the top for a regular-sized load or for an expanded load. The main compartment does not zip shut on top - only drawstrings.
-Inside the back of the main compartment is an elasticized pocket for holding a hydration pack.
-The bottom of the main compartment is zippered, so it can be opened from below, through the large-ish bottom compartment. This is the lower, somewhat oval shaped section you can see in the photo. It zips open across the top of the oval.
-The bottom of the lower compartment has another decent-sized compartment, accessed from the outside, which holds the rain-fly & has room for other small items.
-Both sides of the pack have vertical zippered pockets for small items. Both of these side pockets have curved zippers that open up to expand the pocket size. You can see the half-moon shape on the side of the pack in the photos, the photos show the pockets in their compact mode, they get much bigger.
-Outside the front of the main compartment is a handy stretch-pocket that buckles at the top (no zipper) which can be seen in the photo, it's basically a flap of stretch fabric held up by the center buckle in the photo.
-The waist belt has shorter wings than some others I tried out, so there's no extra bulk in front of your abdomen when you're walking. The belt still gives good support. It has two full-sized zippered pockets built into the belt wings, with plenty of room for a cell phone, keys, a wallet, GPS, etc.

I like being able to access the main compartment of the pack from the top or the bottom. This is really handy if you've got it packet tightly and need to get something you buried in the bottom of the pack. I also really like the expandable main pocket and side pockets - this thing will hold a big load if necessary. I use the front stretch-pocket a lot. I like that the suspension system is fully adjustable, so I can loan this pack out if I need to. It would be a great entry-pack for someone trying to figure out exactly which size they are because it's fully functional for many differently sized people. You could work out your own carrying preferences with it before investing in a more expensive pack. I'm 5'11" and my spouse is 5'7" yet we can both use this pack comfortably.

The only marginally negative thing I have to say is the buckle for the waist belt is on 1" webbing. It's still extremely functional, but it's less comfortable than a 2" belt-strap and a 1" buckle doesn't seem as structurally sound as a 2" buckle would seem to be.

So far, everything on the entire pack has been completely robust with no tears or broken anything. I've been using it daily for about a month and a half, and it seems very well made.

Did I mention it's light as air?

Bottom line, I really like this pack, and I would definitely buy another one. I compared Columbia, Osprey, and store-brand packs at two different sporting goods stores, and I'm totally happy with this one, which cost a lot less than many of the others I looked at.