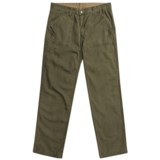 Closeouts. Vintage 1946's Croix pants are made from a distressed, double-faced cotton that reverses to a completely different color without the bulk of an extra layer.
Average Rating based on
12
reviews
3.833333
0
5
Verified Buyer

Reviewed by Elemental Warmth from Michigan on Sunday, March 8, 2015

Seems when I come across something I really like, it's a CLOSEOUT or DISCONTINUED. Not a man, but love how these fit and other non-men people said they liked the look, too. Shared where I got them, and good luck to them finding the pants. I do like them but after I washed them, I could pretty much stand them in the corner after I dried them. I'm sure they'll relax in time, but right now I'm thoroughly amused.

Verified Buyer

Reviewed by TGC from Texas on Saturday, February 14, 2015

Comfortable and nice looking. Good for around the house when you want to be casual and not look like a total bum.

Verified Buyer

Reviewed by BCSculptor from Indiana on Friday, February 6, 2015

Mediocre at best. These pants have permanent looking stains on them, and the fit is absurd. The quality, and the actual condition compared to the STP description of these pants is so far off, it's rediculous. I must have been in a good mood when I received them. I evidently am still in a good mood. I actually like the style. Waist fit is acceptable - length fit is absurd. At least four inches longer than claimed on the STP website. Corrections haven't been made - STP isn't paying attention to consumer comments and complaints. I'm keeping the pants, because I don't much care how I look. I'm an artist, so at the price, if I trash the pants, I won't really care too much. If I cared, I'd be very disappointed. STP - pay attention to what your customers say about this product. It's really lousy quality. STP, you may say, well, if you don't like them, return them. That isn't the point. You're representing something inaccurately. This is a really lousy quality product. Don't advertise it as anything better than that.

Verified Buyer

Reviewed by Billy B from Minnesota on Monday, December 8, 2014

I ordered a pair of these in a 36 waiste and they were huge so exchanged them for a 34 and they fit fine but be aware that they do shrink alot after a few washings> They seem very well made and cut well with plenty of room also the look is great. I just reordered a 36X 34 and expect them to fit well with an added few winter pounds.

Reviewed by Geopete from New Hampshire on Tuesday, November 19, 2013

Sits a bit low on the hips. definitely runs long on the legs so plan on alterations if your not a tall skinny guy. waist is loose, so down size by one or two inches, will shrink a bit. Good looking pair of pants, and who can beat a reversible...two for one. pockets are shallow.

Reviewed by cp from ashland, va on Tuesday, September 24, 2013

I love these pants, plaid, casual (but ok for Friday-type days at work) and reversible (just in case you get called to the boss' office when you're wearing the plaid side. What's not to like? Well . . . I usually wear a 36w/34L. I ordered a 36/33 because that's the length they come in. They're closer to a 37.5/36. My strategy is to carefully dry on Medium until they fit a little better. (So here's the corp strategy, make fewer sizes, costs go down profits go up. Why do you think it's about impossible to fit men's shoes in a different widths?!) Anyway these are casual pants and I'm wearing them to work today, and it ain't Friday.

Reviewed by Leave Me Alone from Northwest Vermont on Friday, September 20, 2013

Yes, the legs will have to be hemmed; yes, the pockets are shallow; yes, some of the minor detailing is odd; yes, the pants will shrink on initial washing ... but the plaid side is dark, dull and distressed enough so that these pants can be worn with a flannel plaid shirt for the on-trend double-plaid look, for which they are perfect.

I find myself wearing these all the time, and bought a second pair.

Give me the inventory, a pushcart, and a ticket to Brooklyn and I could sell out the stock in an afternoon.

Reviewed by Rocket from western ma on Monday, July 29, 2013

The legs are super long (like an extra 8"), the front pockets have an odd pleat and the backside makes someone with out much fanny look utterly fannyless. I shall return them.

Reviewed by Garth from CA on Tuesday, May 7, 2013

Nice material. Very comfortable feeling. I bought the 32" waist and actually sat pretty low on me. I didn't mind that but it felt almost too baggy for the style I've gone for recently.

Very much long on the length, so be warned.

I'm only returning because there appeared to be pen marks on the khaki side of the pants ... sorta weird, but sorta disappointed too.

Verified Buyer

Reviewed by BILL from TALLAHASSEE, FL on Monday, November 26, 2012

I AM TAKING THESE FOR DOUBLE DUTY ON A CRUISE TO THE ARCTIC. I CAN WEAR THERMALS UNDER THEM. THEY WERE TOO LONG BUT I WILL HAVE THEM ALTERED.