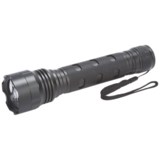 Closeouts. The compact size and 100-lumen output of the Wagan X-Treme Brite-Nite 5W flashlight make it a handy addition to evening walks, camping, hunting and boating, as well as being a great fit for glove boxes, toolboxes and emergency kits.
Average Rating based on
15
reviews
1.600000
0
5
Reviewed by Spinning fisherman of the Apocolypse from California on Sunday, June 30, 2013

Other reviewer was nicer with his four letter description. This flashlight would not be worth it if STP were giving them away.

Reviewed by Tennessee Guy from Tennessee on Saturday, June 1, 2013

I use flashlights daily. I have used Wagan products before - always have been impressed with the quality. This model is not good. The light is poor, the battery pack rattles inside, and the light tends to fade in/out. I wish I had not bought this one.

Reviewed by jmore from Collinwood, TN on Monday, May 6, 2013

Found this to be a good value. Gives off enough light, and is constructed well (dropped a time or two and still working fine). Has held up better than
some I've purchased at a higher cost. Run time pretty good. Item takes 6 AAAs, best bet to use rechargeable type.

Reviewed by Handyman from Guam on Friday, March 22, 2013

Out of the package, I thought this was going to be a really nice flashlight. Loaded the thing up with batteries and turned it on. Flashed on for one second and thereafter was just a faint glow. Why is STP still offering this?

Reviewed by Kat from AZ on Tuesday, March 5, 2013

Yet another non-working unit….just like so many others have written here. Flashed for a brief millisecond first time, then only had very faint glow of LED "bulb". That's got to be a systemic problem with the design or manufacture of this flashlight, as that's a really weird type of failure.

STP was great and sent a replacement pronto! Had me return bad unit so they could study it's failure…..although it's pretty dang easy to do that…let's start with it's made in C-H-I-N-A!
Dissapointing to see STP still selling it MANY months after all these failures have been reported here.

2nd unit has worked for a few months now….we'll see how it goes, but it's certainly not a flashlight I'm depending on…it's just at bedside table to use in middle of night to go to BR. And it's aweful BIG for THAT purpose at 7.4" long.

Too bad, as I really liked the rubber type grip on it and the overall design.

Verified Buyer

Reviewed by Northshore from St. Paul, MN on Wednesday, February 27, 2013

I bought four of these flashlights thinking I could ditch my old & more bulky Maglites. Two of them did not work at all. The next one lasted maybe a minute before burning out. The other stills works but, I do not trust it. I wish I would have taken the time to read the other reviews. Giving it one "star" is a stretch.

Reviewed by Northshore from St. Paul, MN on Monday, February 25, 2013

Bought four of these flashlights and two of them failed immediately!!

Verified Buyer

Reviewed by FULVOUS from LAS VEGAS NV on Thursday, February 14, 2013

INTENDED TO USE AS POCKET FLASHLIGHT- ITS TO BIG

Verified Buyer

Reviewed by trees from New York on Tuesday, February 12, 2013

Bright enough, but not super bright. Good as a spare light to keep in vehicle.

Verified Buyer

Reviewed by Ted of the Woods from Petersburg, AK. on Sunday, February 10, 2013

The first one I received did not work but Sierra sent me another one right away (I did pay for extra shipping). It,s a good flashlight for use around the home.