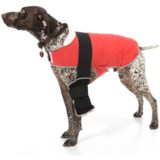 Closeouts. Get thermal therapy to your small dog with Warm Whiskers' reversible therapy jacket. Includes cold gel pack for post-op recovery and swelling reduction, and buckwheat-filled heat pack for sore joints and muscles.
Average Rating based on
10
reviews
3.800000
0
5
Verified Buyer

Reviewed by treelvr from VA on Monday, June 6, 2016

I don't really know how well this product works because I returned it without trying it. I returned it because it looked to me that it would not provide enough cooling surface area for my 55 lb. dog, &, that the heat pack which I wanted for her arthritis would not really be able to be fitted to her where I wanted it.

Verified Buyer

Reviewed by dog walker from colorado on Tuesday, December 1, 2015

Haven't tried it yet as a therapy jacket. The medium does fit my springer spaniel.

Reviewed by Anonymous from Va. on Wednesday, November 5, 2014

We bought one of these for our dog who has ongoing back problems, and lavender moist heat really seems to help him feel better.

Verified Buyer

Reviewed by Shane the Larper from Boston on Friday, October 10, 2014

I've got a seemingly small dog with a very large chest- he hates the cold, but LOVES this 'coat.' I bought it primarily for warmth (but the therapy pack options are nice- just currently not attached)- and this fits the bill. Super soft, easy to get on, and easier to adjust for size. The tummy-strap can stick anywhere on the jacket (it's kind of velcro-y), and makes for any easy put-on. Great, great product!

Reviewed by Sparkee from SC on Saturday, March 29, 2014

Hoping that this will alleviate Hailey Anne from licking her wound while healing.

Reviewed by treelvr from Virginia on Friday, March 21, 2014

I bought this because it was a cheap price, but, I ended up returning it. It is a nice decent jacket for the price, but, I doubt whether it would adequately serve the purpose for which it is intended - hot or cold therapy "for post-op recovery" . I don't remember it in detail since it was a few months ago when I returned it, but, I seem to recall that I thought that the jacket was a pretty thin material & would not hold the cold or hot packs close enough to the body to be of real use &/or that the packs could not be positioned properly. Plus, I seem to recall that they were pretty small. Having had several dogs that each had various surgeries, I don't think this jacket could replace hands on post-op "physical therapy" of you holding cold or hot packs in place on your dog for the needed amount of time. If you just want a bright jacket for your dog, the price was right for that.

Reviewed by Michelle from Spartanburg, SC on Saturday, November 30, 2013

While this is an excellent idea, I am not pleased with it. I have a 40 lb Chow Shepherd mix with elbow joint degeneration. While very easy to put this on her, the weight of the heat pack kept causing the entire coat to slip to one side because of the way it velcros across the shoulder. If there was one on each side to balance the weight this would help. The other thing I did not like was when I opened it, it looked used and dirty because the ingredients in the heat pack were coming thru the fabric. I sew, so I am keeping it and will make some modifications to make it work. Great idea, it just needs some improvements.

Reviewed by Mimi from Chicago on Saturday, September 21, 2013

I used it and my dog was very comfortable in it. The velcro gave flexibility to the ensured the jacket stayed on.

Reviewed by NewNan from VA on Monday, February 11, 2013

Great "idea". Very poor execution. Flimsy material. Don't ever see this being able to provide real hot/cold therapy to any animal. Huge threat of animal tearing it to shreds (if you could ever manage to secure the packs snugly). Packs too puny to provide enough temp to penetrate the fabric layers. Lavender is now mostly dust that leaks all over the place. Very old stock. Velcro nightmare.
HOWEVER, since they were so cheap (<$8) I am keeping them & will use cold packs for me; compost the Lavender; and use the coats after simple modifications as reversible Santa/Halloween Dog coats! Yea!

Verified Buyer

Reviewed by dahlia from new York on Saturday, February 2, 2013

This is a cute coat and a bargain. The red reverses to black, which is a cool feature. The leg contraption seems to be unworkable. On our 30 lb aging terrier, it seemed to cause more pain than comfort. It seems like a good idea, maybe for a 50 lb dog, or bigger. However, price was good enough that it didn't matter. It was worth it for the coat alone. Maybe someday we will find a use for the other parts.