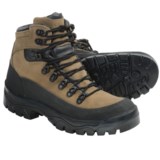 2nds. Specifically developed for moving through harsh mountain environments, Wellco's Gore-Tex® duty boots have a waterproof breathable nubuck upper with a reinforced toe and Vibram® rubber outsole that stays flexible in cold weather.
Average Rating based on
11
reviews
2.545454
0
5
Reviewed by highlander from UNION HALL VA on Saturday, June 15, 2013

I really like STP, but they dropped the ball on this one. The boots looked good, but the shoe lace eye on the left boot was defective. I returned them, and they sent the same pair back, or there are a number of boots with the exact same defect. Then they charged me shipping on the second return. I complained and they gave me a $10 gift card. The tried to use the gift card, but there was no credit on it. I guess once you fall into the black hole there is no way out!!

Reviewed by billy600 from Pittsburgh PA on Tuesday, June 4, 2013

Great boots. Fit real good. Only problem was/is that one of the lace eyelets was missing. Little metal clip for lacing as it were

Reviewed by Hiker from Crimea on Wednesday, May 15, 2013

"R"egular is very narrow. Tight and uncomfortable boots. I bought them for hiking but they are not for this..
And I don't see any Gore-Tex® marks on it.

Reviewed by hucklebuck from mountains of KY on Monday, February 18, 2013

I really had high hopes for an American made hiking boot, but these are easily outclassed by any european manufacturers hiker. After wearing them on a 30 mile, 2day backpacking trip (with a previous month of break-in time), I finally gave up on these. They may have a place on the farm or for work, but they lack in basic support/comfort/breathabilty you need on the trail. Worst of all, the absence of speed laces and a locking lace stud, made for frequent, time consuming re-adjusting.

Thankfully, Sierra has the best return program I've ever used. So, Now do I go Lowa or Asolo for my replacement pair?

Verified Buyer

Reviewed by moonlightcrusier from Alpine, Arizona on Saturday, February 2, 2013

I was disappointed in the fit
the top 3 or 4 eyelets should have been hooks for easy lace-up...I would bet I have bought 15 pair of boots from STP... I never return anything, but, I did return these boots..
Great service from STP, I will be making future orders, sometimes things just dont work out

Verified Buyer

Reviewed by sean the carpenter from crested butte, co on Saturday, January 19, 2013

This is a sturdy, great fitting pair of workboots. They are very waterproof and tough.

Reviewed by Yeti from Tulsa, Ok on Wednesday, January 9, 2013

Will be returning, bummer :(

Verified Buyer

Reviewed by rosieandpookie from virginia beach on Saturday, January 5, 2013

I have narrow feet, yet the regular width boot was too tight across the ball of the foot. I will return them

Verified Buyer

Reviewed by Bob from Chatsworth, NJ on Thursday, January 3, 2013

I have the military version of these boots and they are great and wanted to get another pair. They are very similar to the older combat hiker models. Very tough and well made.

Reviewed by Avid hiker from Louisville, KY on Monday, December 31, 2012

I thought I would try this brand but the quality was very poor. Knowing these were 2nd's I expected an appearance problem, but appearance was good. When I first tried them on and tightened the laces the top row of D rings came away from the clasp and found the 2nd row were loose.
If not for the D ring issues these would be a good hiking boot for the price.