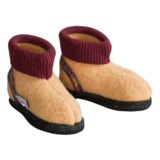 Closeouts. Toasty tootsies for tots! Wesenjak's boiled wool slipper booties have lightly padded soles and colorful accent trim.
Average Rating based on
256
reviews
4.734375
0
5
Verified Buyer

Reviewed by Mountainman from portland on Thursday, February 12, 2015

Ordered these for my son, he has been wearing the Wesenjak slippers since practically birth, he has had about three pairs, has outgrown them all, he loves them! Like a family tradition, we all have them ! Well worth the money! Buy more buy more!

Verified Buyer

Reviewed by Looking for a Good Deal from Texas on Monday, January 26, 2015

My 4 year old likes these slippers. He can easily put them on. He will keep them on. They keep his feet warm. Overall very pleased with this Sierra Trading Post purchase

Verified Buyer

Reviewed by Karen E from Snoqualmie Pass WA on Saturday, January 3, 2015

I bought two pair of these for my two granddaughters, when they outgrew them I bought two more pair. They are warm, wash ok, and have been great. Saving the outgrown ones for the other grandchildren growing into them.

Verified Buyer

Reviewed by YumYumOrange from San Francisco on Wednesday, December 31, 2014

I bought three pairs, one for each of my children. The older boys got a blue color in size 35, and my toddler, who is three, got a light blue. The boys loved how warm the shoes are to walk around in the hotel rooms we were traveling in, and also to walk on the wood and tile flooring in our home. My little girl only liked wearing her booties when she had socks on because she didn't like the inseam along the top of her boots. She said it scratched her skin. She's also a lot more sensitive. She's the type that needs to have tags and extraneous threads to nipped off before wearing the articles of clothing.

I also bought a pair of Wesenjak in a slip-on style, and love them for their quality, simplicity, and price. Too bad, I didn't think that inseam would bother my toddler, or else I would've ordered her a different style.

Verified Buyer

Reviewed by Monica from Florida on Wednesday, December 17, 2014

Lovely however I am not sure my little ones will be able to wear these because there is no traction on the sole. Our home has hardwood floors and it could be dangerous for speedy children.

Verified Buyer

Reviewed by Happy Grandma from Minnesota on Monday, December 15, 2014

I can't say enough good about these wonderful slippers, they stay on little feet, they are warm and comfy and they don't wear out. This is the third pair I have ordered for my granddaughter over the past few years. I just checked her last pair and found out they were a size and a half smaller then her shoe size and she was reluctant to give them up. The previous slippers although too small are still in wonderful shape and ready to be passed on. You will not be disappointed in these slippers.

Verified Buyer

Reviewed by Joel from Indianapolis on Saturday, December 6, 2014

Our 3 Year Old Little Girl just absolutely loves these, they keep her feet warm and are super sung and cozy for her. We live in a 1920s home with wood floors, so in the winter the floors get quite cold, she is very happy to run over and put on her slippers each morning. They are adorably cute on her as well! Highly recommend these, especially for those crunchy families like us who prefer and appreciate real material (wool) vs. synthetics fabrics.

Reviewed by Patti from northern CA on Friday, November 28, 2014

These are the best for keeping feet warm -they stay on great too. Run true to size and I can throw them into washer, then air dry! Grandsons love them
( so do I).

Reviewed by Mother of 3 from Mid-Mo on Sunday, October 19, 2014

i ordered the yellow-gold pair for my toddler in size 21 (he wears a 5.5 XW) and while it is just a tad long, it is sufficiently wide (which parents of wide footed babies know can be hard to find) and i think especially because of the cuff at the top, they stay on great and seem very easy for him to walk around in. they have a little bit of "grip" on the soles so he hasn't had any problems slipping and falling on our wood floors. he is at the age where he is obsessed with wearing shoes, and i don't really like my family wearing outdoor shoes in the house and he also goes to a waldorf nursery school where these just happen to be all the rage, haha. anyway, he gladly wears these all around the house and i think he likes that they are like boots to him, not just slippers. they also keep him warm when i take him with me on errands where he won't be walking around, like to the store.

i know it says that the trim may vary, and i was kind of hoping it would vary because i don't really love the pale pink + olive green + off-white cuff detail. however, the cuff and trim look exactly like the picture. oh well! but anyway, since my little guy wears them with pants, you don't even see the cuff anyway. i know some people may be strongly opposed to pink on their little boy but i am not in that camp. at least it isn't bright neon pink. the heel trim detail is blue and white and looks nice. the gold color is also really cute sticking out under his pants. they add a little flair to his outfit, hehe!

overall, i will definitely be ordering more of these for my little guy and his two older siblings when i can find them at prices like this. these would also make a great gift. they are so sturdy, yet comfortable, and definitely warm but not stifling like synthetics can be. perfect for cooler weathers. it is nice to know these will be passed down to many toddlers after my son gets plenty of use out of them.

Verified Buyer

Reviewed by Stephanie from Australia on Sunday, July 27, 2014

Perfect and handsome

Verified Buyer

Reviewed by summerday from Washington on Thursday, May 15, 2014

Soft sole slippers were hard to find and these look well made.
Color is pretty too.

Verified Buyer

Reviewed by WVmelin from Appalachia on Tuesday, May 13, 2014

We have been purchasing these for years. They were my daughter's first shoe and held up for those first steps and toddles out to the car and the park. My six year old likes them as well. Our wood floors are very cold in the winter and these keep their feet warm and dry. When I say dry I mean they whisk any perspiration from very toasty feet. Love these. We'll buy every year until the kids say to stop. They are not too slippery on the wood floors either. A definite favorite.

Reviewed by Gran from Florida on Saturday, March 29, 2014

The first pair I purchased was a hit with the grandson and his parents. I just bought a couple more pair in larger sizes so he can keep on wearing them.

Reviewed by Jazzy horse from Massachusetts on Tuesday, March 4, 2014

The kids LOVE them. They fit well, are cozy warm, and are all wool. Couldn't say enough good things about these.

Reviewed by Grandma Carol from California on Friday, February 28, 2014

I bought these slippers for my 22 month old grandson and he loves them. They keep his feet so warm and don't fall of like some of the other slippers that he has. The quality of the slipper is excellent and I would definitely recommend them.

Reviewed by Sunscreen from CA.````````````````` on Sunday, February 23, 2014

Purchased two pairs as gifts. Little girls age 4 and 5 years. Went up two sizes for growing room.

Their mom said they didn't slip and fall on on their hardwood floors with the Wesenjak slippers.

She said they had the perfect amount of growing room and their feet were toasty and warm.

The little girls were so excited about them!---Big Hit!

Reviewed by E-squared from New Mexico on Sunday, January 26, 2014

Warm booties for tots. Well made.

Reviewed by Springscrunning from Nevada on Thursday, January 16, 2014

Bought these slippers for my daughter (I have an adult pair of the regular Wesenjak slippers and love them). These are very warm and stay on little feet with the cozy cuffs.

Reviewed by granny84 from Michigan on Sunday, January 12, 2014

I absolutely love these slippers. I had purchased 2 pair for myself as Grandma and have worn them so much, I waited until you had them for my grand girls. The color yellow is perfect for them. In fact, the yellow would be perfect for women sizes also. Also, I am waiting for the size 13 for men to be available so I can buy some for Grandpa.They run true to size and the cuff coming up the ankle is so cozy whenever it is cool. I wore my second pair at our "up north" cottage in the spring, summer and fall. They are the first thing I reach for in the morning. They stretch a little as you wear them, but since they can be washed and hung to dry, no problem.

Reviewed by Lee Butcher from Park(ed in the) Hills, Missouri on Saturday, December 28, 2013

Bought these for a Christmas present for our 4 year old granddaughter to wear when she comes over. Sheds her shoes and socks at the door, and since we have hardwood and tile floors, we're always concerned that she'll get cold feet when she's here. She loves these and tells us these are "So warm, they're just perfect!!" Too bad she's the youngest of our six grandchildren. She won't be wearing them next year, but she (and we) sure are happy with them while she has them.

Reviewed by thewozi from North Carolina on Saturday, December 14, 2013

STP isnt really helpful regarding childrens sizing. I ripped this from the Wesenjak site, hopefully it will help!

European 20 (approx. age 1 year)
European 21 (approx. age 1 year)
European 22 (approx. age 1 year)
European 23 (approx. age 2 years)
European 24 (approx. age 2 years)
European 25 (approx. age 2 years)
European 26 (approx. age 3 years)
European 27 (approx. age 3 years)
European 28 (approx. age 4 years)
European 29 (approx. age 4 years)
European 30 (approx. age 5 years)
European 31 (approx. age 5 years)
European 32 (approx. age 6 years)
European 33 (approx. age 6 years)
European 34 (approx. age 7 years)
European 35 (approx. age 7 years)

Reviewed by wool fan from NC, US on Monday, October 7, 2013

these are the perfect slippers for my almost-four daughter. she can get them on herself, but they stay on well, she can run around in them without sliding all over, and they are toasty warm and made of natural materials. I would definitely get these year after year, or as needed.

Reviewed by AK49 from Fairbanks, Ak on Sunday, September 1, 2013

They seem a little big and the bottom is felted wool? My 2 year old doesnt want to wear them, I dont know how comfortable they are, I wish they were soft on the inside.

Reviewed by beaching it from PNW on Sunday, June 16, 2013

This is the second pair of these slippers that we have purchased for our granddaughter. She loved the first so much that she had a hard time leaving them behind at our house so we got her a pair for her to keep at her house. Now she gets to have toasty warm toes at both places and when she runs around on the wood floors, she no longer slips and falls. A happy granddaughter is worth it all. The price is grand as well.

Reviewed by Amy from West Virginia on Thursday, June 6, 2013

My son lived in these last winter so I ordered two pairs for next winter. he wears them outside too without problem, unless it is super wet. Because they are wool, his feet are never sweaty when i take them off. Best toddler shoes ever!

Reviewed by Ollya S. from New York on Thursday, June 6, 2013

Great booties! ( as always) This is another pair of this type made by Wesenjak, I have them for all family members and everyone loves them.

Reviewed by Songbird Mama from Western Massachusetts on Friday, March 1, 2013

This is the second pair I've bought on Sierra Trading Post for my son, and I"ve also bought a pair for myself. These are wonderful slippers - keep kids' feet warm and stay on because of high cuff. Also, bottoms are coated and non-skid! I also bought an adult-sized pair for myself!

Reviewed by Bunji from Maine on Friday, March 1, 2013

We live in the Northeast with tile floors on top of a cement slab, so slippers are a must in the winter. These keep our daughters feet toasty warm.

Verified Buyer

Reviewed by Maggie from New Hampshire on Friday, February 15, 2013

My Son uses these slippers as house shoes during the winter months. They are perfect. Nice and warm and stay on the feet while he is running around and jumping all over the place.
The only con I have is that they last only about one winter, maybe two, but for the price they are worth it.

Verified Buyer

Reviewed by Rebadeba from Morrison, Colordo on Tuesday, February 12, 2013

Went on a slipper buying expedition after moving into a new home with a frigid basement. These are for my 20 month old daughter who hates socks and shoes. I intentionally bought them a bit big so she could wear them for a while. She asks to put these on and the cuff helps them stay on her feet. They keep her toes nice and warm and she really seems to love wearing them!