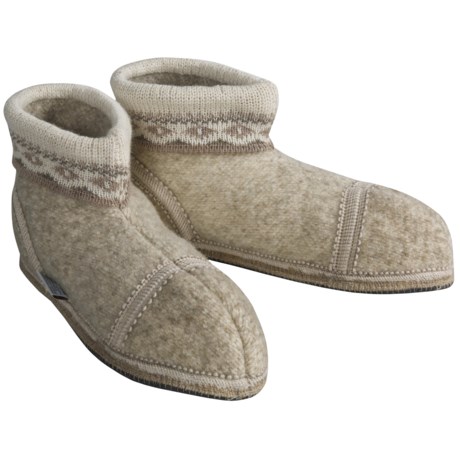 Answer

They are not gummy. They have several layers, nay many layers of boiled wool. I thought that in the beginning they were a little slippery. You could slide on wood floors like you were sliding on ice. They are not slippery like you will fall at least to me they are not. They have aged and gotten less slippery. I love mine because they are very warm and made of natural materials.

Answer

They are not gummy like I thought from the description, but the soles are more like a treated felt. My concern when I saw them was cat hair sticking to them, but it didn't and walking on the deck that has a dusting of snow would seep through, and it didn't.

Answer

that hasn't been a problem, and I have wood floors.

Answer

the answer to this question regarding slipperyness might depend on the surface. I have carprt and my soles are not slippery, even on the kitchen/bathroom floors that are vinyl. My soles are not gummy

Answer

I would say they are neither--Not slippery nor gummy--I've worn them now for two years

Answer

I would say the soles are slightly "tacky" to the touch, maybe to prevent slipping around on hard surfaces? I never felt they were overly "sticky" and in fact they got less so after wearing a few days anyway.

Answer

The soles are a heavy weight felt that are a tiny bit tacky. They can be slippery, it depends on the surface you are walking on. I have not had a problem, but my son fell down a set of steep stairs in his. He tends to not pay attention, so the slippers and he conspired to cause the problem, I have never had a problem on the same set of stairs. I can however see why some reviewers would call the soles slippery.

Answer

Defiinitly not slippery. I have worn them on all surfaces without difficulty. The bottom is felt with a slight glaze.