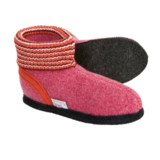 Closeouts. Warm, happy feet! Wesenjak's boiled wool slipper booties have lightly padded soles and colorful accent trim.
Average Rating based on
875
reviews
4.386285
0
5
Verified Buyer

Reviewed by paula from new jersey on Wednesday, March 23, 2016

after a couple of pair of name brand fleece(?) slippers now made in China which died within a few months, I welcomed these. Looking forward to a long relationship.

Verified Buyer

Reviewed by Jamma Gramma from Iowa on Tuesday, March 15, 2016

These are fantastic slippers! I've worn them for years, and keep buying them for presents for others. The only thing I'd change about them is that I'd add some arch support. And, I do. Once I insert a pair of arch supports, I cna wear them around the house comfortably all day and night.

Verified Buyer

Reviewed by Batt M from L.I. on Tuesday, March 8, 2016

Fantastic, lightweight and breathable. As a man you gotta be secure to wear pink slippers. Otherwise no problemo.

Verified Buyer

Reviewed by Shari from San Francisco, CA on Tuesday, March 1, 2016

LOVE these slipper booties. Warm and comfortable, I can wiggle my toes. The soles are durable enough to walk outside, and my feet stay warm. I got them large enough that I can wear socks if I need them, and I liked the first pair well enough to go back for a second pair.

Verified Buyer

Reviewed by garyhere from wa on Saturday, February 20, 2016

these are comfortable, breathable, and can be washed. they last about a year, but i wear them at least 4 hrs a day. i have a low top summer pair too. i don't like plastics or polyester. these can be worn without socks.

Reviewed by The Unlikely Homesteader from Colorado on Friday, February 5, 2016

The green pair I received had a white heel which was not pictured. Unfortunately, the 42 was tight for me even though I can normally wear that size, so the toe stitching dug in to me.

On the positive side, they are warm and felt comfortable to try out around the house.

Reviewed by Oregon Nana from Portland, Oregon P.S don't move here :*) on Monday, February 1, 2016

I have wide German feet size 9-91/2 so I ordered 42 & a 41 would have worked best. I'm going to wash & dry them that should shrink them a little and felt them also.

Verified Buyer

Reviewed by Anonymous from Portland, OR on Saturday, January 23, 2016

Wore my last pair of these for 6 years before they finally started wearing down. Quite snug n warm, comfortable and fit to size.

Reviewed by mlee from Minnesota on Tuesday, January 19, 2016

Great slippers. You will not be disappointed with the comfort and quality of these. Please keep in mind that the slippers that were shipped to me did not match the color in the pics. The heel is white and the cuff and tag are also a lighter color. Not the end of the world, but I prefer the colors in the pic. I snapped a shot of the actual slipper so everyone can see what they might get.

Verified Buyer

Reviewed by Snow girl from Western Massachusetts on Sunday, January 17, 2016

Warm and comfortable.

Verified Buyer

Reviewed by Sal from Orlando on Tuesday, January 5, 2016

I got these slippers for my wife for Christmas. She usually has cool toes, and these slippers are great! Great for walking all around the house; AND, our dog and cat love them too!!!

Verified Buyer

Reviewed by Kriss from Idaho on Sunday, December 27, 2015

My daughter loved these slippers so much I am going to order some for friends and other family members.

Verified Buyer

Reviewed by Naturganic from Houston on Monday, December 21, 2015

I bought these for my husband who has Parkinson's Disease. He needed something that did not have a rubber sole because he shuffles his feet. These are perfect because he can shuffle but they are not too slippery on tile that he could fall. I would have given them 5 stars but the ones pictured were different from what I received. The ones pictured were all green and the ones I got were green with a white heel, which I'm sure will get dirty fast. Good thing they are washable!

Verified Buyer

Reviewed by MamaOwl from California on Monday, December 21, 2015

They are absolutely perfect for keeping my feet toasty warm around the house.

Verified Buyer

Reviewed by Jan from Arkansas on Tuesday, December 15, 2015

These booties are so cute and comfortable! Have given several as gifts and bought myself a few too! They do a good job of keeping my feet warm!

Reviewed by motion intensive from berkeley, ca on Saturday, December 12, 2015

I have these. The pink are great.
Ordered two as gifts, in green.
They came with white heels, unlike the pictures on STP which show them as a green consistent with the rest of the bootie.

On slippers the white gets dirty fast.
Have another pair of these in blue/white, so I know.
Had to send them back.
It is December 12 and I am now scrambling for 2 gifts.

Otherwise, these slippers are 5 star: warm, breathe well, don't stink and washable.
A fantastic deal.

Verified Buyer

Reviewed by Cross from NoCal on Saturday, December 12, 2015

I like 'em. Warm and comfortable and it's often very cold in my place. You have to put a little effort into slipping them on but that helps keep them snug on the feet. The listing says color green but they look bluish to me, with white heels and a blue trim. Nice heavy wool construction, lightly padded sole with some kind of grippy stuff so you won't slide on tile or wood floors. I've had them for a couple of months now and they seem to be holding up well but then I never wear them outside.

Reviewed by HokieTrax from Mountains of Hokieburg, VA on Saturday, December 5, 2015

I love these semi-ugly Wesenjak booties! They are warm and comfortable and what more can you ask for a slipper? The weird color combos are part of their charm. They do run a shy short. I normally wear a 38 in regular shoes but need a 39 in these.

Verified Buyer

Reviewed by Kate from NH from New Hampshire on Saturday, December 5, 2015

I bought these for my almost 90 year old mom when she mentioned that she would like a pair of "slipper socks" can't beat the boiled wool and tight cuff around the ankle, nice sole so she doesn't slip and can walk outside with them :)

Verified Buyer

Reviewed by Homeschool mom from California on Friday, December 4, 2015

Short story:
Husband once bought me very expensive boiled wool slippers. Loved them! But they didn't last long. I can't justify that expense. So I tried these, which are sometimes affordable on STP. Feel just as good. My family had slipper envy and followed suit. We are now a Wesenjak family.

Warm but not sweaty(and we have very cold floors). Good with or without socks. Not very cushioned on the bottom so it doesn't feel like you're walking on marshmallows. Stay on. The seam down the middle sometimes comes between my large and second toe, but it's just a quirk. Natural fiber. I wouldn't say they're more durable than the expensive ones, but I wear these out into the yard and as total house shoes until they're dead, so maybe I'm rough on them.

Verified Buyer

Reviewed by sarah from seattle on Thursday, December 3, 2015

I wear a size 9.5 and ordered a size 10. They JUST fit me. Cozy for winter when I try to save on heating costs! My second pair of their slippers. I bought the low ones first and liked them so much. They hold up very well.

Reviewed by Breakheart from Boston, MA on Monday, November 30, 2015

My first pair and I was concerned about getting the proper size. I am a Men's, 11 1/2, medium width. I ordered size 45 and they fit me very well; without a sock and with a light sock. If I planned to wear them with a very heavy sock a size 46 may be a better choice. I don't have a sensitivity to wool and these were fine against the skin. I am happy with the purchase.

Verified Buyer

Reviewed by coloradogirl from Colorado on Saturday, November 28, 2015

This was ordered as a christmas gift for my mother,so I do not know how comfortable or practical they will be. So this is not a true rating.

Verified Buyer

Reviewed by Cara from Pittsfield ,MA on Tuesday, November 10, 2015

I like the look, good quality,well made. Cuffs add to the warmth, no drafts on ankles.

Verified Buyer

Reviewed by paulo from Berkshires, MA on Monday, November 9, 2015

I buy one pair every fall and wear them all winter. Toasty, and they look great. I only wish they had sturdier / waterproof soles. You really can't get them wet...


Verified Buyer

Reviewed by WoolIsTheBest from Southern New England on Friday, November 6, 2015

These are maybe the coziest slippers around and they are washable.

Verified Buyer

Reviewed by Ritat from Montana on Wednesday, November 4, 2015

This is my 2nd pair of these booties. I loved the first pair so much, I wanted another pair. Unfortunately I have to return this 2nd pair because the right slipper is not a snug fit. I just want the exchange though, and not a refund. They're worth the trouble.

Verified Buyer

Reviewed by HONDO from South Dakota on Friday, October 23, 2015

Great product - a little snug around the cuff portion when slipping on the feet. Best of all - they aren't make in CHINA!!

Verified Buyer

Reviewed by ollis from NV on Tuesday, October 20, 2015

Very well made and warm. However they run small!

Verified Buyer

Reviewed by Candle Bright from california on Saturday, September 19, 2015

My family has been wearing these for many years. They are warm, soft, and we appreciate that they are made of wool, not synthetic fibers. My girls have been wearing them since they were toddlers. We get them a new pair each year. They are now 10 and 14 and still love them.
The slippers last a very long time.
We highly recommend these wonderful and cozy slippers.