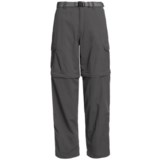 Closeouts. The ultimate in versatility, White Sierra's Teton convertible trail pants offer a zip-off design for warm temps, UPF 30 sun protection to fend off UV rays and a light, wicking nylon you'll love.
Average Rating based on
51
reviews
3.588235
0
5
Verified Buyer

Reviewed by GRG from GA on Wednesday, August 20, 2014

These were toooooo short! Otherwise, I would have certainly kept them. Considered thinking they were ankle pants, but they were even too short for that!

Verified Buyer

Reviewed by AJ from Michigan on Wednesday, May 14, 2014

I have had a pair of similar pants in the past. These fit fine at the hops, but I found the pant legs too short and wide at the bottom of the leg. Of the three pats I bought, these pants were supposed to be the same length, but were shorter.
These might be great for a petite figure.


Verified Buyer

Reviewed by kjl from Missouri on Thursday, May 1, 2014

Quality is fine but these run small.

Verified Buyer

Reviewed by Mountain Hiker from Georgia on Tuesday, April 29, 2014

I love these pants. After trying several different styles, sizes, and brands this one was perfect for what I wanted. I wear a 10 or 12 in normal jeans so I ordered the Medium at first, but they were too small. I exchanged them for the large and they're perfect. Good quality; the zipper pants are great if you want to zip them off while hiking - they have velcro at the bottom of the leg so you don't have to take off your shoes. Lots of pockets. I ordered a second pair.

Verified Buyer

Reviewed by Hiker00 from Arizona on Wednesday, April 23, 2014

I have the hardest time finding convertible pants that fit me, these fit me perfect. I have long legs with a short torso and pants made for tall people fit me horrible at the waist, these are not talls and they fit me perfect in the length. I like that they have a button and not a snap, my last pair had the worst snap, any time I bent over the snap came undone. Most other pants I have bought I wanted to change into something comfortable once I got to camp, I took these on a 4 night trip in the Grand Canyon and not one night did I have the urge to want to get out of them right away. Love these and hope to have them for a long time!

Verified Buyer

Reviewed by Karen from Maryland on Tuesday, April 22, 2014

I wear a size 10 and ordered a size larger based on previous reviews. While they seem baggy on me, they are comfortable, and as my Eagle Scout ranked said, "you want to be able to move in them, not be restricted by them." Coming from someone with way more years of experience camping and hiking than me (!) I agree. These should work nicely for our Grand Canyon trip.

Verified Buyer

Reviewed by Darbynme from Bucks County, PA on Friday, April 18, 2014

The quality was good but the fit was wrong for me. Ordered these in XL (size 16 is my normal size) but they were way too small, so much so that they seemed to be a child's or junior size. I exchanged them for a size 16 Columbia Sportswear Silver Ridge Convertible Pants - UPF 50, Full Leg (For Women) and these fit great!!! Just returned from a trip where I enjoyed wearing the latter pair.


Verified Buyer

Reviewed by disgruntled from New York on Wednesday, April 16, 2014

I need a longer crotch measurement. Pants are very light for summer wear.

Verified Buyer

Reviewed by High Desert Dweller from California on Tuesday, April 8, 2014

These seem to be very small in the waist compared to the legs and hips. I tried two different sizes and had to return them both.

Reviewed by High Desert Dweller from California on Monday, March 31, 2014

These were quite roomy in the legs, but the waist seemed to be small for the size that I ordered. I am exchanging for a larger size, but am not confident that will work, as the waist may fit - but the legs will look like balloons! We shall see. If you have a small waist and larger hips and legs, these might work for you. The quality of the pants appear to be good.