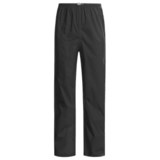 Closeouts. Waterproof breathable and lightweight, White Sierra Cloudburst Trabagon rain pants are ideal for unexpected precipitation during adventure travel, camping and hiking.
Average Rating based on
196
reviews
3.994897
0
5
Verified Buyer

Reviewed by Jason from Fresno on Sunday, June 12, 2016

Good value, haven't needed to use these yet. I like that they zip into their own pocket.

Verified Buyer

Reviewed by Trish the tiger-mom from North Carolina on Sunday, June 5, 2016

I bought these for my son prior to a 16 day paddling/rafting trip in Utah. These rain pants are incredibly light and hydrophobic and at this price, you can't go wrong! If you are waffling or on the fence about purchasing these rain pants...just buy them. You won't regret it!

Verified Buyer

Reviewed by Blondie from the Finger Lakes from Honeoye Falls, NY on Monday, April 18, 2016

Bought these for the hubby for his hiking pursuits. The pants are light in weight and packable. Legs have a gusset to fit on/over boots that can be secured which is a nice bonus.

Reviewed by Ash from So Cal on Thursday, March 24, 2016

5 9 165, most mediums tend to fit well, length as good, waist a little small. Picked these up for backpacking as they are very lightweight, however, have found when backpacking that water was getting inside my backside, wetting out the crotch and getting a rash. Perhaps my pack was pushing water through...this is the only pair of waterproof pants I've used, so not sure if it's normal. Not particularly breathable. I still pack them on every trip in case of rain and wear that at home when it's raining.

Verified Buyer

Reviewed by One Bob White - AT hiker from South Carolina on Friday, March 11, 2016

Great jacket - stuffed into pocket - Glad I bought Extra large - size seemed small for a large.

Verified Buyer

Reviewed by Poodlegal from cali on Tuesday, January 19, 2016

These rain pants are surprisingly well-made,lightweight,and can be packed into a small area.

Verified Buyer

Reviewed by horseman from Missouri on Saturday, December 12, 2015

My wife purchased the WSTRpants for women size Small and was very happy with them because They were large enough to pull them up easily over her jeans for protection from the rain. I was hoping for the same results. I order a size medium my normal size, but when they arrived they were to small to pull up over my jeans. I returned them and reorder a size Large.

Verified Buyer

Reviewed by Dave G. from California on Wednesday, November 25, 2015

This 7 ounce, well constructed and waterproof pants compares to brand-named expensive rain pants. Zippered pockets and snap-tightened at the ankle, met all my expectations for a quality product at an economical price.

Verified Buyer

Reviewed by Walking' James from Ohio on Sunday, November 8, 2015

Otherwise, great! They fold into their own back pocket, a tidy little packet to slip into your daypack in case it rains. Durable, waterproof, and lightweight.

Verified Buyer

Reviewed by Yoga instructor from New Mexico on Thursday, November 5, 2015

This review is based on the product but not its use. The pants fit well the material is lightweight the product is well made. We have not used our rain suits in inclement weatheryet.
Normally wear a size large bought an extra large to go over clothes in colder weather. The pants fit well the jacket is a little snug.

Reviewed by Scoutdad from California on Thursday, May 21, 2015

These are non-insulated (not snow pants) but great for wet weather hiking/camping. Lots of pockets (more than most other brands) and there is a waist drawstring and snaps at pant cuffs. The material is quieter than most PVC rain gear but still makes a "swishh" sound when you walk. The waist size was tight (I ordered medium) and had to go up a size in order to get these over jeans/pants.

Verified Buyer

Reviewed by Lucky Dog Walker from Massachusetts on Wednesday, February 18, 2015

Worn over fleece leggings or light weight pants, this outer layer completely protects from rain, snow as well as the high winds and sub-zero temperatures we have suffered in New England. Snaps make it easy to slide over boots and then secure a tight closure. Pocket is a handy feature on any item. Only reason not five stars is they do not breathe and so perspiration gathers inside. I hang them inside out to dry after each wearing.

Verified Buyer

Reviewed by Marjie from New York on Sunday, August 24, 2014

My teenage son took these on a 10-night camping trip and told me he wore them almost every day, even when it didn't rain. Two thumbs up. So glad he had them in his pack.

Reviewed by Dy from Singapore on Sunday, May 25, 2014

Review after a year : The price is low and the quality was really good. It was indeed lightweight and doesn't add up space. The zips are still working well. I use this for riding motorcycle on a raining day. It's does a really good job but for long term usage the crotch area is no longer waterproof and it can gets really awkward.

Verified Buyer

Reviewed by jlasersmith from buffalo,ny on Thursday, April 17, 2014

I ordered these based on the sizing chart.... they don't fit. Make sure you order a size larger. They seem like decent quality.

Reviewed by Toby from Santa Babrara on Friday, March 21, 2014

Just as a comment earlier said, literally plastic.

Reviewed by Greg Kibitz from Maine on Wednesday, March 12, 2014

Seem okay but yet to weather test them. A little smaller than the XL size indicated. They also don't pack easily into the zippered pocket and a little more than I wanted to spend for such a simple rain shell. Plan to try them out today in the mix precip Nor'easter. Hope they work okay and are not too small for shoveling wet heavy snow (what I primarily bought them for). Would prefer they had full side zips, rather than just two pair of of fixed snaps at the ankles. Pretty sure I will always have to remove my boots to put them on (or take them off) so not so great for back packing. Sadly, could not find the old kind like I have that have the full side zippers and can be put on very quickly as soon as it rains without having to get rain in your boots. Guess I need to lose some weight so I can fit in the old Large ones I already have that I like so much more!

Reviewed by Truly from South Dakota on Thursday, February 27, 2014

they are perfect length of me 5'10" female. Lightwt seems very packable. Haven't tested them out in wet weather yet, but they seem similar to others I've had that worked very well over pants...easy on/off with the openings at ankles

Reviewed by Vvs from Virginia on Wednesday, February 19, 2014

Nice quality and fit!

Reviewed by dano from Hawaii on Thursday, February 13, 2014

Great pants for tropical hiking. Light and waterproof. Not really breathable but they will handle a downpour. Fit is tight so go on the larger end of the sizing. Great pants for the price.

Reviewed by So Cal Biker from So Cal on Friday, December 27, 2013

Purchased to carry on a bike as emergency rain pants. They work perfect for that. Nice fit, not too big around the legs. Very nice.

Reviewed by Miniaussie from Olympic Peninsula, WA on Wednesday, November 20, 2013

I keep these 6 oz pants in my pack as emergency gear. The breathability is such that I would not consider taking them on a trip where I anticipated wearing them. On those occasions I take Gore Tex. But, they are cheap, they are light and they shed water. For now, they have a place in my pack.

Reviewed by NickName from oregon on Tuesday, November 5, 2013

Work great and a great price

Reviewed by Jim the Runner from Muskego, wi on Monday, October 21, 2013

I had heavy rain gear, but they were too warm for over 55 degrees, so they light duty rain gear suit me perfect for warmer weather. I was out golfing and we got a light rain and these pants did good. I haven't had a chance to try them out in pouring rain yet. But, I plan to use these hiking, running and golfing in the warmer weather. They have pockets. They have snaps on the bottom of the pants that lets you adjust to whatever.

Reviewed by Paula from Oklahoma on Wednesday, October 9, 2013

Comfortable

Reviewed by Outmoded from Massachusetts on Thursday, August 29, 2013

I used these pants on a 300-mile bike trip this summer, and they worked well for my purposes. They are light, pack pretty small, and work pretty well for occasional rain. During a full 2 days of rain at the end of my trip, I did get wet underneath the pants, but it was tough to tell if that was sweat or rain. Regardless, I would definitely recommend them for hiking or biking trips where you would run into occasional rain. They are also pretty comfortable.

Reviewed by RoSte from Philadelphia, PA on Tuesday, July 2, 2013

waterproof and has snaps at ankles for length-adjustability but fit was small, needed L when normally an M is fine

Reviewed by jboate from MA on Friday, June 14, 2013

Good basic pant for my scout to camp in. Should keep him dry and fits well over pants.

Reviewed by franzia from Upstate NY on Wednesday, June 12, 2013

Just exactly what we wanted/

Reviewed by none from nyc on Friday, June 7, 2013

don't get these, I guess you get what you pay for. I was out in the rain all day with these - miserably wet.