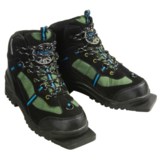 Closeouts. 301 nordic boots from Whitewoods are designed to keep your feet warm and dry with Thinsulate® insulation and waterproof synthetic uppers. A moisture-wicking, quick-dry lining and generously padded collar and tongue add to the comfort level.
Average Rating based on
259
reviews
4.235521
0
5
Verified Buyer

Reviewed by Rosanne from Wisconsin on Friday, November 20, 2015

I was very happy with these boots and they arrived quite promptly. The customer service people (Alex and Vince) from Sierra Trading Post helped me a lot and were so nice. I had my doubts as to what size to order based on reviews I read. Some said to buy a size up from your size; others said that the boots were true to size. The customer service people told me that if the size I order isn't right, how I could return for another size. Since the boots in the two sizes I was debating were still in stock, I had time to return without losing the boot. I ordered my exact size and the boots fit perfectly, so I did not have to do a return! I love the style, comfort and quality of these boots. I can't wait to use them! Thank you Sierra Trading Post. When I need something else that you have in your inventory, I will buy from you for sure!

Verified Buyer

Reviewed by Fitnessfreak from Albuquerque on Tuesday, March 17, 2015

I had been looking for 3 pin touring boots and these are very comfortable. Ordered a size larger. I have not used them yet, but expect to enjoy them because they were warm and comfortable wearing around the house.

Verified Buyer

Reviewed by Di from MA on Tuesday, March 17, 2015

Ordered one European size larger, great fit. Comfortable.

Verified Buyer

Reviewed by FGumby from N. WI on Wednesday, March 11, 2015

I have used this product only three times since receiving them so this review is based upon less than optimal "field time". The boots were a bit stiff on the first outing but the third time, they had loosened a bit. Initially I was concerned about blistering due to the tight fit, but that has not been the case. Based upon use-to-date, I would recommend this product. Since our snow base here in Northern Wisconsin is rapidly melting away, it might be next winter when I publish an update!

Verified Buyer

Reviewed by KK from Massachusetts on Sunday, March 8, 2015

I bought these to replace my ancient boots. They are so much more supportive than my originals and fit the pins on my bindings perfectly!

Verified Buyer

Reviewed by Love to Cross country ski from KY on Tuesday, March 3, 2015

These cross country ski boots fit perfectly, stay totally dry in deep snow. We have had plenty of deep snow!
They are really comfortable. Arrived in 2 days, just in time to ski!

Verified Buyer

Reviewed by JW from Ohio on Sunday, March 1, 2015

Nice, comfy 3-pin boots. They are warm, and work exactly as described. Based on other reviews, I ordered one size larger than my regular shoe size, and that was the right thing to do for a good fit. I like my old skis, and am very happy to have a new pair of boots to use with my existing skis.

Verified Buyer

Reviewed by Miranda M., lover of adventures from Upstate NY on Wednesday, February 25, 2015

I was gifted from a neighbor two sets of x-c skis and pole, along with boots. The boots were quite old and not nearly as warm enough as I would like them to have been. I searched around the internet and my father and I ended up stumbling across this website and these boots. I was SO excited to find such a great deal on ski boots. I was able to try them out the next weekend and LOVED them. They are super warm, wonderfully comfortable and I couldn't find anything of comparable quality for such a great price. They shipped really quickly, as well. I got them within 4 days of ordering. I am extremely satisfied with this purchase and I have purchased now twice more from the Sierra Trading Post website. So many great deals!

Verified Buyer

Reviewed by Linda the Old Skier from Ohio on Tuesday, February 24, 2015

Decent boot for replacement of elderly 75MM boots. Seriously need to order one size up. Waited to review in anticipation of finally being able to use the boots. Have used them a few times now. Fit into the old bindings like they were made for them, no issue there. Replaced some older boots that were a little tight so these feel great on my feet. Seem sturdy and were comfortable. My ancient gaiters won't fit over them, so keep that in mind. But if you are looking on keeping your old equipment and bindings and need new boots, these fit the bill.

Verified Buyer

Reviewed by maria908 from maine on Monday, February 23, 2015

overall, good quality and comfortable boot - you won't likely find another 3-pin at this price.
just be sure to go up one full size for a proper fit.

Verified Buyer

Reviewed by Mrs. Cross country from Montana on Sunday, February 22, 2015

I used these for the first time this weekend. They seemed well made and good quality for the price. The only problem I had is when I read the others reviews I saw they ran small so I ordered a size up. That was a mistake for me as I had to return them and get the size I originally should have ordered. And even then they were slightly big.. When I read the sizing on the box , It seemed off. Keep in mind I am a woman and it may be that men need to order up a size.

Verified Buyer

Reviewed by MikeNJDrummer from New Jersey on Thursday, February 19, 2015

Been XC skiing for 30 yrs. and these are my 3rd set of boots. I have been out 2X with them, both days 20 degrees, breaking trail 1st day. They performed flawlessly. I also bought their SmartWool PhD Ski Socks - Merino Wool which I used also (see review). The boots are well made, warm & dry. Handy is the metal hook on the toe where you hook your gaiter hook into. Instead of having to use the shoe lace. Smart design. Even the end of the laces are finished off with metal so they don't become frayed. Well padded collar & tongue. The last lacing hook on the top of the boot is also a handy open ended design.

When I first put them on they felt like a stiff hiking boot compared to my old Alpina boots. But the stiffness does not interfere with the performance. They do not require any break-in period. My feet never felt sore after skiing 2 hrs. / day in them.

I highly recommend these ski boots.

Verified Buyer

Reviewed by Richard from Ohio on Wednesday, February 18, 2015

Excellent. Have only used them twice, but fit perfectly, very warm and comfortable. Also fit my 30 year old skis without a problem. Seem to be quality made.

Reviewed by Mal from Utah on Saturday, February 14, 2015

These were the only three-pins that I could find below $100 that weren't dilapidated. So quite a stroke of luck when they happened to fit perfectly and seem very sturdy! They are well insulated and wear just like a hiking boot (with extra padding).
I'm a size 9 US and ordered a 43 and they fit great.

Verified Buyer

Reviewed by CC Skijorer from New England on Friday, February 13, 2015

Great value for the price. Comfortable and warm. I wear a 10 1/2, so I ordered and 11 (which is size 45) and they fit great. So far so good, and I wouldn't hesitate to recommend them.

Verified Buyer

Reviewed by MCJ from Michigan on Wednesday, February 11, 2015

Good quality shoe and a decent price. Where so many others offer only cheap or ultra heavy duty in the traditional 75mm Nordic boot. Whitewoods comes through with a good all around backcountry ski boot that gives the support for telemark turns but flexibility for touring the backwoods.

Verified Buyer

Reviewed by Michelle from Lansing, IL on Sunday, February 8, 2015

Excellent boot for the price. Works great for the classic 3 pin binding. I also did not have to change the bindings on my skis. I would agree that the boots run a size small.

Verified Buyer

Reviewed by Mountain Maiden from New Mexico on Friday, February 6, 2015

So far, I love the boots, Used several times in the first few weeks since purchase. I bought one size larger as recommended by other reviewers (42 for my, 9.5 usual ladies shoe size) . The fit is perfect. The Gortex lining kept my feet dry and the fit very comfortable. I recommend highly.

Verified Buyer

Reviewed by Jon from UP on Wednesday, February 4, 2015

Like a light hiker, these three pin boots give more support for backcountry touring than a typical light XC boot, but less than a leather tele boot.

Verified Buyer

Reviewed by PGB3056 from Michigan on Monday, January 26, 2015

The fit is very comfortable, they are very warm and they have taken the falls and spills without any issues. Highly recommend.

Verified Buyer

Reviewed by Vicki from New Hampshire on Friday, January 23, 2015

I've worn these boots twice now. They are super comfortable and warm. I don't even notice that I'm wearing them. I love the tread and traction too. I would highly recommend these boots.

Verified Buyer

Reviewed by Tom the skier from Washington on Monday, January 19, 2015

Well made product, perfect fit ordering a size larger.

Verified Buyer

Reviewed by David K. from Rochester Pa. on Friday, January 16, 2015

not the bindings, I would have preferred when we found these used skis, however was very glad to find shoes on your site to match the bindings.
Bought 4 pairs for my family. They all fit great . So far I've used three times. Very nice,very satisfied, designed and made well.

Verified Buyer

Reviewed by Marv from PA on Saturday, January 3, 2015

Thees boots are comfortable and as good or better than any other cross country boots I have had on my feet.

Verified Buyer

Reviewed by Kevin from PikeAdventuresAK from Anchorage, Alaska on Wednesday, December 24, 2014

Confortable boots for backcountry trails. Use with gaitors to prevent snow from getting in your boot. Miles of skiing with no blisters. Runs small. Order one size larger.

Verified Buyer

Reviewed by Boreas24 from NY on Wednesday, December 17, 2014

After using them twice, the construction seems durable enough, and they are warmer and more comfortable than the old xc shoes I have used. The fit is a bit narrow compared to some boots. My only real complaint is that my heel lifts up in the back even though the toes fit perfect. However, I fixed this by doubling the laces around the back before tying in the front. Overall I am very pleased for the price.

Verified Buyer

Reviewed by Tommy from Wisconsin on Monday, December 15, 2014

I've only been able to ski in them once this season (since the snow hasn't been to cooperative) but they get the job done. They are confortable and were easy to break in for me. A good inexpensive choice so far.

Verified Buyer

Reviewed by Yoopertools from UP of Michigan on Wednesday, December 3, 2014

I X-country ski using 3 pin or cable bindings exclusively for better control in the rough terrain we have. I need a tall boot but not a hard plastic " telemark" downhill boot. These boots are perfect, stiff enough for making sharp turns, flexible enough for long strides. I especially like the lite weight and warmth, something that is tough to get in any other backcountry boot. And they are wide enough for a duck foot like mine.
All of this at a fantastic price. I hope that Sierra can continue to carry these or similar boots as I burn through them in about 2 seasons.
The only design change I would ask for is a flex joint in the sole behind the pins to keep the sole from cracking in the minus 20 and below conditions.


Verified Buyer

Reviewed by d from mi on Sunday, November 16, 2014

Run a little small, but comfy and warm

Verified Buyer

Reviewed by The Flying Dutchman from Rochester on Friday, November 14, 2014

These boots are advertized as running small, order up a whole size. I did, only to find out that 1/2 a size would be a better fit. Too much heel lift.
My Fisher XC ski boots,size 9. Asolo Titan mountaineering, size 9. I will have to send these back and substitute for a size smaller, a 43.