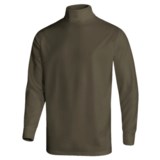 2nds, barely perceptible blemishes. Wickers Comfortrel® turtleneck is perfect for active sports and casual wear. Midweight fabric is ideal for stop-and-go activities in moderate to extreme cold or stationary activities in moderately cold temperatures.
Average Rating based on
439
reviews
3.908883
0
5
Reviewed by New England from CT on Friday, January 3, 2014

I wore this shirt for the first time today - clearing the driveway after the New England snow storm. The wicking material worked great, but I ordered a men's XL, wanting the shirt to be a little big - NOT THE CASE. The shirt runs very small. After putting on the shirt I thought that I had ordered a small or medium. It also runs very short. I plan on emailing Sierra.



Reviewed by blonokid from midwest on Wednesday, January 1, 2014

I was hoping to mine in green but they did not have my size,this item has been great.I wear this as an underlayment and then wear a sweatshirt or another long sleeve shirt.It does keep me pretty warm, and I'm glad turtlenecks our still in style.This was a good investment and after my 25% discount I snagged this for under 10 bucks,thanks sierra.

Reviewed by Shirley from Texas on Monday, December 30, 2013

I ordered two turtlenecks for my husband for Christmas....both in a size large. The one I ordered from Land's End is perfect.....size is excellent. However the Wickers turtleneck was visibly smaller as he took it out of the package and sure enough, was way too small. That was disappointing and because I have to pay for return shipping, it is not worth taking a chance on an exchange. I guess I will have to donate it. That is a disappointment.

Reviewed by ODU_2013 from Alexandria, VA on Sunday, December 29, 2013

This was a gift for my dad, so I haven't gotten a report back on how well it works, but it was just what I was looking for. The appearance is just like a cotton turtleneck, but it is actually wicking material. Very happy to find this product!

Reviewed by Calvin Climb from PA on Friday, December 27, 2013

Great t-neck, never feels clammy adds just right amount of warmth and can be worn alone or layered.

Reviewed by dglawton from New England on Friday, December 27, 2013

Wicking polyester turtlenecks are very difficult to find. When these came along at a good price I bought 5 - 4 large and 1 extra large. I'm 6'1 ~180 lbs and am usually between a large and a medium. One of the large fits perfectly. Three of the larges are almost too tight and the sleeves slightly short. The extra large is only 'larger' in the neck and still too tight in the body and too short in sleeve length. I kept all because they are wearable. Good luck.

Reviewed by owlgrabber from Oregon on Tuesday, December 24, 2013

I bought two of these in a men's large size (I'm a women's 14) to keep me warm after surgery and drape over my tummy incisions for these weeks when I cannot do up my pants. They have been great. Soft, easy to wear, a good drape for my purpose, nice big turtleneck and wash and hang dry easy as can be. Not your average reason for a clothing choice, but worked well.

Reviewed by PAoutdoorsman from Pennsylvania on Saturday, December 21, 2013

This is the most unique product I have ever purchased. I have been searching for a non cotton turtleneck for quite some time and I finally stumbled upon these. I am 5'8" 180 with a fairly muscular build. I purchased 2 larges for myself (1 tan, 1 blue) and 1 XXL in olive for my dad. I tried on the tan one first and was extremely disappointed. The neck was fine but the sleeves were too tight and it was extremely restricting under the arms as the material was not very stretchy. The blue and the olive ones were completely different shirts. They were a more stretchy material and the interior of them was kind of like a mini grid fleece similar to a polartec powerdry lightweight baselayer which should promote excellent breathability. The blue large was a perfect fit, form fitting but not compression fit. Interestingly, the olive XXL was not much bigger than the Large blue one so I will keep it as it will not fit my dad. Because of the price I may cut the sleeves off the tan one and see if that works for an additional back up turtleneck layer. The 4 stars are for the blue one, spot on sizing, quality, and comfort. However, I caution future buyers because it's a crapshoot as to which product you will get.

Reviewed by Lance Eagle from Longmont, CO on Friday, December 20, 2013

Very nice texture, and very comfortable. Cotton turtlenecks become too warm for me; this is perfect.

Reviewed by nativesun from Oregon on Friday, December 13, 2013

Except the material snags a bit, and won't look that good after a while. Very warm and comfortable for the money. I normally use a size medium, and ordered this in large for a more comfortable fit, didn't want skin-tight. Size came out perfect for my needs.