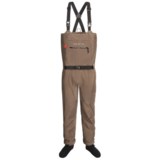 Closeouts. William Joseph's WST waders employ Wader Safety Technology, a feature that uses a CO2 cartridge to inflate a removable bladder and keep you afloat in the event of troubled waters.
Average Rating based on
20
reviews
4.000000
0
5
Reviewed by Matt from Idaho on Wednesday, March 4, 2015

I tried these on in the store today. They are fantastic quality and this is a great buy! However the the 2XL was way to big for me.

I am 6'3" and 280#. I take a xxl in almost everything. However I was swimming in these waders. They are for someone WAY BIGGER than I am. They were too long for me and there was too much girth.

At my size that's not something I say very often. But these are for a BIG boy.

If these will fit you buy them! They are a fantastic wader.

Verified Buyer

Reviewed by Ringo934 from Utah on Monday, March 2, 2015

Willy J make the best equipment money can buy. They are a local Utah company and with the great discounts from this site, I was able to buy top of the line waders without breaking the bank.

Verified Buyer

Reviewed by The Possum from Pennsylvania on Monday, June 30, 2014

I was very impressed with these waders. I'm 6' tall, long legs with a size 10 foot. The large size are perfect. Plenty of room inside and the stocking foot length easily fit into wading boots. I have never had a PFD in waders. They are not bulky and I'm happy to have the option to pull the rip cord if needed.
I'm tough on equipment and these waders are holding up nicely.

Verified Buyer

Reviewed by Gary E Bradshaw from California on Tuesday, June 17, 2014

Years ago while duck hunting, lost in the fog, I stepped into a deep boat channel that crossed through the marsh I was traversing. I remember rapidly sinking beneath frigid water with my waders filling, shotgun shells and gear dragging me down. I twisted quickly under water as I sunk and caught the edge of a muddy shelf with my knees. I used my shotgun to dig into the shelf to prevent me from slipping down further, but the pressure told me I was already deep under water. With my gear holding me down I literally crawled under water back towards shore. I was nearly out of breath before I could rise out of the water to see my buddies nearly stripped out of their own waders in an attempt to go after me.
In the short time I have had to test these waders, I have been satisfied and impressed. They are very comfortable, flexible and well priced, but after an experience like mine, I especially appreciate the floatation feature. I did not test the inflation of the detachable flotation bladder with the provided Co2 cartridge; instead I used the manual long stem valve which worked flawlessly. The waders are comfortable even when inflated tightly and my Fish Pod gear attached. I would easy compare them to more expensive products on the market I've slipped intoor tried, Excellent product.

Verified Buyer

Reviewed by Jamie from New Hampshire on Tuesday, June 10, 2014

Wore these for 3 days in Maine through rain and sunny days, these waders did not disappoint. Inflatable bladder zips out if you don't want/need the floatation.

Really well constructed, I expect these to last a long time. I am 6' tall and 210 lbs and size 10 shoe, the size large fit me very nicely. I think the neoprene stocking foot would fit 9-11, at size 10 these felt perfect.

Verified Buyer

Reviewed by steelie14 from California on Sunday, May 4, 2014

Have yet to use them, but they do seen very high end. I am 6'2" 230 and the XL has more than enough room for steelhead clothing. The feet are small and tight though. Could be a problem getting them off. Had a little trouble, but will probably figure a way out of them. They are heavy with the bladder system in them. Look forward to getting them wet.

Reviewed by Fishin' Musician from SE Idaho on Friday, April 18, 2014

Got these after a long process of shopping for the best fit. I bought the 2XL size. This is my first pair of waders and I have been to several stores and talked to lots of fishing folks about what to look for and what to avoid. These waders appealed to me because of 1) price, 2) fit, 3) brand, and 4) features. Most local stores wanted $100 for an inexpensive pair of stocking foots but the price escalates for breathables. Most that I tried on for fit had monster booties made for huge feet and would fit Omar the tent-maker. I guess this is a consequence of my height (6'4") and barrel chest (49"). I have a normal inseam for my height at 35", and a fairly normal size 12 foot.

These waders have a much more "form-fit" bootie that eliminates much of the extra neoprene found in other less expensive brands. There is an ankle band that seemed tight at first, but I noticed it relaxed after wearing a few minutes. This band keeps the bootie from shifting but may cause problems for someone with more fleshy ankles and might result in difficult removal. I just run my hand down behind my heel to peel them off. BTW, I have skinny ankles but wide feet and they feel fine in these waders.

The legs are long enough for my height with a tad left for bending and sitting. They do tend to "balloon" a bit until the air bleeds out, so they are definitely waterproof. The chest is generous and I would rate them as a perfect fit for me (48-49") since they will allow enough space for a warm jacket underneath. With the zip-out PFD bladder removed there is considerably more room. These waders come all the way up to my armpits and the straps adjust nicely to fit - I was worried they would be too long. If you are tall and stout (not obese) these will be well worth trying. I have plenty of space to move comfortably but not too much extra material. Besides, once in the stream the extra is pressed against you anyway. If I were not as big around in the chest the XL size would fit but I need the room up-top.

The waterproof pockets (2) in the front are a nice touch and will fit a phone and extra pair of glasses. The front handwarmer pocket is part fleece-lined and will come in handy during cold weather. The wear patches and fabric reinforcements are well placed and the construction is first rate, with no sloppy seam taping and no evidence of cheap short-cuts. The ankle collar is sweet and does have a hook for the front boot laces. Pretty stout fabric for a (semi) breathable wader, and I believe I will need another, lighter wader at some point for hot weather/warm water. These will be great for the frigid mountain water around here in Idaho, but lakes may get uncomfortably hot in July - but who really needs a wader for hot weather? I bought these for the rest of the year when I am usually freezing with blue feet, even when the temps are in the 80's.

William Joseph gear is pretty nice stuff and I am happy to be able to get it at such a low price. Sierra Trading Post sent me the waders with the plastic anti-theft device still attached so I had to return them, but I just called and they shipped out a second pair at no extra charge and they arrived quickly. Sending back the first ones cost me nothing.

The floatation bladder is a zip-out device that inflates with a CO2 cartridge or the easily accessed manual blow tube. It works! The cartridge trigger pull is also located well, but does have a small pass-through hole near the top of the wader. Keep that in mind if you happen to wade up to your armpit! The tube doesn't keep me up as well as a normal PFD BUT it does make it super-easy for me to swim to shore in cold water. I find this feature tremendously valuable as I fish alone most of the time, in rivers that are brutally cold with deep holes. The shock of immersion in freezing water can take your breath away and stun you into panic - never underestimate the potential for danger around the water when it's cold.

If I had the extra cash I would buy the Willy Jo RT pant-waders as well, for boating and small stream wading. They don't make waders anymore and I'm glad I caught them before they got away (snicker). I believe these products are on a par with Orvis and Simms gear and will greatly outlast the cheap stuff from Redington and Caddis, not to mention provide more features and comfort. Just be aware that they are not as breathable as the top-end $600 ones from the big boys. But, how breathable can something be when immersed/soaked in water most of the time anyway? Never figured that one out. Take 'em off when you're done and life is good.

Reviewed by Avid flyfisher from Pennsylvania on Thursday, August 1, 2013

If you have a size 10 foot, the large will fit, but the neoprene feet were too small for my size 11 feet, especially if I wanted to wear wool socks in them. Also, the pull cord for the inflatable bladder fits through a hole about 2 inches below the top of the waders, so if you wade really deep, which I have done, you'd get a leak there before the wader came over the top of the waders. If you're feet run small and you don't wade too deep they might be great. I'm sending mine back.

Reviewed by The Anal Finn from Pennsylvania on Wednesday, June 19, 2013

I had a pair of William Joseph Drynamics, and despite having worn them hundreds of times, they never so much as seeped. Eventually, I wore a hole in the bootie and William Joseph replaced the Drynamics with a pair of WSTs. (Like the WSTs, the Drynamics are being discontinued and they did not have them in my size.) I wasn't interested in the floatation feature. I guess if I fished a lot of roaring western water, maybe I'd feel differently, but I don't fear drowning on the eastern streams I fish, so I thought the addition of a floatation bladder was subtraction by addition- just more bulk to carry around. I didn't realize that the bladder zips out easily if you don't have a need for it. Both the Drynamics and the WSTs have a fairly slim fit, which is great in the summer, but if you want to bundle up under them in the winter, buy a size larger. They most maddening aspect of both the Drynamics and the WSTs is that the suspenders are seriously 2x as long as they should be. I'm 6'3, and with the suspender cinched as tight as possible, they were still to loose to support the waders and the straps slip off your shoulders. Although this is annoying and for the life of me, I can't understand why they did this, it is easy to fix- put them on, measure the snap to where is need to be, fold the strap in half, and sew the folds together. It worked great for me. The minor irritant of the suspenders is a small price to pay. The waders are well built, tough and come with few nice bells and whistles in a water-proof pocket and a roomy hand warmer pocket for winter. I have size 13 feet, and the booties were just about perfect. They are snug, but not hard to get on and off, and I kind of like the snug fit- it keeps the booties from bunching up in your wading boots. Finally, William Joseph customer service is great. 1 year fixed or replaced free, and after a year old, they will replace them for $80.00. Although my Drynamics were a few seasons old, William Joseph replaced them for free despite my offering them $80.00. In short, I love William Joseph, and this is a [...] fine pair of waders.

Reviewed by MOTF from Charleston, WV on Friday, March 1, 2013

The waders were good quality but fit very poorly. There is a band around the foot that doesn't stretch making it very hard to get your foot in and out of. Also, I am 6'1" and they came up to my chin. Way too tall and the drawstring top doesn't stay drawn up. Any touch and it springs back out.