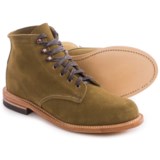 Factory 2nds. From an iconic American company, Wolverine's 1000 Mile Leather lace-ups are a worthy accompaniment to your better denims. Hailing from a long legacy of authenticity and quality, this sophisticated casual is made from premium leather with ample cushioning, Goodyear welt construction and a Vibram® heel cap.
Average Rating based on
74
reviews
4.364864
0
5
Reviewed by sunil from wb on Saturday, April 9, 2016

I was pretty excited to get this boots and as soon as I opened all the excitement went down the drain. One was much darker then other, leather seem to be different too one was much thicker then other so I checked serial number and as I thought they were shoes put together from different batches. Few weeks earlier I had bought new Bison centennial from them and instead of sending new they sent me seconds. I buy a lot from Sierra trading post but lately there seems to be having way more issues. Yes they do take care of the issues but spending time getting it fixed and resolved is not something I keep looking forward to.

Verified Buyer

Reviewed by Moses from Philadelphia on Wednesday, March 23, 2016

The hype is real and the reviews you read online everywhere is true(never seen a negative review). Even as factory 2nds, the quality of these boots are excellent. My pair only came with minor cosmetic defects or maybe I just got lucky.

Verified Buyer

Reviewed by TheTourist from Indiana on Tuesday, March 22, 2016

I've purchased this same pair of boots from STP last year, and of the 2 pairs I ordered, one shouldn't have even been sent by Wolverine, or sent by STP to me. The second pair was mostly fine, but didn't fit. Both got sent back, and I basically paid $14 to try them on, since you will get charged the return shipping.

On my second order, this year, I made sure to purchase what I think is my right size in this (having wide feet complicates sizing quite a bit with boots, especially these), and hoped for the best. The only problem I could see on this new pair was that one piece of leather was slightly drier and cracked-looking, but not in a visible area and doesn't seem to pose long-term problems. The right boot has a very slight wrinkling problem around the toe flex area (not at all present on the left boot), but that's something that you could get even if you paid full price for these, which I would not. In short, buying these boots at the STP sale price is a great deal if you happen to get lucky in the 2nds lottery. You could be disappointed, so be warned. Otherwise, the boots are comfortable and roomy, actually more comfortable from the get-go than their competitors. The leather sole has worn a bit after a few wears, but that is to be expected. Next time they restock, get a pair (make sure you do it quickly because they sell out fast) and maybe you'll get lucky, too.

Verified Buyer

Reviewed by Jericho Turnpike Bandit from Indiana on Tuesday, March 22, 2016

Not sure how these are factory seconds. They are better quality than my Chippewa firsts! Leather looks great, stitching is perfect. Very sleek for a work boot, even though these are "fashion" work boots. They might have had some superficial scuffs but some boot grease took care of those. Fit is about what you'd expect in a boot. I sized down a full size from what i wear in sneakers. They are snug but feel better than any boots I've worn. DO not hesitate to grab a pair of these. An absolute steal for the price.

Verified Buyer

Reviewed by hoodz from USA on Sunday, January 10, 2016

I've bought a few of the 1000 2nds. They seem to be hit or miss. I've received some with only a couple minor flaws (scratches, discoloration, stitching problems) that were good considering the price. Others have had too many problems, including these. One boot wasn't bad but the other was not good. The leather was much softer and thinner than the other boot and had creases, wrinkles, shape issues and discoloration in spots. These will be getting returned.

Verified Buyer

Reviewed by frankie from denver on Monday, January 4, 2016

Factory 2nds with minimal damage. Damage appears to be a few deep scuffs to the ankle of one boot that already blended in with the leather. Other than that they are a great pair of boots. Size is 1/2 size smaller than my normal size and fits perfect. Lucky find at an incredible price!

Verified Buyer

Reviewed by The Outlawyer from SWVA on Friday, December 4, 2015

These boots are the old brogan style shoes that Americans used to wear when they walked everywhere they went before sidewalks. They true to size with great ankle support and heel control. The materials are gorgeous and the construction is very fine indeed. They aren't Hightalian loafers. They are the essence of the American man's shoe that is taking over the casual shoe spot in men's wardrobes. Not as rugged as the Red Wing classics but easier to break in and dressier.

Verified Buyer

Reviewed by Brooklyn Yuppie from Brooklyn on Thursday, June 4, 2015

Not many sizes left by the time I ordered, as the Wolverine 1000 2nd's sell out on STP quickly every time they pop up. Managed to find my size and pulled the trigger without hesitation. They came very quickly. Mine were seconds because there is a blemish on the leather on the top/inside of the right boot, above the ball of my foot. Not sure what its called, but right where my big toe connects to the rest of my foot. While it was somewhat visible when I pulled it out of the box, it happens to be right where the leather is creasing from normal walking, plus I think some leather polish will even it out - all in all, I may have lucked out, but the discounted price was well worth the blemish, so I'm happy. Rust color is pretty cool also - looks brown in some light, but gets a reddish hue in others.

Verified Buyer

Reviewed by Jon from Maryland on Wednesday, June 3, 2015

Price was great and the boot was in good condition, minor scratches and no major damages. Fit is large so if you are nike 10.5 get these in 9.5 or 9.

Verified Buyer

Reviewed by Jon from Maryland on Wednesday, June 3, 2015

Price was in good condition, minor scratches and no major damages. Fit is large so if you are nike 10.5 get these in 9.5 or 9.