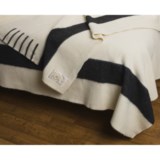 Closeouts. Often imitated but never capturing the excellence of the genuine original, Woolrich's Hudson Bay 6 Point wool blanket comes from a long legacy of outstanding craftsmanship, luxurious texture, superior warmth and lasting beauty.
Average Rating based on
13
reviews
4.846153
0
5
Reviewed by Sharon from boise on Thursday, January 16, 2014

We got this gorgeous (and famous) blanket to replace a thinner wool blanket. This blanket is warm enough that we no longer need multiple wool blankets on the bed. We are so proud to finally have a Hudson's Bay blanket on our bed. We also like the pink ribbon for breast cancer. Highly recommended!

Reviewed by Joanne of Asheville from North Carolina on Tuesday, January 14, 2014

To think I almost didn't buy this beautiful blanket for fear it would be too heavy! It's wonderful, and with air conditioning I may use it all year around. I love- the elegant pink stripe. There's no substitute for real wool - no slipping around; it seems to have tamed my queen bed disrupted by children and pets. There's plenty of it, too, sized generously but just right. I'm so glad I went ahead and ordered it. This blanket is here to stay.

Reviewed by Earthwoman from Chicago suburb on Monday, January 13, 2014

This blanket is heavy and warm, and plenty soft enough to the touch for me (after all, nobody sleeps directly on top of it or directly under it). It's clearly a high quality wool blanket, and with a coupon discount it's a terrific buy. I bought one, and then along came another, better coupon, and I couldn't resist buying another one. That's what a good blanket this is. I really like the pink and cream combination too (versus the primary colors you usually find elsewhere). One of my blankets has an additional label that says it's a limited edition and a percentage of the proceeds will go to U.S. Breast Cancer Research (maybe that's why it's pink?). I like that idea, and I hope it still holds true.

Reviewed by lylesmom from Massachusetts on Friday, January 3, 2014

One reviewer said they don't make these like they used to make them, that might be true but consider that sheep industry has taken serious downturn since synthetics came on the scene. Wool is the still the true miracle fabric-- as I have said previously to family members, "That is why sheep use it."
This is an excellent blanket that will last for generations and keep you very warm. Keep buying wool.

Reviewed by chili_bean from Colorado on Saturday, December 7, 2013

I love this blanket. The pink stripe is very pretty and the blanket - though all wool is soft and oh so warm. This was the best Christmas present I could have chosen!
Highly recommended. I would buy more if only they were still in stock!

Reviewed by Butterflier from New Mexico on Tuesday, December 3, 2013

We recently decided to eliminate the feather and down products in the bedroom to see if that would help my husband's allergies. We live on the Continental Divide at 7400 feet and couldn't stay warm with the combination of cotton and small wool blankets we had. This is a wonderful, thick, warm, wool blanket and the queen size was large enough to cover our king mattress with plenty to hang over. We are both very pleased with the purchase and would recommend it to anyone who needs a heavy blanket to keep warm at night.

Reviewed by Avid Golfer from Washington State on Wednesday, November 27, 2013

The Hudson Bay 6 Point Wool Blanket is gorgeous!

Reviewed by Ex-Clothier from North East, PA on Friday, November 22, 2013

We've used wool comforters for years having found goose down comforters to be less comfortable (they don't wick moisture the way wool does) so we tried a good wool blanket and it's very nice. Certainly worth the price here.

Reviewed by STP Shopper from Ohio on Friday, November 15, 2013

...like they used to. If you don't have a vintage Hudson Bay blanket, you'll probably be pleased with this one, which feels like somewhat stiff matted wool rather than a lovely long-fleeced sheepskin. I have my mother-in-laws blanket, and hoped for another, larger Hudson Bay treasure, I decided to return this one, though--as I say--if you've nothing to compare it to, this is serviceable.

Reviewed by Kat from Western NC on Monday, August 5, 2013

Debated long and hard about paying so much for a wool blanket, When I got such a good sale price I decided to try it. Since it is still warm weather I can"t speak for the warmth, but I can say it is very soft and absolutey beautiful. Wish STP carried the multistripe in full.