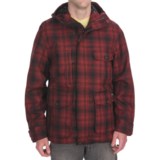 Closeouts. If you're looking for a good excuse not to go out in rainy weather, this isn't it. Woolrich's Tioga parka features an exclusive Hydromax® waterproof breathable membrane, critical seams sealed and cozy microfleece lining to protect you from the elements.
Average Rating based on
27
reviews
4.259259
0
5
Verified Buyer

Reviewed by Kerry from Gatineau, Québec on Sunday, December 28, 2014

First, let me say that I have always loved Woolrich jackets. I have owned several, and this purchase continued that line. Nor was I disappointed with this one at first: rugged, ample wiggle room, lots of pockets, protection from the wind and rain, nice colour and fabric, pleasing style. But after 15 wears and a pair of washings, the teeth in the main front zipper began to pull apart, refusing to mesh no matter how many attempts I made to rezip. There are 3 or 4 velcro patches that one can use to close the jacket if all you are doing is going for a light stroll; but they don't hold through any twisting and turning, biking, getting in and out of the car, etc. Upon further inspection, I noticed that all the zippers (on the pockets and so on) are rather tough to move, but no others have stopped meshing yet. So, the jacket has been rendered useless due to a zipper defect (this all happened after the STP return deadline passed). What a pity. Don't buy it.

Reviewed by Credto from MONTESANO on Tuesday, February 25, 2014

I kept getting the discount emails and had to add another one of these coats to my collection.
My Black one has served me beyond my expectations for the past year. So I added a red one to my attire to mix it up a bit. At full price these coats perform perfectly, but at 45% off they are a steal.
I purchased the XL and the fit is perfect in length and arms. I am 6'2" 220# and the Hood actually provides protection from the worst down pours. The sleeves are perfect length. They material sheds water and the wind has never penetrated this coat, even with gusts of up to 50 mph. The coat is light weight and can be layered with either a sweater for cold days (20-30 degrees) or a T-shirt on mild days (40-50 degrees).


Reviewed by hg from penna on Saturday, January 11, 2014

nice coat, kinda retro

Reviewed by Riley from UTAH on Monday, December 23, 2013

This really is a super comfortable piece of clothing. The mesh lining on the inside makes the jacket feel incredibly light, while the microfleece around the chest and shoulders provides great warmth. The outer material of the jacket is also very sleek, and great for all kinds of climates. 6 pockets help you to feel able to pack around anything! what a great product!

Reviewed by Norm from Michigan on Wednesday, November 6, 2013

Liked it for about 3 days until the zipper decided to NOT unzip. Had to return it and am waiting for a replacement with a fully functioning zipper.

Reviewed by Virgil from Wyoming on Tuesday, October 15, 2013

Haven't had the coat out in any weather yet, so can't really speak to that. Tried it on for fit before I cut the tags off so it seems true to size for me and rhe size I usually buy. Seems well made as all Woolrich products are.

Reviewed by JA from PA on Thursday, October 10, 2013

A classic pattern in a modern, practical fabric. So far, so good. Holds up nicely in rain

Reviewed by Rob Conley from Ontario, Canada on Wednesday, October 2, 2013

I do like the parka alot. I have been wanting to purchase one for a while. When I saw the price through Sierra Trading Post I jumped on it. The parka was shipped quickly as well, which I appreciated.

Unfortunately for me I had to pay an extra $45.00 in handling and brokerage fees. (I live in Canada.) While I understand that this is not Sierra Trading Post's issue, it will deter me from making a further purchase from this site. In the end, I saved less then $10 when I factor in the brokerage fees. I have ordered clothing from the USA on other sites and this has never happened before.

Reviewed by Rob from New York on Sunday, June 2, 2013

With the plaid, woodsy, pattern, this is not your typical parka. Not sure how warm it will be, but it certainly can be used for light winter weather. It does have a little "boxy' fit to it....good if you want to layer but you may want to reconsider if you want more of a fitted coat.

Reviewed by Capt. Bob from Medina, OH on Monday, May 27, 2013

The fabric is waterproof, and has the detail and texture of a woven fabric as the pattern is not printed. Heavy zipper, thoughtful details and well executed. This is not a Winter weight product and is not meant for that purpose. Spring, Fall and early/late Winter. Stylish and something different tham color blocked patterns common in newer outerwear. This unit manages to mimic the look of the traditional Woolrich woolens but with technical features usually reserved for more expensive garments.