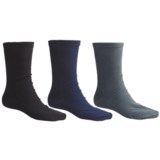 Closeouts. Hailing from majestic Jackson Hole, these Wyoming Wear crew socks blanket feet in wonderful comfort and warmth with cozy 200 wt. polyester fleece.
Average Rating based on
75
reviews
3.626666
0
5
Verified Buyer

Reviewed by karet from Chicago, IL on Thursday, February 7, 2013

These are warm and fleecy, but I like wearing them around the house like slipper socks. You could wear them with boots, but they are made of fleece.

Verified Buyer

Reviewed by MplsGal from MN on Monday, February 4, 2013

I bought 4 packs of 3 of these socks as Christmas gifts. Was so happy with them as gifts that I ended up buying another 3 pack for myself. They make incredibly good socks to wear under slipper in my cold MN house. I also wear them to bed where they keep my feet toasty warm! LOVE EM!

Verified Buyer

Reviewed by Irish Redhead from Wa State, Denver, CO & Underwater!! on Friday, February 1, 2013

Brother uses these socks when biking to work in Denver in the winter - one pair of the fleece socks is warmer than 4 pairs of wool socks.
Friend who is mail man is wearing these everywhere - he says that this is the first time in 60 years that his feet have been warm and comfortable during the winter.
Younger brother is a submariner(is in the Navy on a submarine) - he has to hide his socks as they develop legs and walk away otherwise - he gave out three dozen pair last Christmas to best friends - all are extremely pleased with the socks!

Reviewed by Trinity River Dog from Trinity River, CA on Wednesday, January 30, 2013

Wyoming Wear sponsored a project of mine years ago, so I wanted to buy their product. Their socks weren't great then. Hoped they'd improved, but the fabric is pretty light and the cut isn't great like Acorns. However, at this price, I'm keeping them for guests to wear at our ski haus. Good and cozy for padding around inside.

Verified Buyer

Reviewed by Lizbelden from Syracuse, NY on Tuesday, January 29, 2013

I have bought Wyoming Wear socks before, and loved them. I wear a 10 1/2 shoe, so I'm right on the cusp between M & L in fleece sock sizes. I got these in large. They were way too big. I ended up giving them to my son-in-law, who wears a men's size 11 shoe. They fit him well.

Verified Buyer

Reviewed by NCMtnGirl from Asheville, NC on Saturday, January 26, 2013

Very warm and cozy. Runs just a little bit big to wear in shoes, but wonderful for around the house. Really great for the price.

Verified Buyer

Reviewed by Bulldog from Lexington, KY on Sunday, January 20, 2013

Does not conform to the foot, so wrinkles are problem if worn in a shoe. Works fine with slippers, but that's not what I originally bought them for.

Verified Buyer

Reviewed by Coldfeet from Cleveland, Ohio on Tuesday, January 15, 2013

These socks ae large and roomy. I could not wear them as socks alone they are too big, but I love them to wear over my socks instead of slippers. They are more like slipper socks and I love them for that use.

Verified Buyer

Reviewed by Hapchuck from Malone,NY on Monday, January 14, 2013

Love to wear them as sooo compy

Verified Buyer

Reviewed by eee from Rochester, NY on Wednesday, January 2, 2013

These socks are so bulky, I can't imagine who has such a fat foot!! The length is fine, but they are so wide through the foot and ankle, they slip right off and are very unconfortable in any shoe.