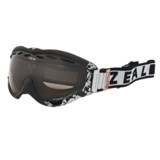 Closeouts. Zeal's Detonator SPX snowsport goggles blow through glare and fog with a polarized, ZB-tinted lens that enhances contrast and stays fog-free thanks to air intake boosters for ventilation.
Average Rating based on
7
reviews
4.428571
0
5
Verified Buyer

Reviewed by Pablo from La Jolla on Wednesday, April 9, 2014

This is the 2nd pair of Zeal Goggles that I have owned, my first pair is my personal pair, one that is Photochromic (changes tint with lighting conditions) and Polarized. I LOVE that pair, never fogs. They actually did fog up when i first bought them, and they were repaired for free by Zeal in Colorado. Their customer service is outstanding and they warranty their goggles for life. I also sent it back the next year for a broken strap, which they again replaced for free. So, I am very happy knowing that they stand behind their products. I never had to argue with a Tech to get the repairs done, they were super nice. Knowing that, I bought this pair for my son. He hasn't worn them yet, as our season sucked this year and we just got them at the end of the season. He mentioned that there is a slight gap at the bridge of the nose that is correctable by lifting the strap higher on his head. My only wish was that these goggles were Photochromic.

Reviewed by Robin from Arkansas on Thursday, March 6, 2014

I really liked these goggles. They fit well with a helmet, and never fogged. Used them last week at Breckenridge. Worked well in both sun and snowy conditions.

Reviewed by Joolieboo from Massachusetts on Wednesday, January 29, 2014

I am so pleased with these goggles! After trying three different pairs, I finally found one that doesn't pinch my nose and cut off breathing. The polarized lenses are great for varying sun conditions, and the spherical lens really does improve your peripheral vision. How have I lived so long without these?

Reviewed by Cindy from WI on Thursday, January 23, 2014

comfy but I either have a small nose or chipmunk cheeks because there was a gap around my nose. Adjustable to wear with or without helmet.

Reviewed by Suzy from Upstate ny on Tuesday, November 26, 2013

Love polarized lens, fits my ladies giro helmet from side to side...but, leaves slight exposure to the forehead. (Ice cream headache anyone?). Also fits easily over my small wirerim glasses. I have ordered giro basis goggles, which are supposed to fit over glasses also. Will decide between the two when they arrive.

Reviewed by Ryan from NY on Saturday, March 9, 2013

Have used these twice already. First day was a bluebird and they were perfect, cut the glare and made it easy on my easy. Second time out was heavy wet snow and try as I might they refused to fog with no moisture build up on the lens at all. Even in low light I could easily identify ice and debris, the contrast is so vivid it's like seeing in HD. Plus it's super light and very comfortable, amazing goggle for the price

Reviewed by Tom from Pacific NW from Seattle Area on Sunday, March 3, 2013

Seem OK. I've used them once on a cloudy day. I need to try them on a sunny day, or better yet a mixed day of sun and clouds to see how well they work for contract and shadow detection when doing tree skiing and mog's.