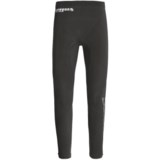 Closeouts. Game changers for athletes looking to push the limits, Zoot Sports' CompressRx Ultra tights feature muscle-specific, graduated compression that removes lactic acid, reduces swelling and improves muscle stability and blood flow.
Average Rating based on
16
reviews
3.812500
0
5
Reviewed by honeybee from upstate NY on Wednesday, March 25, 2015

For compression, these tights are amazing. I have been creating my own compression system by using different support garments for my torso and legs – these tights do everything. The 0 is perfect for 5'2" 100 lbs but I think you could be bigger and still benefit from this size – was not hard for me to pull on and adjust. You do have to make sure your knees are lined up just right and then you really feel the amazing support. However, there is a lot of extra material in the crotch– I'm sure because they are unisex. At first I only noticed it sitting down but after a short time wearing them I realized it really was a problem in any position and could cause chafing while running and it is strange looking. I can't decide whether to try a run because then I might not be able to return them. Will update review after a run if I do keep them.

Reviewed by Sue the runner from 'Washington on Monday, December 22, 2014

The material these tights are made of is substantial. I noticed on the box more detail regarding sizing was given than on the web site. This would have been helpful. I ordered size one based on waist size. When they arrived I saw that the calf size listed was over an inch smaller than my calves, although I was OK in the thigh area. I went ahead and tried them on and although I could get them on my calves it was tough to get them all the way to my waist. I'm about 5'5" and 123 lbs with fairly stocky legs and a small waist. The next size up might have worked, but they are not longer available.

Verified Buyer

Reviewed by Walk on! from Chicago on Wednesday, October 29, 2014

I ordered a size 2 for me and a 4 for my husband. His fit him almost perfect, just a little short, but workable. He is happy wearing it. I have a 30 inseam, so its about 4inches too short. My knees are 4inches below the built in Knees compression. Otherwise it fits perfectly everywhere. So disappointed! I wish they would make it with various length. Thanks STP for offering them inexpensive. Worth a try, if you have shorter inseam(24-25')!

Verified Buyer

Reviewed by runsalot from CO on Wednesday, April 9, 2014

This is an exchange as the stitching on the first one ordered was defective and came undone all along the entire seat panel. This one looks fine and the fit remains good. Hopefully no further issues. The exchange process with STP is easy and prompt, although I don't think there should be a return shipping charge when the issue was a defective product and in no way discretionary on my part.

Reviewed by D.W. from Wy on Monday, March 31, 2014

These rock! I ran a 10k in them,.and afterwards for the first time, my knees didn't ache.
Very impressed. Sorry I hadn't tried them earlier!

Reviewed by runsalot from CO on Saturday, March 22, 2014

These fit great and function as they are intended except for the unraveling seams. The entire seam through the crotch area was mis-sewn and unraveling the entire area. Only worn a short time and not washed. A great buy but not if they develop big holes after one wearing. I'll give this one more try with an exchange.

Reviewed by Carp the artist from Arkansas on Wednesday, March 12, 2014

I got a pair of them and was happy with while running. However they did not hold up, every time I put them on or took them off they would tear. They say for both men and women but the don't not really give you enough room where it counts as a male. STP was great and took them back.

Reviewed by hellboy from New England on Saturday, October 26, 2013

True compression and seemingly well made! Hope they last...

Reviewed by busky from Roseville on Sunday, April 28, 2013

O.K. I have like others tried other compression tights,shorts,knickersetc.. and zoots are the the ones.
Fact; These zoots ultra have been scientificly designed for the sole purpose of "read the overview of product"
Fact; Since these ultras are almost having a doctors perscription and recomendation they need to be carefully ordered.
Fact; I personally cycle over 700 miles a month. I am now 52years old and tow several different bike trailers with over 50 lbs for my Job
Fact; My cramps in my legs became so painful it would bring tears to my eyes and exhaust me in the evening.
Fact; I read one of the reviews and they mentioned that these ultras fixed the problem
Fact; I purchased ultra tights about 7 monyhs ago and the only cramps i have had is one day i actually forgot to wear them.
Fact; I have now purchased not only the tights but 3 pair of ultra shorts and purchasing 2 pair of knickers since they are 75% off as soon as i am done writing this review.
Fact; I am 6-0 225lbs. i wear a 38 waist atheletic cut pants. I have good size thighs and calves. The zoots ultra 5 40-44 waist are the ones i use.
Fact; these ultras will be tight but pls note they are designed to IMPROVE circulation so tight is good but i can see where you can have a wrong size and have the ultras work against you. and pls note these are unisex so that is probably why i use the 5.
Fact; I would only wish that the people that felt these ultras were strangling them would size up and reap the benefits of not only better circulation but elimination of cramps but performance enhancing and better musule recovery.

Verified Buyer

Reviewed by Fly girl from Virginia on Friday, February 1, 2013

Best recovery tight ever! Expertly constructed for instant, incredible relief of overused leg muscles.