Zoot Sports

Sizes

Style

Gender

Sleeves

Features

Colors

Reviews

Events

Prices

Popular Zoot Sports Products

Search Within
Zoot Sports has over 30 years of experience helping competitive tri-athletes and fitness enthusiasts achieve their personal best. In their innovative line of triathlon training and race-day wear, Zoot Sports combines technically-advanced fabrics and comfort features with fast, aerodynamic designs. For ultimate training comfort, choose from durable, well-equipped running shorts and tops, cycling shorts and jerseys, and swimsuits. And for the big day, Zoot Sports makes close-fitting, well-ventilated race suits that provide features and ultimate performance for all three challenges.
About the Zoot Sports Brand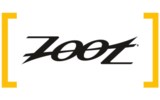 Verified Buyer

Reviewed by new triathlete from Florida on Thursday, July 28, 2016

I bought this top as an extra because the price was so low. It fits great and I love it! I wear it for brick workouts when I swim and then run/bike. I usually am a size small or medium, and ordered this one in medium, it fits great!

Verified Buyer

Reviewed by trigirl from Delaware on Friday, July 22, 2016

I wore these a few times prior to a race and noticed slight rubbing around the bottom of my shorts, but I thought with body glide they would be ok on race day. They chaffed so bad during the race (olympic distance tri) that I had raw, extremely painful lacerations around my legs by the end. It's a shame because I did like the fit of the upper part of the shorts, but the white bands are a very thin grippy material that doesn't stretch or move well.

Verified Buyer

Reviewed by Dave from Marathon FL on Friday, July 8, 2016

Excellent support, light weight, good without socks or with minimalist socks, can not go wrong at Sierra prices.
Receive email updates for new Zoot Sports items