Zoot Sports

Sizes

Style

Gender

Sleeves

Sock weight

Sock height

Features

Colors

Reviews

Events

Prices

Made in USA

Popular Zoot Sports Products

Search Within
Zoot Sports has over 30 years of experience helping competitive tri-athletes and fitness enthusiasts achieve their personal best. In their innovative line of triathlon training and race-day wear, Zoot Sports combines technically-advanced fabrics and comfort features with fast, aerodynamic designs. For ultimate training comfort, choose from durable, well-equipped running shorts and tops, cycling shorts and jerseys, and swimsuits. And for the big day, Zoot Sports makes close-fitting, well-ventilated race suits that provide features and ultimate performance for all three challenges.
About the Zoot Sports Brand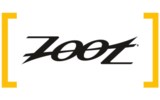 Verified Buyer

Reviewed by DLegacy from NH on Tuesday, August 30, 2016

No issues to report whatsoever. Suit is extremely comfortable, and there is adequate padding for when you are riding. Great product!

Verified Buyer

Reviewed by Sue from Philadelphia on Tuesday, August 23, 2016

This suit is very functional, and pretty comfortable too. I wore it for a sprint (trial run) and a full distance triathlon (140.6). The pad size is fantastic for the bike. In the sprint I thought it would be maybe a bit bulky for the run (like having a maxipad toward the front of underneath your legs), but by the time I got to the run in my ironman, I didn't notice this at all.
Zipper slides open - a known issue. It's a slow creep so possible to catch it before things get inappropriate, especially if wearing a sports bar.
After 140.6, I found I had some thin cuts on my arms and legs where the edge of the band must have been rubbing. Noticed no discomfort while wearing the suit, though.
Pockets are usefully sized and placed.
On the "cool black" technology - not sure. Feels great on the bike, the breeze is enough to keep things really comfortable (even in high humidity). But I felt very hot in the run - at only 80 deg but no noted wind - and wonder if maybe the black was a factor.

Verified Buyer

Reviewed by Brett from Midlothian, VA on Thursday, August 18, 2016

This suit is well made. I liked the style,fabric, chamois and fit. I sent it back because of the plastic-y grips on the sleeves and legs. Aesthetically they are ugly. But they are plastic like and stiff. The arms were really tight because of this and I don't have big arms. (I am generally size small and ordered a small.) There is also a seam on the inside of the arm where the fabric meets the plastic band that was very annoying. I know that would've chafed and hurt during actual wear. This is the main reason I sent the suit back.
Receive email updates for new Zoot Sports items