Zoot Sports

Sizes

Style

Gender

Sleeves

Sock weight

Sock height

Colors

Reviews

Events

Prices

Made in USA

Search Within
Zoot Sports has over 30 years of experience helping competitive tri-athletes and fitness enthusiasts achieve their personal best. In their innovative line of triathlon training and race-day wear, Zoot Sports combines technically-advanced fabrics and comfort features with fast, aerodynamic designs. For ultimate training comfort, choose from durable, well-equipped running shorts and tops, cycling shorts and jerseys, and swimsuits. And for the big day, Zoot Sports makes close-fitting, well-ventilated race suits that provide features and ultimate performance for all three challenges.
About the Zoot Sports Brand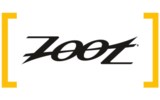 Verified Buyer

Reviewed by Santanana from Washington on Thursday, September 22, 2016

These should work as boot socks, but not for cycling. They are way too thick and lumpy around the toes to work in cycling shoes and be comfortable. The fit (as a cycling sock) is poor.

Verified Buyer

Reviewed by Kay from Boston on Wednesday, September 7, 2016

Love this top. My only complaint is that it doesn't have the bike pockets in the back... just one small one on the side that is a little awkward to put things in. Otherwise, super comfy, breathable and well-fitted.

Verified Buyer

Reviewed by Jo from Baltimore on Wednesday, September 7, 2016

Good for biking (just enough padding) and swimming (not too much). Band around the bottom is tight on my thighs, which are big (I'm 5'7", size 6 pants, 138 lbs) got a medium. Still, they're fine for training and race.
Receive email updates for new Zoot Sports items