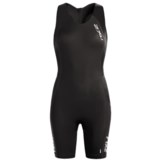 Closeouts. From the first splash to the final strides of the run, 2XU's Comp Tri suit delivers long-lasting performance. SBR SKIN X fabric delivers moisture-wicking support, and the SBR fleece low-profile chamois stays dry through all three disciplines.
Average Rating based on
9
reviews
3.111111
0
5
Verified Buyer

Reviewed by KS from North Carolina on Monday, July 28, 2014

Fits great, very comfortable, completed a sprint Tri with no problems. It is disappointing the writing started shedding the moment I put on the suit, but I didn't buy it for the brand name anyway. Zipper is in the back, making it difficult to get on/off solo.

Reviewed by eineej from PR on Thursday, October 24, 2013

The Zoot tri suit fits very comfortable. However the quality of the product is questionable. The first time I tried it on the lettering on the right leg peeled off. Besides this it is an OK practice suit.

Reviewed by Meg from NOLA on Tuesday, October 1, 2013

This kit is great. It's perfect for ladies with larger thighs. The leg openings accomodate my huge thighs without the elastic grippers digging in. My only complaint is the zipper is on the back and is tough to zip up without assistance. This makes mid-race pit stops complicated. Over all I really liked this kit and will likely buy a second.

Reviewed by Jody Carson from Delaware on Tuesday, August 27, 2013

This is my first Tri Suit and i though it fit well. Lettering is already peeling off which is a downside but all and all im very pleased.

Reviewed by Maureen from New York on Sunday, July 21, 2013

Great fit on the suit, but after one swim the lettering on the legs peeled off ...... very disappointed !?!?!?!!?!

Reviewed by First Time Tri from Chicago on Thursday, June 27, 2013

This was my first triathlon and I received this 4 days before the event. First time I wore it was morning of and it fit great and did the job for all 3 events (swim, bike and run). I'm larger chested so I wore a sports bra underneath and felt totally comfortable in the run. That is the only thing I wore besides the tri suit. Would recommend this suit to anyone!

Verified Buyer

Reviewed by LinB from The Villages, FL on Thursday, January 17, 2013

I bought two of these suits to swim in. The leg openings were supposed to be 18 inches and as such would have worked. However the actual leg openings measured 20 inches and the the entire leg was cut similarly wide. With such a wide leg there was no leg compression. The elastic band on the legs is rather wide with a significant grip strip. If the legs did provide compression I could see this design might have presented a comfort issue. With no leg compression the suits were useless and I returned them. If however you have wide muscular thighs the rest of the suit was great. Measure VERY carefully before purchasing.

Reviewed by SwimBikeRunDie from SF Bay Area on Tuesday, December 4, 2012

This was the lowest price on the Internet, but I suspect that these are defective, because the leg openings are way too large, measuring 20" and NOT 18" as stated in the specs, making the so called "leg gripper, anti-ride hem, maintains position" completely useless as a tri suit.

I was also disappointed to find that the micro thin fleece crotch area is so thin that it will not provide any protection from the bike saddle. It's merely serves as a panty liner.

Also be aware that the ladies will be proudly displayed with the high beams on in the chest area, due to the very thin fabric...so unless you like being lecherously gawked at, you'll have to wear your race bib over your chest area.

Verified Buyer

Reviewed by Eil from PIttsburgh, PA on Tuesday, November 20, 2012

I really wanted this to fit and it did everywhere except for the thighs where it is baggy and one leg for some unknown reason pulls and creases up. Not sure why, my legs are thin. It fits everwhere else very nice, but is like a baggy dress in the thighs for me.