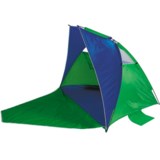 Overstock. Vented nylon beach shelter from ABO Gear fits into a shoulder bag and sets up easily with fiberglass poles. Use as sun shelter or changing room at the beach. Also great as fishing hut, overnight tent, or kids' play tent.
Average Rating based on
89
reviews
3.876404
0
5
Verified Buyer

Reviewed by SoCal Mountain Woman from California on Monday, November 16, 2015

The shelter sets up easily, blocks the wind while allowing for ventilation, and provides welcome privacy. It's long enough for an average-size adult to stretch out for a nap. It packs up small enough and light enough that you barely even notice that you have it slung over your shoulder. The tent pegs are big plastic ones, OK for beach sand; but you might like to bring along metal stakes for use in other locations.

Verified Buyer

Reviewed by biomom from New Mexico on Sunday, August 23, 2015

We purchased this use at the pool next summer but have already set it up as a play tent for the kids. It is easy to set-up and does come with spikes (albeit the plastic variety). It is very light and compact and would be easy to carry in and out of places. I like that the vents can be closed up to keep out the sun. I don't think this would do much for rain protection because the vents just use toggle latches and not zippers to close up. It also has lots of nice pockets. We are pleased with the purchase.

Verified Buyer

Reviewed by Melissa swims and walks and knits from Eastern Massachusetts on Friday, July 24, 2015

Recently transplanted to a coastal community, we are finding ourselves at the beach more often than not. This shelter gives us a place to escape the hottest times of day without having to lose our favorite spot. Set up is about as fast and easy as it gets - three poles, some stakes, and a few beach rocks in the outside pockets and we are ready to go. I love that the front zips closed, making it a great place for an emergency change of clothes, or an excellent spot to stuff all our great for a quick walk. Taking it down was also a snap. If there is a lot of wind, we sometimes find it easier to just stuff the body of the tent into a beach bag for folding at home. A lot easier than dragging an umbrella on a big pole!!

Verified Buyer

Reviewed by david from hi on Thursday, June 25, 2015

a little hard to put up when wind.
should buy a new style,a instantly pop up shelter which i saw at the nearby beach.

Verified Buyer

Reviewed by MountainMamaof2 from Harpers Ferry WV on Tuesday, June 9, 2015

We were laughing so hard trying to put this thing up. If there is the slightest wind, it is a trick to put up. That said, once it was up the smaller children loved it. There was a breeze and shelter from the sun. It was very comfortable. Easy to take down.

Verified Buyer

Reviewed by spunch66 from Massachusetts on Wednesday, June 3, 2015

Received this just in time for a very windy beach day. Most people had to shut down their umbrellas and tents but this little tent held off a very strong wind and kept us sheltered thanks to the sand pockets. Easy to set up and I like that you can also zip up your belongings when you leave for a walk. Would highly recommend.

Reviewed by Pilote from SoCal on Monday, August 18, 2014

...i did have some issues. the shock cord on the main pole broke on first use. on inspection, it was a low grade shock cord. i still was able to assemble it and use it, but it was a major hassle. i have since obtained quality 1/8" shock cordage and re-threaded all three poles with it, and that will last a long time (as long as the poles don't break LOL). the shelter in operation is great. for me it was worth it to replace the shock cords in the poles because the design and idea is sound.

i can see how someone hamfisted and rough can tear the nylon up on assembly; the solution is, don't be...it's you're own fault if you tear the material up during assembly, it's not difficult to do but it sure isn't "automatic and effortless".

Reviewed by greenighs from California on Sunday, July 27, 2014

The fiberglass poles ripped the nylon sleeves as we assembled this the first time. I thought maybe we were too rough, so we tried to be gentler the second time and it ripped again. It's too bad, because the zipper is good, the pockets on the outside to weight with sand are perfect.

Verified Buyer

Reviewed by Beach lounger from Washington on Wednesday, July 2, 2014

Good size beach shelter, enough room for two chairs or laying down. Fairly easy to assemble and repack. Comes with bag for tent and poles. Not as durable as a real tent but should work fine.

Reviewed by Old Lady from California on Tuesday, September 24, 2013

I used one of these as a car camping tent all last week, from icy alpine forest to hot desert. Its best use is an overnight tent for camping. It's simple to set up by one person, stable, sturdy and roomy for two people and gear. The steep sides make it reasonably waterproof, but I added a $5 blue poly tarp as a rainfly for two nights of torrential rain, and a chunk of tyvek as a ground cloth. The tent is nicely designed with lots of nice features like an inside pocket that's just right to keep eyeglasses off the floor. It's odorless untreated nylon, so sensitive noses will be fine in this tent. A wonderful bargain, and nicer than many $200 tents. Five stars.