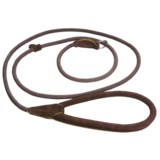 Closeouts.Anxious pups and dogs alike will walk at a gingerly pace with the help of ABO Gear's Aussie dog training lead. Check cord design gently tugs against dog, eliminating aggressive pulls, with a durable braided rope.
Adjusts to any neck size
Length: 70"
Diameter: ¼"
Material: Leather handle with polypropylene rope
Made in India.
Average Rating based on
101
reviews
4.178217
0
5
Verified Buyer

Reviewed by Angel from Tennessee on Tuesday, April 7, 2015

A bit difficult due to the heavy, thick nature

Verified Buyer

Reviewed by wsmama from Washington State on Wednesday, October 1, 2014

My husband likes these, he feels our dog responds better. I do think they're seconds though as the 3 we have all have stiching coming undone. I do like that it's easy to slip over his head as opposed to trying to clasp onto the D ring on his collar. But for my comfort I prefer the stretchier leashes.

Verified Buyer

Reviewed by Ct. Judi from Ct. on Thursday, September 4, 2014

I'm a pet sitter and being responsible for other peoples dogs I can't let them slip out of their collars. This is the best leash with a control collar I've seen. I bought 4

Verified Buyer

Reviewed by New England Mama from Northern New England on Tuesday, August 12, 2014

I purchased a similar leash at a pet store awhile ago for more than twice the price. I love the slip-over-the-head convenience, and so does my dog. When it is time to go out, my dog doesn't have to wait while I fumble with a clasp. My dog was trained with a training collar and a light leash, so we also like the tightening feature and the light feel of this leash--but without the barbs. Any trainer will tell you that "choke" is a misnomer--if used properly, a light tug is used as a quick "correction." The slip collar reminds my dog not to pull. What I like about this particular collar is that unlike the other, more expensive one I purchased, it has two "stops"--one far and one near--to prevent actual choking. The other one had only the far one, and I could not control how tight it got. If you want the leash to squeeze all the way, you could remove the top stop. As previous reviewers stated, the leather stops were difficult to move, and I had to apply a lot of force to get them situated where I wanted them. This is a good thing. It means that the dog will not be able to pull them out of position easily. However, I have a highly trained dog who is sensitive to the meaning of a gentle tug. If you are playing tug-of-war with your dog, this might not be the best leash for you. The stops might not hold. You probably need a barbed collar, a clasp and a few dozen hours of doggy discipline class.

Verified Buyer

Reviewed by jodicoyote from coastal central california on Thursday, July 31, 2014

This is a great style of leash for walks. There are more expensive versions made of nylon cord which are also nice. I've bought many of these for my multiple mutts- from mini rat terrier to a large Malamute. There are leather slips that control how far the lead can slip. One draw back- my border collie, who does not like bathing, quickly chewed through the leash when I left her tied for a minute but she probably could have chewed through the nylon cord in not much more time. Great value!

Reviewed by Shelly NM from New Mexico on Thursday, January 30, 2014

This kind of lead is the handiest way to move dogs that are too wild to be loose in the house. My friend breeds Labrador Retrievers and when they are young, or even older due to the stimulation of having so many other dogs in the house, this is essential for getting them in and out. If dogs are in fenced (wire fencing) areas, there is some risk in having collars on them, so these are great.. I bought this as a gift for my friend.

Reviewed by the sock wrecker from Virginia MN on Friday, November 22, 2013

For everyday use, my dog club always recommends a 6 foot leather leash. It is the gentlest on your hands if dog pulls. I do agility though, and for that the dog should be collarless. So this is the nicest "slip-on" leash I have seen. I had some "show leads" very thin woven slip on leashes, and they worked fine for my shihtzu. But this would be better for bigger dogs. I also went to a humane society with the other tiny woven leash and walked a rowdy big dog and I couldn't even hold on to it. So this leash would be good for that too! Keep it in the car for emergencies. The handle is lovely soft padded leather. But I always have a second hand on the leash and that part is soft cotton rope. Wish the whole thing was leather. All in all - the nicest slip on leash I have seen. Just wish it was all leather.

Reviewed by ecogirl22 from wi on Sunday, November 17, 2013

60lb dog. Simply puller her back to me at handle broke at seam. Not durable and dangerous.

Reviewed by love my dogs from ny on Monday, September 9, 2013

This is a good quality leash and worked fine (as intended) at first. However, when my dog made a hard pull toward another dog, the stays gave way and it just choked like a choke collar. I think we all know the hazards of this by now. If your dog is really good, and you are just refining his leashwalking skills, this leash is probably fine. If you have any unpredictability in your dog, I would not use it. I returned it.

Reviewed by Tova from PA on Monday, August 26, 2013

This leash is too hard to adjust, it is very tight so I had to return it.