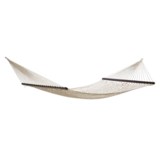 Closeouts. String up your ABO Gear Canberra hammock on the porch, deck or out in the yard and let your dreams unfold. (Get the stand, too, if you're short on trees! Item #98045.)
Average Rating based on
114
reviews
3.535087
0
5
Verified Buyer

Reviewed by Drew from PA on Thursday, August 10, 2017

Bought this to replace a hammock I had that was similar and just was old and worn out. Length wise it fit into the existing frame great but once you tried to lay down in it, the hammock stretched out so far that my butt was on the ground so its pretty much useless to me...might work for someone with the ability to set up posts for it....

Verified Buyer

Reviewed by Devo from Washington on Monday, July 31, 2017

We love this hammock. It has made the backyard a perfect retreat

Verified Buyer

Reviewed by Dara from Ohio on Saturday, June 10, 2017

It looks good and seems to be well constructed, but the rope is just way too stretchy. If you hang it at almost chest level and sit in it, your butt almost touches the ground (and I only weigh 145). Not impressed.

Verified Buyer

Reviewed by kp ivanov from MT on Wednesday, May 17, 2017

Too much play in the material-had to tighten down almost to the end of the hammock stand; as the hammock ages and material stretches, there won't be much room for adjustment, but for the price, it's probably worth what I paid.

Verified Buyer

Reviewed by Shalacat from California on Saturday, April 8, 2017

This hammock is fine... not really special. It was tight to put on and while it looks great, it is a bit slouchy once you're in it.

Verified Buyer

Reviewed by Jenn B. from Michigan on Wednesday, August 10, 2016

This is a great hammock that I use with a stand due to lack of trees. I does stretch, but I hung it up higher and it works great. I did notice that two ropes are tied together right in the center, so I hope this does not become a weak point, but so far so good. It looks great and is very comfortable and was a great price.

Verified Buyer

Reviewed by captain from clearwater,fl on Thursday, July 21, 2016

cotton looks threadbare in spots,as if it was repaired.


Verified Buyer

Reviewed by Conch Soul from Fruitland Park FL on Thursday, June 30, 2016

Great price for a great product.

Verified Buyer

Reviewed by A from Iowa on Wednesday, May 4, 2016

First, the box of the hammock and stand arrived in terrible shape. Second, the hammock stand was missing one Caribbean and one eye bolt/nut/washer. After going to the local hardware store to purchase the needed items, I was finally able to test of the hammock. I am 6'1", 165 lbs. When sitting in the hammock for the first time, I sunk all the way to the floor (deck). I was still touching the ground after tightening the hammock as much as possible. This was a terrible purchase. As an aside, the stand for the hammock is truly huge. It is necessary to have 8-10 feet of open space available for the hammock stand.

Verified Buyer

Reviewed by AustinAnnie from Texas on Wednesday, March 23, 2016

This is my 3rd hammock of this sort: it stays outside in the weather extremes so it doesn't last forever. The first was good for about 6 years; the 2nd lasted only about 3 years before the cotton ropes started raveling. It's SO comfortable.
When you first put it up, hang it tight because when you first lie in it, the ropes will stretch...a LOT...Keep adjusting the hooks and trying it out until it settles and you can lie in it without hitting the ground.