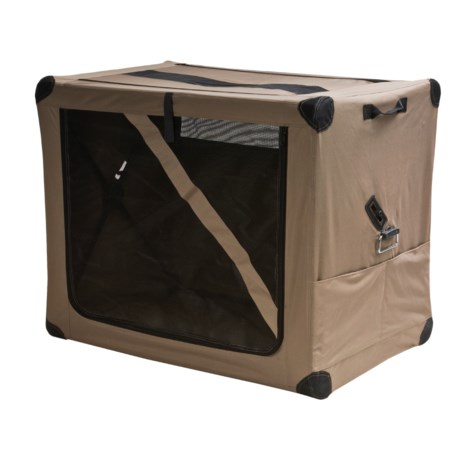 The door is only on the side.

Just the one door on the long side. It was kind of a surprise to me too, but our dog had no problem getting used to it. It does have a flap that opens on TOP for easy access to your dog.

Still no end door because of the mechanism to set up and take down the crate is at both ends.

The only door is on the side. The top also zips open. But no doors on the ends, probably because the support bars that keep the crate standing create a big x on the ends.

Just on the side (one zippered door on the wider side of the crate)

This has a screened opening lengthwise which opens with one u-shaped zipper. There is also a zipped opening on the top.

It only has the one of the front, but there's also an opening on the top. The supports are on the side, so it doesn't look like they could put a door there.

This crate has one "door"...almost as big as the entire length and height of the front of it. The zipper goes around the two sides and bottom so that when unzipped, the "screen door" can be rolled and secured at the top with an attached velcro strap.

There is only a side door.