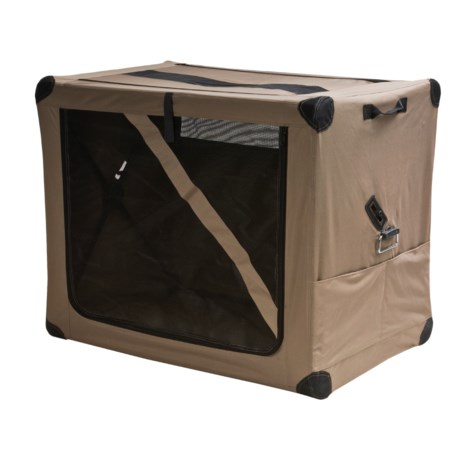 Great for Temporary set ups and travel!
Reviewed by m2cutie from Ohio on Thursday, December 13, 2012
I purchased the medium and the large to figure out which size was best. I have a beagle mix who was able to fit the medium but was very confined. So I exchanged and now have two larges. My dog is 45 lbs can lay in this large kennel comfortably. When stretched out on her side, she basically fills the horizontal space. Generally she is curled up in a ball, and only takes up half the kennel. Each to fold up and set up, kind of like an umbrella. I wish the zipper sections had dual zippers, for convienence, but this works well enough. I use these when dog sitting at other homes, agility competitions, and when staying with family/friends. Take up so little space when packed up, very useful since I have a metal pet barrier in my car, so I am already short on room there. I've recommended it to friends who have TRAINED dogs. This isn't going to be a good option for a chewing puppy. But dogs that are crate trained don't mess with the fabric. My dog seems to feel safe in this kennel, even at a competition with lots of strange, barking dogs.