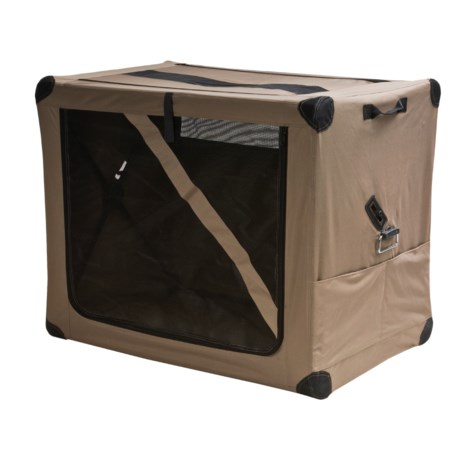 Buy larger than you would think
Reviewed by Ellen from Virginia on Saturday, November 15, 2014
I've had an XL of this crate for over 4 years, and have recommended it to friends and family. It's perfect for when my dog and I travel, he gets excited when he sees it, and I know he'll have a "safe" place wherever we go. Perfect for hotel use if housekeeping services the room.

The fact that it collapses like a chair was a lifesaver for me when I realized that the metal crate we have (that fit in the trunk of my previous car) didn't fit in the trunk of the replacement car. This fits fine, and it's easy to carry while walking with a dog on-leash.

My ~75lb Shepherd mix is too tall/long to be comfortable in the large, so size up if you are on the fence size-wise. He was crate-trained before this purchase and behaves very well in it. I wouldn't recommend leaving a dog in it that wasn't trained; a motivated dog/chewer would be out of it in no time.