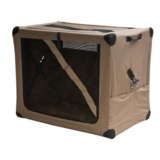 Closeouts. Keep pets safe and happy at home or abroad with an ABO Gear Dog Digs pet travel crate.
Average Rating based on
142
reviews
4.239436
0
5
Verified Buyer

Reviewed by Myra M from Phoenix, AZ on Thursday, April 20, 2017

I really like this kennel. It folds up in to a nice small cylindrical shape much like many folding chairs out there which makes it easier to carry and store. It's fairly easy and fast to set-up and sturdy to handle any crate trained dog. My dog simply loves curling up in hers.

Verified Buyer

Reviewed by Amy from Arizona on Tuesday, December 27, 2016

This crate collapses on the ends allowing it to fold like a chair. It's long handled carrying bag makes it easy to sling over your shoulder and carry with other items. There is no mesh on the ends where the support mechanisms are which makes it cozy for the dog. There is an upper strip of mesh on the back allowing air ventilation. The side entry door is large and is all mesh except for the diagonal strip. The zipper is a single action which could be improved with a dual zipper but that is a minor improvement. The top also has a zipper and mesh for added access and ventilation. It is a great crate for dogs that are crate trained who won't dig, claw or chew their way out. It is a durable and heavy duty material that is sturdy and easy to clean. I purchased this as a second traveling crate for my second young dog and love it! Much easier to carry, light weight, easy to pop up and use.

Verified Buyer

Reviewed by ER in TN from Tennessee on Monday, November 28, 2016

Just ordered for my new rescue dog (two years old, 55 pd hound). Easy to put up after getting the handle on locking the side "slide pins" in place. If folds down quickly to slide back into its canvas carrying case. The side mesh opens up one whole side of the crate making it nice and "open" while your dog is in the crate. You roll the screen up and it is secured with velcro.
When needed, you can roll down and zip to contain your pet. I did add a portable memory foam mat for my dog, but you could use a blanket too.
I would recommend this crate for traveling with your pet.

Reviewed by nope from New Hampshire on Monday, June 13, 2016

With my coupon code, we got this for about $15 less than a similar size on Amazon. It goes up & down quickly & easily. Fits our 75-lb pup comfortably. Got it so she has her own "safe space" to retreat in to when we're camping so she can (hopefully) relax. I'm a tad concerned about the quality, but if it turns into an issue, I will edit accordingly.

Verified Buyer

Reviewed by TTFromME from ME on Monday, May 23, 2016

This was easy to set up - it is like a tent for our furry friend - I do have one concern - we have a very active dog - I wonder if she will be able to damage the screening in the front - so far so good - we are getting her used to using it - my mom stopped by with her dog - who is not as active as ours. They took shelter in the "tent" and seemed to be very happy in it!

Verified Buyer

Reviewed by melisa from Texas on Thursday, May 19, 2016

Easy lightweight portable fold up the size of a foldable chair and I love it.

Verified Buyer

Reviewed by Pet Lover Too from Colorado on Monday, January 4, 2016

This travel crate is exactly what I was looking for. Perfect for a dog of about 50 lbs with plenty of room to move around. Easy to set up and is now taking the place of my old plastic crate. The price was also a lot less than expected for a product of this quality. This is one of the best bargains I've found in a long time.

Verified Buyer

Reviewed by Barbara from Mexico on Friday, December 11, 2015

Works really good, easy to handle and light weight, just be sure your dog knows how to behave while crated.

Reviewed by junervy from MA on Wednesday, November 11, 2015

My two dogs, who are 12 and 17 pounds, have scratched and separated the mesh front panel from the zipper twice. Sierra replaced the crate since I had it less than six months, and even though I covered all the mesh with gorilla and duct tape, they did it again. Back it goes for a refund. Also, although opening and closing are fairly simple, I found the crate collapsed on one side or the other when I thought it was open. I really wanted to like it - because it's much easier than having to bring a wire crate to Agility trials- and the price was good- but it's not sturdy enough for my dogs.


Verified Buyer

Reviewed by Still Waters from New England on Tuesday, November 3, 2015

I have a 40-lb American Eskimo. I bought this as a potential carrier in the car and also for temporary housing when we travel and she needs to be in a crate. It seems sturdy and was certainly easy to set up and take down. But my biggest complaint is the smell. Take this with a grain of salt because I am very sensitive to smells. But out of the box, this had an overwhelming petroleum-like smell. I tried airing it out but that didn't work. So thankful for Sierra Trading Post for taking it back. Again, I'm sure my dog would have been fine with it, but as the human, I was not!