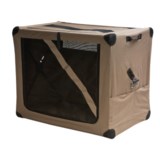 Closeouts. Keep pets safe and happy at home or abroad with ABO Gear's Dog Digs pet travel crate.
Average Rating based on
117
reviews
4.316239
0
5
Reviewed by Optimist from Florida on Tuesday, October 22, 2013

I borrowed one of these crates from a friend and really love the way it collapses and folds into the carry case. However the one I purchased has much, much more canvas on the sides and top which is unacceptable for me as I will be using it outside and there is not nearly enough ventilation. Why did they not keep the old style? Will be returning it - pity.

Reviewed by Maximizer from Portland OR on Monday, September 30, 2013

It's my own fault for not reading carefully and thinking this through. We needed something with this crate's dimensions to fit in a new car that's an inch shorter than our existing hard crate. The size would work, but the soft construction would not lend enough support if we were in an accident. Also, the top entry is impractical for our dog, who is used to entering herself from the end of a crate...This would require lifting her in and out. If I did that before putting the crate in the car, it would be too heavy, whereas it would be very awkward from inside the car. Getting her back out for a break along the way would be another challenge. I could only see this working on a very small dog, and then why bother with such a big crate? For our road trips, space is often tight. I'm losing money returning this and being hit with another fee, but it's of no use to us. We already have functional crates for home use, as well as a pup tent for toys and play...This is no better than that for our purposes. Not recommended unless for very small dogs when space is no issue. We will keep looking.

Reviewed by jude from Oregon on Wednesday, September 11, 2013

My husband smiled when this travel crate folded up and stuffed into its carry-bag so easily. It reminded us of those canvas seat chairs people take to sit in while watching parades. Can't wait to try it out when we travel with our Miniature Schnauzer. It fits him perfectly! He weighs 17 lb and has plenty of room.

Reviewed by KA from California on Thursday, May 23, 2013

Cannot write enough great things about this super crate. It is cozy with soft canvas sides - perfect 'haven' for my dog Enough air vents balanced with enough 'den' feel for him. It collapses in a snap and tucks into a carrying case [similar to a portable crib but smaller]. Handy to take along anywhere when my dog needs a little down-time. I won't be using my wire crate anymore - this is just too great!! I liked it so much I bought another for my brother's dog!

Reviewed by The Cocker Lady from Montana on Saturday, April 13, 2013

Lightweight, well-made and easy to carry. However, it is often difficult to "lock" it into place when assembling it.

Reviewed by Dog Trainer from Wyoming on Sunday, April 7, 2013

I frequently travel with my dogs (4) and have a Dog Digs kennel for each. Much easier to pack a "rolled up" collapsible crate than the large flat collapsibles.
One of the mechanisms broke on the side so had to replace it after about 5 years and many many uses.
My only recommendation would be to make the Medium size slightly larger as there is a huge increase in size from medium to large crate (I have 2 of each) and my guys really could use just a little more room in the medium.

Reviewed by tortinp from Los Angeles on Tuesday, March 26, 2013

This is the second pet travel crate I have purchased from Sierra Trading Post. It is perfect for travel - good size - my medium and small dog both have plenty of room to move around inside it. It comes in it's own travel bag for packing in the car and takes 2 seconds to get out of the bag and set it up. love it - that is why I am buying a second one.

Reviewed by Farmer Bob from Central Oregon on Saturday, March 16, 2013

My smallish, 30# heeler/border cross fits well in this kennel, a larger dog would be cramped.

Verified Buyer

Reviewed by Beamish the Beagle from Seattle, WA on Monday, February 11, 2013

I got this for our chihuahua. It is his "safe" and quiet space away from all the chaos. He loves it and occasionally the cat will take up residence too.

Reviewed by Ginger from West Des Moines Iowa on Thursday, January 24, 2013

I use this when we take a trip and bring my 4 little dauschund dogs. They sleep really well in it and feel secure when we have to leave them. Easy to put in a trunk and go. Would recommend to anyone with a pet.