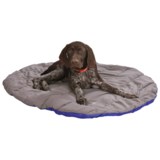 Closeouts. ABO Gear's round travel pet bed is perfect for furry pals of all shapes, sizes and breeds.
Average Rating based on
158
reviews
4.335443
0
5
Verified Buyer

Reviewed by massagegoddess from New Hampshire on Tuesday, June 23, 2015

Just we needed for travelling purposes.

Verified Buyer

Reviewed by austindoglady from Texas and colorado on Monday, June 1, 2015

Even my 65# Siberian huskys sleep on these in the car and the tent. Helps keep dirt and water contained if you have wet/dirty dogs. Keeps them warm in the tent on freezing nights. I use them all the time and they don't wear out.

Verified Buyer

Reviewed by flinthillsks from Kansas on Thursday, January 22, 2015

I read the reviews on this dog bed and still decided to order it. It's very lightweight, thin, we only decided to keep it for travel...in case the motel has hard floors or, to simply give our dog it's place. For the price, good enough for my needs.

Verified Buyer

Reviewed by Jes from South Caolina on Monday, January 19, 2015

I thought it would have been thicker. It is okay. It is only for travel though. I placed it in the pet crate. Great for that i quess.

Reviewed by Holly & Jake from AZ on Thursday, October 30, 2014

The material of the bed was nice, like a sleeping bag, but it isn't very thick. It seems like a blanket or towel would do the job just as well. I suppose the material would resist tracking in weeds, etc. but I couldn't justify the price to keep it.

Reviewed by Minnesota cold from Minnesota on Wednesday, September 3, 2014

My dogs LOVE, LOVE, LOVE these beds. They are likely made of excess sleeping bag fragments, so they are not really thick. That being said, every one of my dogs (29) total......adores these beds. I really like them also. They wash very easily. When I remove them from the washer I use a boar bristle hairbrush to rapidly remove any hair then toss them into the dryer to air fluff. Then I drape them across a clothes hanger and secure with a pincher clothes ion until dry........hang in the laundry room and they dry in no time. They always look brand new, no matter how many washing they go through. They do not bunch up inside. If you want to get the original lofting back each time you wash them simply toss a rubber heavy dog toy into the dryer when you fluff them. I certainly hope that these beds are NEVER DISCONTINUED. They are FABULOUS. All my digs are under 20 lbs so they can make quite a wonderful custom sleeping spit with one of these. Awwwwwww.......to be a dog! One last feature.....SUPER WARM IN THE WINTER.

Reviewed by Erica Cartman from Virginia on Wednesday, July 16, 2014

I love the sleeping bag material because my very furry dog's hair does not stick to it! Perfect to shake off the dog fur. My Siberian Husky likes it a lot, most likely because the material is nice and cool, as she often gets too warm. Good size. Nice travel bag to place it in. Great price thanks to STP!

Verified Buyer

Reviewed by jpmrn from Keene Valley, NY on Wednesday, July 9, 2014

We plan on taking this backpacking so it is great that it comes with a stuff sack. Our dog is only 14 pounds but we intend to use this as a sleeping bag that we can fold over him. We were hoping one side was more waterproof but it is "water resistant".

Verified Buyer

Reviewed by Julia from Oakland, CA on Tuesday, June 24, 2014

Just ordered this bed, so my dog hasn't had a chance to use it much, but it is exactly what I was looking for. Something easy to take when we travel, and it is also totally usable when we go hiking. One side is fabric/soft and the other is nylon (maybe?), which is perfect for putting on the ground so dirt/sticks, etc won't stick to it. Very happy with this bed!

Verified Buyer

Reviewed by Jami from Wisconsin on Monday, June 16, 2014

We were looking for a bed that would fit in our dog's pack to use when backpacking. This one just wouldn't fit in pack. Material seems durable and the price was right. Would make a nice travel bed, or using in the back of a vehicle. However, not what we were looking for, so it was returned.