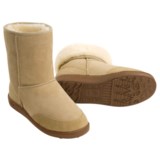 Closeouts. Can't shake the winter blues? Try sliding into Acorn's Aussie short boots, a surefire way to chase away chills and ward off wintry winds. A natural thermal regulator, sheepskin is cool in summer and warm when temperatures drop. Perfect for apres ski, too!
Average Rating based on
88
reviews
4.477272
0
5
Reviewed by No More Frozen Feet from New Jersey on Wednesday, February 19, 2014

I have been looking at purchasing shearling boots for some time now. Purchased these during a very cold spell and was very, very
pleased - can't take them off my feet.

Reviewed by Flathead Texas from Sumner County, TN on Monday, February 10, 2014

Very nice warm boots without the high price. Fit very well according to size and appear to be very well made. Would buy them again no buyers remorse.

Reviewed by Nev Gill from Ohio on Wednesday, February 5, 2014

Owned Uggs boots very similar to these for 7 years and wore them out till they were torn. Unwilling to spend $170 on a new pair so I bought these on sale for $65 at STP. Very please with the quality and finish, equal to the Uggs. All of these shoes are now made in China so not sure what the advantage of buying Uggs compared to these is. Highly recommend, I found the fit and finish excellent. Let's see how they wear, the quality of the sheepskin and the soles is impeccable.

Reviewed by pickyone from Arkansas on Monday, December 30, 2013

I bought these for my son to replace a pair of worn out UGG boots of his. He LOVES them and says they are better than the other brand he had.

Reviewed by Tneutron from South Carolina on Thursday, December 26, 2013

I've onwed several pairs of Uggs, EMU brand also, and now these. Uggs are built well and last a long time. The EMU brand stayed together, but the construction technique caused them to lose their shape in a short period of time. So, instead of staying stiff and upright, they started to sag mostly across the top of the foot which left my foot slopping around inside.

This Acorn brand seems to be made of the same quality material as the Uggs, and they added extra material (sheep skin) to keep them stiff. They have a much truer fit to my foot, and a little more sole than the EMU type. Uggs are just too expensive anymore, so I thought I would try these. They look like they'll do better than the EMU's, and as good as the Ugg's. I usually wear them out every 5 years or so.

Reviewed by Jessica Peckham from Los Angeles on Friday, December 13, 2013

I bought a pair of Acorn boots back in 1996 when I was pregnant with my son. Fast forward to 2008/09 and I was still wearing them. I broke down and purchased a pair of Uggs to replace them as the inside was finally getting so "patted down" that they were big and had to wear socks. Within 6 months of buying my Uggs the ankle ripped while I was pulling them on. Mind you I wasn't tugging hard or anything. Now on my Uggs the side is completely blown out. Like not even attached to the bottom anymore. Go with the Acorns for sure! I'm going to get a new pair as soon as possible! Much better quality!

Reviewed by 4-chin fancier from New Hampshire on Thursday, November 14, 2013

Have had Acorn shearling slippers for a year and they have performed well but are too low for a New Hampshire snowy morning when the pups need their first walk. These boots will be tall, warm slippers for those challenging mornings and will allow for all day use. Fit is true and easy to pull on. Soles are thick enough to provide water protection. Excellent value when compared to most other brands.

Reviewed by Naldo from Albuquerque on Thursday, November 7, 2013

I love these boots. Bought size 11 hoping to get it right. My left foot is smaller and so it slips a little but I don't care. That is without socks. They are for around the house and short trips outside. Plus, there is plenty of room to wear socks with them. Construction is good quality and the sheepskin goes throughout the boot all the way to the end of your toes. Super comfortable and warm. I never had any kind of a shoe/boot like this until last year when I bought some women's boots similar to these, size 12, at Payless shoes or somewhere which were ok but you get what you pay for and I am so happy I found these and glad to pay a decent price for a good product.

Verified Buyer

Reviewed by Wobbely from NY on Monday, February 11, 2013

just treated myself to a second pair since there was a good sale. My first pair survived hurricane Sandy. In fact aside from a Croc it's my only shoes that survived but they're looking a tad defeated what with all the clean up and digging out.

Verified Buyer

Reviewed by Jake from Herriman ut on Thursday, January 31, 2013

Can put on and go outside and do chores without having to to put on heavy boots. Then go to town. And do errands .