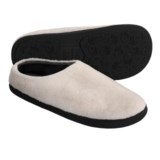 Closeouts. Good morning, softness! Fluffy-soft Berber fleece inside and out on Acorn's Berber Tex slippers makes toes toasty, and the contoured footbed cushions feet from bed to breakfast.
Average Rating based on
214
reviews
4.397196
0
5
Verified Buyer

Reviewed by Reandee from IL on Wednesday, March 2, 2016

They are warm enough that my feet sweat in them, but the foam insoles are little better than cheap slippers. Less than a week after having them, they have lost most of their initial cushion. There's zero arch support whatsoever. The closest they come is a curve on the outside of the plastic bottom, which translates into nothing inside.
Not worth the money, discounted or not.

Verified Buyer

Reviewed by Meredith from Idaho on Wednesday, January 20, 2016

I've been a huge fan of acorn slippers for a long time. The hard bottom allows you to wear them outside, which is great when you want to run out for the mail or something. my daughter kept stealing my slippers to wear, even though they were too big for her. Her feet are finally big enough that the smalls are the perfect size for her. She wears a size 4 kid which is the equivalent to a women's size 5-6. She is in love with her new slippers.

Verified Buyer

Reviewed by Bob the Spider Hunter's Wife from Michigan on Tuesday, January 12, 2016

I wasn't sure it was a good idea to buy slippers online because I couldn't try them on and would have to pay shipping to return them. I am so glad I did. These slippers are super comfortable and warm. The soles have fairly good support, too. I'm so glad I didn't listen to my gut this time!

Verified Buyer

Reviewed by Waterbaby from Washington on Sunday, December 27, 2015

Snuggly &great for outdoor activities too

Verified Buyer

Reviewed by Jenconk from Colorado on Wednesday, October 14, 2015

I only wear Acorn slippers, because they are the best. These live up to my expectations. They are comfy and keep my feet warm. I definitely recommend them.

Verified Buyer

Reviewed by Skier from colorado on Wednesday, March 4, 2015

Very nice, true to size.

Verified Buyer

Reviewed by SIerra Foothills from California on Tuesday, March 3, 2015

I would love these slippers except that they REEK like a candle or cheap lotion--the fabric is somehow impregnated with a vanilla/coconut smell. It's disgusting and disturbing.

Verified Buyer

Reviewed by MM from The West on Thursday, February 19, 2015

Very comfortable and warm! Great price for the product. A good sole to run outside if you have to. Nothing fancy about them, just good and durable.

Verified Buyer

Reviewed by ksmiller from Indiana on Friday, January 2, 2015

Great slippers. They keep your feet nice and warm.

Verified Buyer

Reviewed by Judy from Downingtown, PA on Monday, August 25, 2014

This is a comfortable slipper and very warm. It looks large, though, so don't buy it if you're looking for style. Also, they might be called a scuff, because that is what they do when you walk in them. There's no way to be graceful or sexy in them. That said, this is my second pair of these, and the first lasted and lasted, but it was time for a replacement when the footbed got thin. Until then, they were very comfortable. Great for around the house--when you're by yourself!