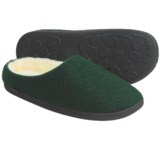 Closeouts. Acorn's boiled wool mule slippers are warm and cozy in cold weather, and breathable and dry when the mercury rises.
Average Rating based on
176
reviews
4.198863
0
5
Verified Buyer

Reviewed by Too much coffee man from Colorado on Monday, May 25, 2015

These slippers are very comfortable but have NO support, which works out for me because I need orthotics all the time. I have wide feet, so these work great because the orthotics fit

Verified Buyer

Reviewed by Fletcher from California on Friday, May 15, 2015

I love these slipper. This is my third pair and at the price, you just can't beat it. Nothing like Sierra Trading Post for great deals!

Verified Buyer

Reviewed by Love My Korat Cat from Ohio on Monday, April 27, 2015


These slippers fit great and are warm and comfortable. My husband loves them. He has wide feet and the boiled wool fabric conforms well to them without getting overly stretched out.

Verified Buyer

Reviewed by g'ma j from minnesota on Sunday, March 15, 2015

LOVE! fit and feel great

Verified Buyer

Reviewed by anonymous from anywhere on Monday, February 23, 2015

I usually wear a men's size 10; these are listed as 9-10. They are way too small though; so small that my wife, who wears a men's size 7.5-8 will wear them instead (they are slightly large on her). The issue is too much sheepskin inside them. To accommodate all that, they'd need to make the exterior larger.

Acorn apparently has a sizing problem; I've had a pair of their men's slippers sized at 10-11 and they were too large (there was no sheepskin inside that pair). Why not just have size 9, size 10, size 11, and so on? Someone should talk to their R&D people.

Otherwise these slippers are well-made and nice. Just too small for my feet with all that sheepskin.

Reviewed by Christina from Missouri on Saturday, January 3, 2015

I wear a women's 9 (men's 7.5-8) so I ordered a Small in these. They fit okay without socks but with just a regular sock it felt difficult to get my foot to the end of the slipper and felt it wasn't very secure and my heel would slip too close to the end.

Verified Buyer

Reviewed by gojohnny39 from california on Monday, December 15, 2014

Perfect for walking around the house this winter. First slippers I've ever bought and completely satisfied.

Verified Buyer

Reviewed by LalaPDX from Oregon on Friday, November 21, 2014

Great slippers, I wear a ladies 9 and the mens size 7 works fine for me since my foot is kind of wide. No support, of course, but hey- they are slippers so not too surprising. Definitely not as padded and cushy in the footbed as the ladies Acorn slippers I got last time were, but the warmth of the wool more than makes up for that.


Verified Buyer

Reviewed by The Rambler from Maryland on Sunday, November 16, 2014

They keep your feet warm and comfortable. I like them quite a bit.

Verified Buyer

Reviewed by Comparative Shopper from Indiana on Tuesday, October 21, 2014

These seem to be an example of Acorn's high quality. However, these are really, really small. I wear a 9.5. My foot wouldn't fit in the 9-10 size.

Verified Buyer

Reviewed by Hannah the Bookbinder from North Carolina on Saturday, October 18, 2014

Very nice slippers, super-warm and comfy and durable.

Verified Buyer

Reviewed by Icefoot from Michigan on Thursday, October 16, 2014

I got these slippers because my feet are always cold.
Shockingly these work fine! Nice accurate fit too.


Verified Buyer

Reviewed by RR from Colorado on Thursday, October 2, 2014

Just what I wanted - a slip on slipper, nice and warm. I'm a size 8.5-9. Glad I went with the larger size.

Verified Buyer

Reviewed by Northeast from Northeast on Sunday, September 28, 2014

Even though the slippers felt a little tight at first as other reviewers reported, they molded nicely to the feet and ended up true to size! Very warm and cozy, perfect for cold winters and wood floors! Would definitely buy again.

Verified Buyer

Reviewed by Steve, the mountain man from Floyd, Virginia on Wednesday, August 6, 2014

Slippers fit fine and are warm, but the wool sticks out of one side on the top and not the other making them aesthetically unpleasing. I wonder if these were "seconds."

Verified Buyer

Reviewed by WinLee from NYC on Wednesday, May 21, 2014

They're so warm and soft inside. I love them for wearing around the house

Verified Buyer

Reviewed by Owen's owner from New Ulm, MN on Saturday, April 19, 2014

The slippers are great. Super snuggly and comfortable, though best to keep them out of reach if you have a young dog; I caught ours just in time!

Reviewed by Crazy Cat Lady from California on Tuesday, March 25, 2014

These are great. They also seem very well made!

Reviewed by slipper dude from CT on Wednesday, March 19, 2014

so far i've been very happy with my slippers. i've been wearing them non-stop inside the house as this crummy winter fades and these slippers have been great. my old moc slippers finally had to go so i'd been wearing my Chacos -- mostly with socks -- for the last month which weren't bad, but not as convenient as real slippers. the fur isn't as supple as my wife's fancy-pants LLbean mocs, but it's not bad. i ordered a size Large and crossed my fingers because of what i'd read in the reviews. i'm a 11 US M and at first, they were somewhat snug, borderline too small, but after a few days and now a couple weeks, they're perfect. my heel stays in the slipper and toes are not scrunched. my feet are warm and can't ask for more.

Reviewed by Billy the Kid from New Mexico on Wednesday, March 19, 2014

I wear a size 10 1/2, but slippers like this are usually too big. So I order a size Medium. They are a bit snug, especially is worn with socks, but they are pliable and are stretching. Very well made, and I like the color. The acorn tread on the bottom of the soles is a nice touch.

Reviewed by Hgrain from SLC on Friday, February 21, 2014

Excellent quality and nice snug fit so they don't keep sliding off. Bonus is the cat doesn't shred them loike my old leather ones.

Reviewed by frankie from NYC on Thursday, February 13, 2014

Though my husband liked these slippers, he couldn't have worn them even without socks! We bought his usual size (and the size he should wear according to the product sizing chart) but it was way too small. Had to return.

Reviewed by Feet with issues from Virginia on Monday, January 27, 2014

My husband loves the pair that I gave him so much that we just gave a pair to his father! He also loves them. They are cozy, comfortable, and stay on one's feet.

Reviewed by Charlie from Maryland on Tuesday, January 21, 2014

Great deal, excellent product.

Reviewed by Ron from Ohio on Sunday, January 19, 2014

These mules are comfortable and easy to put on. The sole is sufficient to allow a walk to the mail box.

Reviewed by Forrest_Snyder from Forrest_Snyder on Thursday, January 9, 2014

They're warm and comfy, but they do run small. I'm a solid men's size 10 and bought the large size. My feet are very snug. I'm hoping that they'll stretch out over the next week or so.

Reviewed by Rocky Raccoon from Colorado on Wednesday, January 8, 2014

Fit as expected - size is accurate. Warm and comfy, for sure. Slip on, slip off. Hug your feet.

Reviewed by xyz from new york on Sunday, January 5, 2014

got these for my dad they are easy to get on and super warm

Reviewed by Northwestwoman from Washington on Wednesday, January 1, 2014

I bought these for my husband for Christmas. They fit well and are comfortable without socks.
He likes the sturdy, plastic bottom so they can be worn outside of the house.

Reviewed by Vt shopper from Vermont on Tuesday, December 31, 2013

Bought these as a gift for my husband who is new to slippers & he loves these!