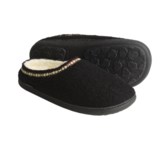 Closeouts. Acorn's boiled wool mule slippers are warm and cozy in cold weather, and breathable and dry when the mercury rises.
Average Rating based on
129
reviews
4.604651
0
5
Reviewed by Lori from Wisconsin on Saturday, March 15, 2014

I liked the first pair so much I bought another!

Reviewed by MikeyBP from Chicago on Monday, March 3, 2014

Wife Love's em. This is the second pair. Great product - great value!

Reviewed by Midwest Slipper buyer from Midwest USA on Monday, March 3, 2014

My wife has been in love with Acorn slippers for years, and STP always seems to have them when her current pair wears out (usually on the top, above the toes of all places). We particularly appreciate that STP has the small size she needs, the quick and accurate shipping, the consistent quality of merchandise and the fair price.

Reviewed by Earlymorning from Missouri on Wednesday, February 19, 2014

I have two issues - first, the fit. Very snug. I have 'fat' feet meaning that they are bigger than average from floor to the top of the feet. These slippers were extremely snug at first, but they seem to be loosening up as I wear them more. I wear 7 1/2 and I ordered medium. They are VERY warm.

The second issue is the color - I ordered some shade of olive green and the color is brighter than I expected.

I am a big fan of ACORN, probably have 7 to 8 pair. So I was not expecting the above issues.



Reviewed by Sherry from Madison on Wednesday, February 19, 2014

I love these slippers. Very warm and cozy!

Reviewed by Lori from Wisconsin on Saturday, February 1, 2014

Needed new slippers for our very cold winter. These really do a great job keeping my toes warm.

Reviewed by Urban Gardener from Seattle, Washington on Saturday, February 1, 2014

I've always appreciated Acorn's commitment to comfort and quality, but the regular price for Acorn products can be rather high. When my last pair of Acorn slippers wore out, I decided to look for a replacement pair. Sierra Trading post offered an impressive selection of styles at amazing prices. I ended up purchasing two pairs of Acorn slippers and am considering a third. Acorn slippers - even at the regular prices - are a good investment because they are well made and last longer than less expensive brands. Finding them at Sierra Trading Post's bargain prices is wonderful.

Reviewed by crystal from Virginia on Friday, January 24, 2014

True to size, soft interior, great for keeping toes warm around the house. Nice rubber sole in case I need to run into the backyard.

Reviewed by Mers from Massachusetts on Wednesday, January 22, 2014

Great quality overall. Wool is a bit scratch so you have to wear with socks if that's bothersome, but otherwise excellent.

Reviewed by Scarey from Northern Virginia on Thursday, January 16, 2014

I have bought four pairs of these slippers in different sizes (for different people) and they definitely run small. Size up one size and you should be OK. They are very nice slippers for a nice price. I gave some to my parents for Christmas and they were a huge hit. They can't stop thanking me for such a great gift, so keep these in mind for the older folks on your list. They will love them. My daughter and I also each have a pair and they are great on our hardwood floors in the winter. The sole is heavy duty enough to withstand trips outside to take out the trash when needed. My daughter has the green tweed and I have the blue. The inside is a a polyester fleece that won't last forever, but should stay good for a couple years I'm guessing.

Reviewed by Lisa from Illinois on Tuesday, January 14, 2014

I am extremely happy with the slippers and got them just in time for the extra cold here. They fit and are very warm.

Reviewed by Mom of twins from New Jersey on Monday, December 30, 2013

I bought these slippers for my 10 year old daughter. She fell in love with a similar pair of fluffy Acorn slippers at a local sporting goods store just before Christmas, and asked Santa to bring them for her. They are great! Really fluffy inside (for now)….and that fluff will compress with time which should allow these slippers to work for 2 years (I hope). They seem to be really durable, with a nice sturdy sole. I intend to purchase a pair for myself!

Reviewed by BVH the dog lover from Wisconsin on Saturday, December 28, 2013

I was happy to give these slippers to my daughter-in-law for Christmas. They are attractive and warm and I liked the rubber sole. In fact they are okay to wear outside unless there is snow on the ground! I think they are pretty true to size.

Reviewed by Judy in midwest from Minnesota on Wednesday, December 25, 2013

I love these. They are comfortable, warm and I got the blue which I love. Fit me good.

Reviewed by Portia from Pacific Northwest on Thursday, December 12, 2013

I just received these today and was surprised at how nice they are for the price. I see they are even $5.00 cheaper than when I ordered them less than a week ago. I normally wear a size 6-6-12 shoe and usually order a small in slippers but something made me go up to a medium and I am so glad I did. They fit perfectly. I got the purple and love the color. They seem very well made and I am very pleased with my purchase. Thank you!

Reviewed by JetaboutjudyJudy from Arizona on Thursday, December 12, 2013

Nice fit, warm, and easy to put on. I thought they would have a thicker lining, like fur, but they are just foam lined.

Reviewed by Tracey the Writer from Gorgeous Northern Michigan on Thursday, December 12, 2013

I have been a long time fan of Acorn slippers, and after a few winters without decided to order myself a new pair. As other reviewers noted the band was a bit tight when I first put them on but soon adjusted to my foot. I love the sole, the color, the fit, and they are so warm (it has been about 10 degrees for the past week). Each of my children has tried to abscond with them. They will be so happy to find out they each have their own pair on Christmas Eve!

Reviewed by JoannaC from Kentucky on Thursday, December 12, 2013

I have been searching for a pair of boiled wool slippers for years. I love these and wear them all the time.

Reviewed by Amy the Wrangler from Fort Jones, CA. on Wednesday, December 11, 2013

I love these slippers. They are really warm and great to slip into. The only problem is that they run small. I wear a size 9 and ordered size 8/9. Unfortunately, my feet are so crammed in there that I have to reach down and pull the back heel around my foot. Kinda defeats the purpose of slip ons. I would have returned them for the next size up, but didn't want to pay the restocking fee. I recommend the slippers, but order the next size up.

Reviewed by ecogirl22 from Wi on Monday, December 9, 2013

Great slipper, right on size. Love the durable bottoms so I can take the dogs out, get the mail. Very warm. Great for the price

Reviewed by cy eye from Kansas on Wednesday, December 4, 2013

I ordered a medium which is shoe size 6.5 to 7.5 and I usually wear a 6.5 to 7. At first the slippers felt really tight but after a couple of wearings, they are comfortable. If you prefer a larger, looser slipper, I'd order a size larger. They are very warm, even without socks on.

Reviewed by Gemma from Michigan on Tuesday, December 3, 2013

my husband has a pair of acorn slippers and i really needed a pair that had a sole on the bottom that I could run outside with if i needed to. these are perfect. I have wide-ish feet, and I usually wear a size 8.5. I ordered a large and they fit perfect. comfy and warm too.

Reviewed by Di from VT on Tuesday, December 3, 2013

Really comfortable attractive slippers. Durable yet comfy sole made of non slip rubber in case you need to go out to the woodpile or car.
I usually wear a 7.5- 8. These say 8-9 on the sole and fit perfectly. Acorn makes a great product.

Reviewed by NW Shopper from Seattle on Thursday, November 21, 2013

I read that these run large, which was my experience with Acorn socks, so ordered 6 1/2 - 7 1/2, though I wear 8. The size would be fine if they didn't have faux shearling lining. Will need to return them and have ordered replacements, as I need them. The plain boiled wool I got my husband are a great buy.

Reviewed by Jae from Rochester, NY on Tuesday, November 19, 2013

Love these slippers, so glad I ordered them. They keep my feet warm, wick away moisture, so far so good on the cushioning. The bottoms seem like good quality, like they ought to last a few years. I wear them around the house all day, and outside to wait for the school bus with the kids. The 6 1/2-7 1/2 fit my 6 1/2-7 feet (with wide toe-box) perfectly. The ribbon around the top was snug for the first few hours, but then formed to my shape quickly. My feet slide in easily with no help from my hands, and they don't scuff or flop when I walk.

Reviewed by farmgirl from Virginia on Tuesday, November 19, 2013

Very comfortable, warm, soft, love them.

Reviewed by sue from CO on Monday, November 18, 2013

These slippers were extremely uncomfortable. There was an odd bump (arch?) in the slipper. I have normal arches, and narrow, size 10 feet- the XL slippers did not fit me at all, and were unwearable.

Reviewed by Maddy from Connecticut on Monday, November 11, 2013

I have problem feet and these slippers and all slippers by Acorn are the only ones I wear, they are so very comfortable and feel good wearing them which I do a lot, can not go wrong

Reviewed by Munch from NJ on Monday, November 11, 2013

Love these slippers! They are very warm and quite comfortable. They are sturdy and appear to be well made. My only reservation is sizing. I normally wear a size 8 shoe. I bought the 8-9 size and they fit, but just. There is not any wiggle room, which is fine with me, but if you like to have extra room in your slippers you should consider a size up. Otherwise, no complaints and highly recommend these!

Reviewed by Olljonb from Moline, IL on Wednesday, October 30, 2013

Well, they're attractive, comfortable and warm. What else do you want from slippers?