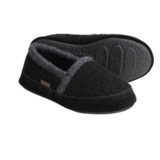 Closeouts. Acorn's Cozy Moc slippers are the definitive warming slipper for those icy little toes. Soft, warm fleece lining is capped with a boiled wool upper for added cozy comfort.
Average Rating based on
58
reviews
4.689655
0
5
Verified Buyer

Reviewed by mama bear from Bellingham, WA on Monday, April 7, 2014

We usually get our lil guy Wessenjak slippers, but have been having a difficult time finding them in his size. These were a great substitute. He especially likes the soft fleece on the inside opposed to the boiled wool of his others. They seem to run a bit small though. He is a size 13 and the 1-2 fits perfectly.

Reviewed by KAP from Maryland on Saturday, March 22, 2014

These are great for the kids. Feet don't get too hot, they are easy to put on & stay on. Perfect for the 6+ crowd who doesn't want to wear cutesy stuff.

Reviewed by Snow Cat from upstate New York on Friday, February 28, 2014

I just purchased a new pair (would've purchased MULTIPLES, but they only had one pair left of my size), but currently still wearing my pair from LAST YEAR! They are worn almost daily and after a year have yet to fall apart, unlike most slippers I've ever owned. And I have put these through brutal conditions from outdoors in snow and ice to take out trash to a dewy late spring morning. They have remained warm and cozy throughout! I am a petite woman size 6, but actually fit these in size 2.5-3.5. I like the simple, yet functional styling too! I will seeking these out to buy year after year!

Reviewed by Hawaii Transplant from Boston on Sunday, February 9, 2014

Bought these in my son's current size, but they are too small! I have to tug them to get them on his feet, and he cannot slip them on by himself. :( Great quality, but if you buy these, size UP!

Reviewed by Momma of boys from Colorado on Tuesday, January 14, 2014

Ordered these for my son to wear at school on days when he doesn't want to have snow boots on all day long. The bottom of the slipper has a shoe-like quality, so they seem like they will hold up for a long time. He says they are cozy and warm.

Reviewed by Laura from MN on Monday, January 13, 2014

I bought these for my son who wears a size 3 shoe. The size 3/4 leaves little room for him to grow. Otherwise they are very well made and seem quite warm.

Reviewed by Lee Butcher from Parked in the Hills, Missouri on Saturday, December 28, 2013

My wife and I bought these (4 pairs for our 4 grandsons, ages 5-9) as Christmas gifts specifically for "Paw paw and Grandma's house" since we have wood and tile floors, and they seem to want to shed their shoes and socks the minute they come through the door. They were as happy as could be with them, and thought it was neat to have their "own" pair of house shoes to wear here. We had already gotten them all pairs of novelty slippers to take home, but they loved these! They were a little upset when we insisted they stay here, but when we told them they could take them with them after their next visit over New Years', they were happier than ever. Thanks for making them affordable enough to buy for everyone! STP turns out to be a pretty good Santa Claus!

Reviewed by Pedro Mom from California on Friday, December 13, 2013

Absolutely wonderful, very well made, warm, good support, protective sole.
Highly recommended slippers!


Reviewed by Urban Trekker from washington, dc on Thursday, November 28, 2013

Got these for my two boys. Had to size up as they can be difficult to put on otherwise. But the boiled wool and stiff bottom are both great for cold wood floors. They love them.

Reviewed by prairie girl from Pennsylvania on Sunday, September 1, 2013

I purchased these for my son to wear at his Montessori school. This could be the perfect slipper...........but it isn't. The specs describe the lining as "fabric". Well, it's a synthetic, polyester-looking type of fabric that lines the entire footbed. When people (me, anyway) want to purchase a boiled wool slipper, they want natural fibres. Last year I had found a nice wool slipper that had a wool lining. When he grew out of those, I found another nice pair that had a leather lining. This fake fabric ruins the slipper, as far as I"m concerned. Had the description been more informative, I would have gleefully passed these up. I gave it a two out of five stars because there are some redeeming qualities to this slipper. I now need to buy him new slippers. Acorn, you really blew it on these slippers. Put in a wool footbed, and I would give these a perfect review.

Reviewed by Mom from Oregon on Tuesday, April 9, 2013

My son loves these. They are strudy as well as very comfy!

Reviewed by MofA from Oregon on Tuesday, March 19, 2013

Great product and Great Price!!!

Verified Buyer

Reviewed by MK from Boston,MA on Monday, February 25, 2013

Very cute slippers. My son loves them. True to size.

Verified Buyer

Reviewed by Nate the Great from Brunswick, ME on Wednesday, February 13, 2013

I bought these for my 6 year old son for wearing around in the house (hardwood floors can be cool in the winter!). My wife has a similar pair and loved hers. He immediately found them very comfortable and warm, and the sole is anti-slip which is a big plus on wood floors. The price was a no-brainer so I couldn't be happier.

Verified Buyer

Reviewed by a wife and mom from Dothan, AL on Wednesday, January 16, 2013

Bought these for my boys. Bought several pair for our children years ago. Most of them have lasted through 2-3 kids which is impressive to us since our children are usually pretty hard on shoes. The children like them, too. Lots of choices on color works great for having a pair for each child.

Verified Buyer

Reviewed by Montessori mom from St Louis, MO on Wednesday, January 2, 2013

I bought these for my child to wear at Montessori school. There're very cute, but are a bit difficult for him to put on independently.

Verified Buyer

Reviewed by Sammommy from Rhode Island on Monday, December 31, 2012

These were purchased as Christmas present for my 6 1/2 yo son. He loves them. On Christmas day, he wore these to his grandmother's house for dinner and everyone commented how he looked like a man of leisure. Cute, comfortable, and they stay on when he runs around!

Verified Buyer

Reviewed by Fourdates from Pittsburgh, PA on Friday, December 21, 2012

The boiled wool is only on the outside, not like Wesenjak slippers.

Verified Buyer

Reviewed by iamom5711 from Sheldon, IA on Thursday, December 20, 2012

Got these for my son as a stocking stuffer. He loves them and they fit great! They stay on his feet when he is playing and keep his feet warmer than just sox in the winter time. Always worth every penny; just too bad he will grow out of them in a few months.

Verified Buyer

Reviewed by Mom on a Budget from Taylorsville KY on Tuesday, December 18, 2012

I was looking for a slipper for Indoor/outdoor use. Something that will not wear out or be ruined if the kids wear them out in the drive. My son wears these to his Karate class. He loves these! He has never cared for any of the slippers I have bought in the past. I will buy these from now on. I want an adult pair.

Verified Buyer

Reviewed by Jo from Conrad, MT on Tuesday, December 18, 2012

My son can't wait to put these on after playing poutside on the farm or a long day in town with friends. They are comfy and durable and he loves the colour!!!! Great slipper for kids.

Verified Buyer

Reviewed by mom who loves practical, style, and comf from South Carolina on Monday, December 17, 2012

I had a pair of acorn slippers a few years ago amd my new puppy ate them....i was devastated. Since then I've gotten these for my 10 year old son who is not too cool to wear them (loves them actually) and a pair for me, my hisband amd my sister! We all wear them everyday and chance we can!

Verified Buyer

Reviewed by karina from ny on Friday, December 7, 2012

this is a present for my nephew!

Verified Buyer

Reviewed by pgc from Pilot Hill on Wednesday, December 5, 2012

Slippers stay in good shape
Prompt delivery, had them within a week

Verified Buyer

Reviewed by Mom of three from Havertown, PA on Tuesday, December 4, 2012

He loves them. Acorn slippers are affordable and comfortable.

Verified Buyer

Reviewed by Lostdawg from Norman, OK on Monday, December 3, 2012

My grandson loves these and they stay on his feet better than previously tried slippers. I'll be purchasing these each year as he grows.

Verified Buyer

Reviewed by Hoppy from Wyoming Ri on Sunday, December 2, 2012

Needed a sturdy non slip sole slipper for a first grader and certainly got what I needed. He loves them.

Verified Buyer

Reviewed by kiddosdad from East of the Rockies on Saturday, December 1, 2012

Kiddos like 'em. They're a little wide so slip on and off a bit, but they're fine for hanging around the house. Actual soles help keep them from wearing out quickly and provide more insulation from cold floors.

Verified Buyer

Reviewed by Slipper Whisperer from PA on Monday, November 26, 2012

2 Boys love these warm and comfy slippers. The sole on the bottom is great for a quick trip to store or run out to the mailbox. They would wear them to school if they could. Great buy.

Reviewed by Lostdawg from Norman, OK on Sunday, November 18, 2012

These are great slippers. My grandson is wide open all the time, but has no problems keeping them on. He's getting the next size for Christmas!