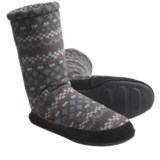 Closeouts. You've had slippers and you've had socks, but have you had both in one comfy, cozy package? Acorn's fleece slipper socks feature the memory-foam cushioning and indoor-outdoor versatility of a slipper, but with the ankle-warming shaft of a toasty-warm fleece sock.
Average Rating based on
49
reviews
4.408163
0
5
Reviewed by Indoor Student from Saint Louis on Saturday, January 11, 2014

I bought these for inside the house, and they are perfect. My problem with other slippers was the length, none of them rose high up enough on my leg and my upper ankles would be left cold. These keep you pretty warm (not super toasty) and are easy to take on and off. My only qualm is the color selection, but that doesn't make much difference.

Reviewed by Fisher dad from NJ on Sunday, December 29, 2013

Bought for myself as my house has some cold spots in winter. They are a bit too loose fitting for my general taste but sure nice and warm, and with sufficient sole that I can go outside to get the mail. I really don't bother with the color so got them in camo in case my son wanted to try them also.

Reviewed by Up North from Minnesota on Sunday, December 8, 2013

I purchased these for a Christmas gift, so I cannot say how they feel wearing them. But overall the seem very well made and like they will be very comfy. And to my surprise they are machine washable an added bonus.

Reviewed by Tiger from Between Lakes Michigan and Superior on Wednesday, December 4, 2013

My sons loved their old summit slippers so much I had to get them replacements. Super warm, super well made...they are acorn quality through and through.

Glad I bought a pair for myself...these will be great for winter camping. Excellent. Thanks Acorn and Sierra Trading Post.

Reviewed by rij from chadds ford, pa on Thursday, November 28, 2013

fit well, I wear 11 and ordered L. Soft and well made

Reviewed by Traveler at Heart from Oregon on Sunday, October 13, 2013

I've been looking for a slipper sock with hard soles at a decent price for a while now. Leather soles wear out too quickly, making them cost ineffective. These Acorn's fleece slipper socks are the ticket for me.

Reviewed by Andrew David from Utah on Friday, October 4, 2013

I found some leather bottom (not suede) slipper socks I had hopes for using in late fall and winter mountain camping and ski yurt trips, but could not get my size. Ordered these instead with some skepticism, but immediately pleased and impressed. Air them out after removing from the bag to get rid of that rubber smell. As for fit, they sit well on my foot with or without socks inside. The sole has a decent grip and should do well on snow, but definitely not ice. Wet rock I am concerned about, but leather and suede are poor on wet rock as well. If you are straying far from the tent/bivvy bag/yurt then put your boots back on and protect your ankles. The sole bends decently and the pair are lighter than I thought they would be. Memory foam foot bed is lush and luxurious. These will beat having my big wall boots on back at camp for dinner after a day of mountain fun, and now I don't need to carry shoes on ski yurt trips (who WOULD walk around in XC ski boots?!). I'm not sure yet if I will be keeping them on in the sleeping bag. I worry they will catch on and damage the nylon, but leave them by the side of your "bed" for when nature calls. Not perfect, but certainly the most water-resistant and winter-outdoorsy of the men's mukluks out there right now and for STP's price a steal by comparison. The solid grey looks decent in person. All the pictures I thought looked hideous. But who is staring at your feet at night anyway?

Reviewed by Keith the Relaxer from Vermont on Monday, September 23, 2013

Very comfy, and I esp. like the rubber grip soles. And , since you can't tell which foot is which from above, the labels on the outer sides make it easy to know which foot each goes on.

Reviewed by Kate from Manhattan Beach, CA on Wednesday, September 4, 2013

Why do people change things? These were great when they had a leather sole. Great for padding around the house or sleeping in if you suffer from cold feet. With that hunk of plastic on the bottom they are no longer pliable and feel like you've got a plastic ice scraper strapped to your feet.

Reviewed by Hubby's wife from California on Tuesday, September 3, 2013

Based on reviews here that these run large, I ordered my hubby the size M. His normal shoe size is 10 and he has worn a large in the fleece socks and a medium in the boiled wool mule slippers. But the past couple of years, I've had to order him XL in the unisex fleece socks and L in the boiled wool slippers because Acorn has changed the sizing. (I've found that in the women's slippers too. They're just so much shorter and narrower than they used to be. Teva, ditto.)

I'm so glad I listened to everyone because the medium is almost too long. He loves the feel of them and thinks they'll be great for winter nights. He has a medical condition that make his feet get really cold, so he's always got fleece socks on--even in the summer--and then switches to slippers to walk outside or on the wood floors. He says these will be great because he won't have to switch when it's really cold.

Many others noted how, even with a smaller than usual size, they would slip back or forward out of the footbed. My hubby has the same issue. He's pretty clever so he asked me if I could sew a dart on the back from the ankle up about 3 inches onto the calf. That solved the problem perfectly. It's not that the slipper portion is too big, it's that the calf portion is huge. With a 1-1/2' (total) dart, he can still slip them on and off easily, but the tighter ankle keep his foot where it's supposed to be when he walks. I highly recommend that anyone having that problem try a dart in the back. Sew the dart outside so that the extra fabric is like a "flap," rather than inside where the extra fabric could rub and be uncomfortable.

With that caveat, my hubby recommends them.