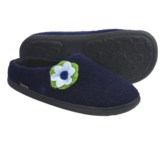 Closeouts. Almost as good as Sunday-morning sleepin' in, Acorn's Flower mule slippers feature a cozy, insulating boiled wool upper and butter-soft fleece lining that can make even the harshest Monday feel like the weekend.
Average Rating based on
59
reviews
4.474576
0
5
Reviewed by Denise from Wisconsin on Monday, March 31, 2014

This is my second pair of Acorn Mule Slippers. They are easy to slip on, comfortable enough to walk around in, and quality-made. I generally wear a size 6 shoe, and the size Small (5-6) is perfect for me.

Reviewed by Boxer Momma from Wisconsin on Wednesday, February 26, 2014

Really cute wool slipper! I have purchased these before and love them. Soft and warm--very cozy. The Polar Vortex (-20 below with -45 wind chills) has been hitting Wisconsin this year so needed a warm slipper. I wear an 8 1/2 and ordered a 40. They fit very well.

Reviewed by Sister 6 from St Louis on Monday, February 10, 2014

I got these on sale after looking high and low for a comfy slipper that also doesn't feel so flimsy that I trip over them. This is the answer for both.

Reviewed by tracy from California on Wednesday, January 22, 2014

Love these slippers! True to size, comfortable and warm

Reviewed by Jen from Massachusetts on Thursday, January 9, 2014

Bought these slippers for me, my sister & mom...everyone loves them! warm, cozy and with a sturdy bottom to hold up longer. Love Acorn products & will purchase these again.

Reviewed by MN Mom of 5 from Ely, MN on Tuesday, January 7, 2014

I love these slippers! They are warm and stylish and it feels like there might be memory foam in the soles.

Reviewed by Genevieve from Ohio on Wednesday, January 1, 2014

I may end up dying these, since white is not really the best color for me to wear on my feet, but the price was right and the quality of the slippers is nice. I love that I can put an insert (from worn-out gym shoes) to provide some extra support I need for my arches in them.

Reviewed by Trish from Rhode Island on Tuesday, December 31, 2013

Cute look, comfortable and great price!

Reviewed by Mothra Wolf from Hell, Michigan on Friday, December 27, 2013

Great feel. Very warm. Happy little piggies now. Can't beat the prize!!

Reviewed by Lisa from New York State on Tuesday, December 17, 2013

i like this slipper

Reviewed by Ret from Colorado on Tuesday, December 17, 2013

Love these! They are warm and very comfortable. Easy to slip on and they don't fall off or roll around. Perfect! Highly recommend.

Reviewed by Sherry from Az on Tuesday, December 10, 2013

These are wonderful.... Warm....comfortable... And they look nice.
This is my third pair..... And when necessary.... I will buy them again.

Thanks

Reviewed by Penny M from Richmond Va on Sunday, December 8, 2013

All that I expected and more!

Reviewed by Petenich from ca on Sunday, December 8, 2013

I have been trying to find the perfect new set of slippers to replace my old set for some time. I finally have it. Firm enough - some stiffness to the sole, without being heavy or rigid. A bit of support. Toe box is a great size, works with or without socks. Warm, but not hot. And cute too. I love these

Reviewed by Jennifer from Colorado on Thursday, December 5, 2013

I purchased based on appearance. Much more than I expected. Interior of slippers are thick and soft. Very soothing to the feet and warm


Reviewed by Laura from Texas on Monday, December 2, 2013

I bought 1 pair for myself and 1 pair for my sister and we both agree that they're very comfortable, true to size, and your feet don't get too hot while wearing them. We give them 2 thumbs up.

Reviewed by busyb from California on Sunday, December 1, 2013

They aew cute, but very flimsey. No support at all. Feels like a sock.

Reviewed by Porkchopbaby from L.A. (south Alabama) on Thursday, November 28, 2013

I do not like these slippers. They have no support at all. I have concrete floors and during the hot months they are too warm, and during the cold months they do not keep my feet warm. They're awful!

Reviewed by Luisa's warm feet from Washington State on Wednesday, November 20, 2013

I purchased these slippers for a teacher who is an intern at my elementary school where I teach. She is from Columbia where it is very warm. She is getting used to the damp and cold here in Washington. She loves her slippers and wears them daily.


Reviewed by Regular SD customer from PA on Tuesday, November 19, 2013

My mom needs good slippers that wont slip when she walks - these fit the bill. They are warm, cute and offer her great support.

Reviewed by Marblehead from Hobbes108 on Tuesday, November 19, 2013

Warm and cozy in cold weather, great fit and very fair price as is expected from STP.

Reviewed by Teresa from Arcata on Saturday, November 16, 2013

This are comfortable and warm slippers with good support. Unlike other boiled wool slippers I have purchased, these seem built to last. I put them on the minute I get home from work!

Reviewed by mrooster from Minnesota on Friday, November 15, 2013

Really comfortable and cute! No sweaty feet! True sizing -- I wear a 7.5 and ordered a medium.

Reviewed by Scooby's mom from Williamstown, Ma on Friday, November 8, 2013

Great price on these slippers. Warm and comfortable.

Reviewed by Comfort Creature from East Coast on Wednesday, November 6, 2013

The lining is soft, but it is some kind of synthetic and I did not notice that in the description. I wanted the wool in contact with my feet. The sole is comfortable and sturdy, so they are OK, but next time I will take more note of any lining material.

Reviewed by Elisabeth the Grandma from Wisconsin on Thursday, October 24, 2013

They are lovely. I bought them as a gift for our 13-year-old granddaughter.

Reviewed by wkgonit from Maryland on Wednesday, October 23, 2013

Such cute slippers, but the way they are cut on top, they put a strain on my feet. They need to be cut higher on the foot. But my feet are sensitive. Others may find them to be perfectly comfortable. I wish I could wear them, they are so cute and very cozy.

Reviewed by jjrider from Cleveland on Tuesday, October 15, 2013

These are very comfy slippers! And so cute too! Be careful with sizes. I normally wear a 7 shoe and ordered the medium. They were too big and I had to send back and get a small. Once I had the right size, they're awesome. Very durable sole indoor or out.

Reviewed by teacher from Denver on Tuesday, October 8, 2013

I always buy Acorn slippers. They have been fabulous. I expected the same of this cute slipper and was sooooo disappointed!
The sole has no support whatsoever. No arch, no heel cup, just flat thin (ish) sole. What happened Acorn?

Reviewed by Jerri from Idaho on Thursday, September 19, 2013

I work from home and wanted a warm slipper, these are not only warm but comfy, cute and made well. They have an extra thick softness and cushioned sole, I will be ordering more!