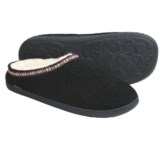 Closeouts. As the winds howl and the temperature drops, you'll be cozy inside wearing your Acorn mule slippers, crafted from soft, durable boiled wool and lined with plush, breathable sheepskin.
Average Rating based on
54
reviews
4.074074
0
5
Reviewed by sunflowersmiles from Vermont on Saturday, December 27, 2014

I purchased two of these pairs in different colors for my teen boys, as you can imagine, they are not being used "kindly".
The back has been treaded "down", they've gone trough some drive way mud/snow/rain abuse and the occasional food/drink drip accidents.
I have thrown them in the washer..and in the dryer.
They look and feel like the first day I bought them.
This is a great deal for this kind of workmanship. Cannot wait to get a pair for myself.


Reviewed by KMB from Michigan on Tuesday, January 28, 2014

And I have!! This is the third time that I have reordered these slippers and everyone receiving them have loved them. They are an excellent buy and are very well made....extremely warm and cozy, too. They do tend to be quite snug at first but as they are worn, they stretch a bit. If you have a wide foot or high instep I would go with the next larger size. Otherwise...awesome.

Reviewed by Bob from Boston on Monday, January 20, 2014

Ordered size nine and I would have to adjust my feet to size six to get into these. Sent them back.

Reviewed by Anne from Texas on Thursday, January 2, 2014

These slippers are great! True to size and my hubby says they are toasty warm.

Reviewed by active grandma from Sumner Brook on Saturday, December 28, 2013

I bought these slippers for my husband as a Christmas gift. They are nice looking, but the medium is sized 9/10. My husband wears a 10 and couldn't get his feet into them. They are on the way back to Sierra.

Reviewed by KMB from Michigan on Thursday, December 26, 2013

I purchased a couple pair of these slippers last Christmas and they went over so well that I got 3 more pair for other family members this year. Very high quality and they look great. Sierra Trading [...] always has qualify merchandise, great selections and prices and fast shipping . Maybe next year I'll get a pair!

Reviewed by Anna from Seattle, WA on Thursday, December 26, 2013

Got these for my boyfriend for Christmas. He loves them! Definitely a great buy at a great price.

Reviewed by Roaming John from South Carolina on Wednesday, December 18, 2013

I ordered these slippers because our house is on a crawl space and the floors can get quite cool in the chilly months. I wanted something easy to slip on in the morning, while preparing to start my day, before putting on my dress shoes. Well, these fit the bill. Very comfortable. The solid bottom is good for a quick step outside without the worry of getting your feet wet. Note: sizing is small; I am a size 11 but had to return the size large (10.5 - 11.5) that I ordered for an XL (11.5 - 12.5).

Reviewed by slipper wearer from New Zealand on Thursday, December 12, 2013

well made, easy slip on with good quality finish

Reviewed by snug slippers from Maryland on Monday, December 2, 2013

NIce product but Acorns run small. I'm sending then back.

Reviewed by Starr from Las Vegas on Thursday, November 21, 2013

These slippers are comfy cozy :-) I got two pairs of them for Christmas gifts for my relatives.

Reviewed by cubby from somewhere on spaceship earth on Wednesday, November 20, 2013

I love these and put them on the minute i step out the bed and walk in the door. The wool is soft and warm. I wear 11.5 in shoes and the 12-13 (XL) fits very snug and i have a narrow foot. so, if your foot is larger than 11.5 or very wide i would not buy them without trying them on ahead of time. Other than that order the larger size and you will not be disappointed.

Reviewed by Theresa from Maryland on Wednesday, November 20, 2013

Bought these slippers for my husband and he says they are warm and very comfortable. It was what I expected to hear for a Acorn shoe.

Reviewed by Ernie from Corpus Christi Tx on Monday, November 18, 2013

I have worn 81/2 size all my adult life, so I ordered 81/2. They were at least I size to small.. I returned them for the 101/2

Reviewed by G from WI on Wednesday, November 6, 2013

Acorn mules are good looking, comfy and so warm. What more could you want for an indoor winter slipper?

Reviewed by Shopaholic from Mars on Wednesday, October 16, 2013

Buy size 11 for ten. Otherwise good product, warm and cozy, lightweight.

Reviewed by Kathy D. from California on Sunday, October 13, 2013

I bought these slippers for my husband, and I ordered them larger than what he wears. I read that they run small. He wears a size 11 so I bought the large which is suppose to be a size 12-13 and they fit him great. They were priced right too. I would recommend them.

Reviewed by Chilly from Chicago on Monday, June 17, 2013

another reviewer correctly reported that the lining is not 'breathable sheepskin.' there's a 'fake fur' tag in each shoe, but i think the material is wool.

the reports about the shoes being too small are accurate. i ordered a size larger than usual, and the fit is still a bit tight. but i think they might stretch.

i dislike mules, but i wore a hole in my first pair of Acorns, love wool, and couldn't resist the discount offer.

shoes smelled annoyingly sweet when they arrived. a trip through the washing machine reduced the odor to something tolerable without shrinking the shoes, so ...

i'm quite satisfied. there are issues, but if get a pair that fit, i think you'll like them.

Reviewed by Steve the Hiker from Washington on Sunday, May 12, 2013

A warm, fuzzy feeling when I slide my feet in these slippers at the end of the day.

Reviewed by Ellen from Colorado on Tuesday, April 9, 2013

I bought these for my husband, who wears through a lot of slippers. He is very happy with them. Although the product description that says they are lined with sheepskin, the material is actually a synthetic fur. And while that's not a surprise given the boiled wool exterior & the price - the description needs to be corrected. They are still soft & warm; time will tell how the synthetic fur lining wears relative to sheepskin.

Reviewed by ibfrog from Northern California on Tuesday, March 26, 2013

I am a woman with big feet. I wear a size 10 1/2 - 11 in women's sizes. I often buy men's shoes/slippers and wear a 9 1/2 ALWAYS....but not in this slipper. They run ultra small (which I learned from reading previous reviews) and thus, I ordered a size large (men's size 10 1/2 - 11 1/2). They fit me perfectly and are a good slipper. They are warm, have fairly good tread and are just what I wanted. Don't hesitate to buy these slippers but beware of the sizing issues.

Reviewed by Samir from NYC on Monday, March 25, 2013

Wanted a slip on - this one works well. Good sole to be worn outside while checking the mail, etc - but not necessary regularly outside.

Reviewed by Anna from MA on Thursday, March 14, 2013

These slippers are running smaller. I bought size M that says 9-10. My husband wears size 9 and they are too small. He couldn't wear it but it seems like a good product.

Reviewed by MikeMrMike from ct on Wednesday, March 13, 2013

outer sole as durable as expected, sizes run real small order 2 sizes larger don't think i will ever try an Acorn product after this

Reviewed by Lulu from Colorado Springs on Monday, March 11, 2013

I got a pair for myself and for my husband; he thought they were too snug and I thought they were too flat, but I kept mine and he didn't! They are well made and warm and at the price, I decided it was a good buy.

Reviewed by KB from Adirondacks NY on Monday, March 11, 2013

Nice comfortable slippers. Also they were warmer than I expected. They are a little on the small side, but not so much that I will be returning them.

Verified Buyer

Reviewed by Slipper Dad from Seattle, WA on Wednesday, February 27, 2013

2nd pair of these. They're mostly comfortable and the price is right, but they tend to run a little small. Also, they don't last very long, about 1 year, maybe 2, with light use (mornings and evenings, never outside).

Verified Buyer

Reviewed by Sadiesgirl from San Diego, Ca on Sunday, February 17, 2013

feet comfortable and warm. With wood floors it is good to gave the traction on bottom of sole.

Verified Buyer

Reviewed by Slipper Buyer from Maine on Tuesday, February 12, 2013

These slippers are at least a full size smaller than marked. I bought them for my husband, but I now wear them, myself.

Verified Buyer

Reviewed by M in MI from the mitten on Tuesday, February 12, 2013

These are clearly my new favorite slippers. They are warm, comfortable, look good, and come at a great price. My only suggestion for improvement, and its a stretch, is to improve the traction on the sole a little bit. While they are slippers and meant for indoor use, I still wear the to get the mail, run out to the car, etc. Having a little bit of traction on the bottom would be welcome, but the lack of it would not keep me from buying another pair. They do run a little small, so order up if you are a half size.