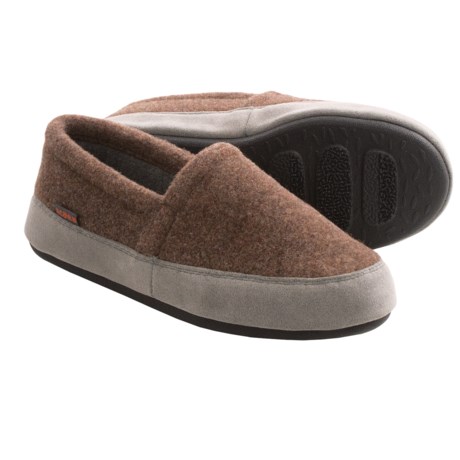 "If I wear a size 8 shoe/slipper, what size do I order...medium or large?"
Sorry but my pair lists 6 1/2 to 7 1/2 and I usually wear a size 8. It's not listed medium or large on the slipper. not sure if this is helpful . they are a great slipper!

These seem to run a little small. I got the medium (I wear a 7.5-8) and they are a little snug in the length. So you might want to go up to a large.

I wear a 7.5-8 shoes and I always order medium in Acorn slippers. That has just been my preference, other customers may have different experience.


A size Large is for slipper sizes 8 and 9.

I've found these slippers to run pretty true to size. A size large fits my size 9 feet well, although they may be a smidgen shorter than my size large Acorn slippers from 2 yrs ago. I would say order a large if you're a true size 8. Better to be a little loose than too tight.

I wear size 8.5 .. and bought the large. They are a tad loose, so i wear a sock with them.; but i do have very narrow feet. If i wear without socks, then my feet slide around and slip a bit.

I were a size 9 shoe. I have a narrow foot.
I ordered the large and had to send them back. The size 8-9 is perfect for me.

Definitely not a large for size 8. These slippers seem to be right on the size number, therefore if you are a half size you would have to go up a size. I am between a 9-91/2 and I ordered a 10 and it was huge so I returned them for a 9 and they are a little snug but I keep them hoping to stretch them out over time. If your feet are an exact 8 then order an 8 and it should fit you perfect. Acorn does not seem to have any half sizes.

I am a size 8, and I ordered the 8-9 size. Actually, the slippers run a little large, but they stay on my feet pretty easily and in the winter I wear heavy socks with them. I was afraid to return for a smaller size, thinking they might be too small.

I wear a size 9-91/2 shoe and I ordered size large. It fits my foot snugly, but comfortably. You could probably go either way.

I wear a 9 and have a fair bit of leftover room in the 8/9 size. I like them very much. I suspect you'll have a little more room in the toe, but they cover the foot so well, it should be OK.