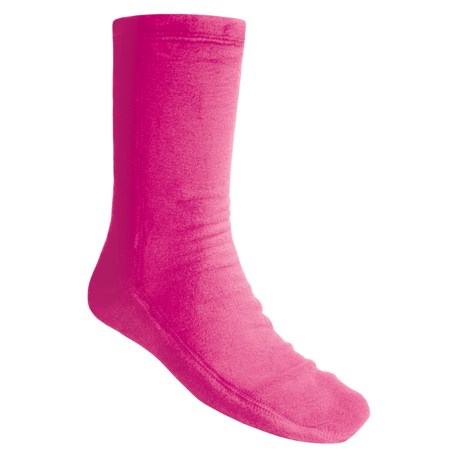 My shoe size is an 8 1/2-9 but I can't have anything tight around my foot so even though the medium size fleece socks fit I ordered more in large because the medium was a little tight on top of my foot. The large fits more comfortably but has extra toe length in the front (which does not get in the way when walking). That being said I would suggest you get the small if you want a tight close fit inside a shoe because the sock is thick. The only shoes I can wear the socks in are my standard wide crock sandals. The socks do have a stretch but they are sewn close around the top of the foot which affects your foot flexibility. So it would depend on how tight you like your socks. I can't have any tight due to pain. Hope this helps.

The Medium is a 7 ½ to 9 (women's) shoe size.. I wear an 8 ½ to a 9 shoe.. and I do go with the Medium in these size.. the size is wonderful
They are a snug (not strangling) fit.. very cozy, but not a tight fit.

If your typical (women's) shoe size is 7 ½ to 8 the medium should work great for you too. (the small is 5-7 shoe size-- so if you are closer to a 7, and or have narrow feet, you might want to consider the small)

These are not regular socks, they are more lounge style, (alternative to slippers, but do not have traction to them, though I do not find they are "slippery).
They do fine with loose boots, perhaps loose clogs, but i would not use with regular shoes.



I wear a size 8.5 shoe and I bought size Medium Acorn Socks. They are still a bit rumply inside my shoes.