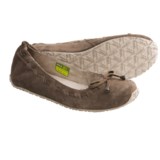 Closeouts. A sweet little flat that's easy to pack, Ahnu's Arabesque ballet shoe is well made of soft suede, with elasticized heel, light ergonomic support and a fetching collar lace that ends in a bow at the toe.
Average Rating based on
25
reviews
4.160000
0
5
Verified Buyer

Reviewed by Gibby from SoCal on Saturday, August 1, 2015

Leather ==> breathable flat shoe
Cute look
Really good traction
Could go for a run in these, they are so comfortable

Verified Buyer

Reviewed by sachan from Seattle on Tuesday, July 14, 2015

I wear 5 or 5.5M. Both pairs felt fine when I slipped them on, but when I stood, the side of my big toe was forced against the stiff toe box. Since there was no give to the leather in front, I returned them. Otherwise, the shoe was very nice and lightweight.

Reviewed by shoe lover from Washington on Wednesday, June 10, 2015

I love these so much, I bought two pairs. Super comfortable and cute. I normally wear a size 7, and the size 7 fits just fine.

Verified Buyer

Reviewed by Santo from FL on Friday, December 19, 2014

I have this style in black leather and was so happy to see it on Sierra at such a discounted price. SHoe is feminine and stylish, but very comfortable, good arch support. Perfect walking shoe.

Verified Buyer

Reviewed by Michele from New Mexico on Monday, November 17, 2014

Cute, comfortable shoes. I wear a 6 or 6.5 depending on the shoe, and never a 7 except in running shoes. I originally ordered a 6, having no idea how Ahnu shoes were sized, and they were QUITE snug. I had to exchange them for a 6.5. The size 6 had the cute tiny bow as seen in some of the photos. The 6.5 had a much larger bow with little metal thingies on the ends, which clack together--annoying. They also are long enough that they actually get caught in the shoe by the toes. Also annoying. Other than that, they are comfortable and I like the way they look. They are a little sportier than normal ballet flats, so aren't quite as chic. But I think they will be good for travel, which I why I bought them. I can wear them with a variety of outfits. The right shoe is a little "off"--it isn't perfectly straight (?) so my foot rolls a little in it. Hard to describe, but let's just say there must be some sort of manufacturing defect in it. Doesn't make it unwearable, just aggravates my pseudo-OCD.

I don't know why the description says soft suede (and it's even underlined)--only the inside is suede. The outside is normal smooth leather. The arch inside is nice (especially in a ballet flat!), and the insole is slightly raised, giving you a more comfortable foot position than a regular *flat* ballet flat! They designed it so it looks like a completely flat shoe, but once you put it on you can feel the support. Nice.

Verified Buyer

Reviewed by DJA from Michigan on Wednesday, October 8, 2014

This is such a cute shoes that can be worn just about anywhere ,,, with just about anything. They look great with ankle length pants, leggings, or a skirt. It is a good shoe to wear between the sandal season and before there is a need for boots. They are comfortable for a moderate amount of walking. The fit is true to size.

Verified Buyer

Reviewed by Michelle from Chicago on Tuesday, September 23, 2014

I really liked this shoe, but it just didn't work out for me. I was looking for a comfortable shoe I could wear to work now that I'm 7 months pregnant. My feet have swollen a lot and the shoe was too tight across the top of my foot. Other than that the shoe was very comfortable and cute. It will probably work for someone with an average foot. I'm just going to have to try and find a shoe that I can order in a wide.

Verified Buyer

Reviewed by Ms. Nikki from Chicago on Monday, September 15, 2014

Nice shoe, but not made for wide feet. The top cut across my instep and was not comfortable.

Verified Buyer

Reviewed by Sharon from Nashville on Wednesday, August 27, 2014

These flats are perfect for around the house or a casual outing with jeans or capri pants. The suede will not stand up to rain, and there is little internal support. But the detail is cute, and the rubber sole has a little pressed pattern in it, so it's not slippery. No heel whatsoever. Perfect bedroom slippers if you run out for the paper in the morning. For the money, a nice extra to have in the shoe wardrobe. I got the red, which is a dull, dark rose color, and I like them alot.

Reviewed by annetteirene from Outer Banks, NC on Tuesday, August 26, 2014

I replaced my Bjorn ballet flats that I had worn through the sole with these and I love them. Love the support and the fact that the soles are texture for grip. I am going to buy another pair in a different color!