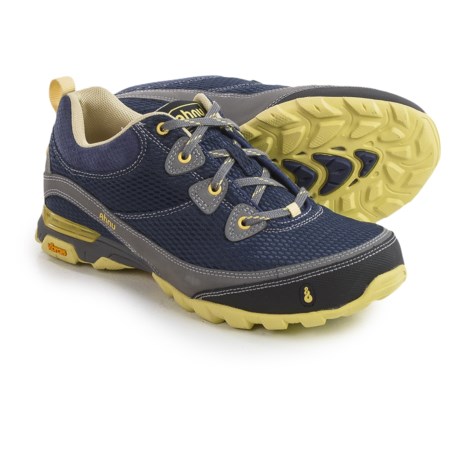 I've never gotten them wet. They appear to be synthetic cloth so probably repellent. Don't know about waterproof, maybe check the Ahnu website and contact customer service there.

They are not advertised as waterproof; however, after my trip to Africa in them (no wet feet) and before my trip to Australia, I decided to make sure by treating them with Nikwax Fabric & Leather Proof. They have been so comfortable since 2014, I couldn't bear to think of traveling without them so when I saw they are being discontinued, I ordered two pair! Remember, they are shoes not boots. Even if they were waterproof, deep water is going to come up over the top. I've worn them through dew covered fields and stayed dry. Hope this helps! Obviously, I love these hiking shoes!

I did return mine because of an arch issue, but from what I noticed, I would say they are not waterproof.
Read the reviews from Ahnu to be sure.

I gave these as a gift to my mother, so I don't have personal experience. I doubt they are since they are mesh, not all leather, and they are not listed as having Gortex. Most boots have that if they are waterproof.

No they are not waterproof. The mesh top does get wet.

These are not waterproof.