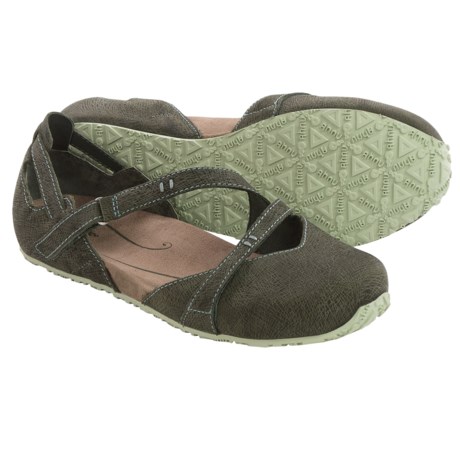 Very lightweight shoe and has a nice arch support. I wore them on a 6 1/2 hour plane ride and threw on a pair of support socks as well. My feet were still a little swollen when I arrived but my shoes still fit thanks to the Velcro straps

The shoes are very lightweight. I have plantar fasciitis, so I wear insoles with an additional arch in every pair of shoes I wear. That is my suggestion to you if you need the extra support.

According to the product specs tab: Weight (pair): 12 oz.

These do have some arch support.

Are the shoes heavy? No, not at all. They are light weight, sandal-like. Terrific for mild and warmer weather. The arch support is good, molded as part of the sole, like all my Ahnus (I have 4 pairs now, and love them). I teach elementary, and wear them at school. They look good with anything. If you need heavy duty support, like a sturdy work shoe for hours of standing on hard surfaces, the Tullia is not that.

I've worn arch supports since elementary school. Mine were custom made by an old fashion cobbler that sewed them by hand out of leather. He passed sadly in my teens & I have struggled since with shoes. That is until I found Ahnu. Their light weight with supberb arches. I've tried so many brands of shoes that are supposed to be orthotically pleasing & I feel Ahnu beats them all.

The shoes are the lightest shoes I own. I am very pleased with the arch support. These are the best shoes I have.